---
---
See our PDF Downloads - Here - Normal Books Here
---
These Audio CD's are the last copies from my very dear old friend Martin Breeze that I have. Only a couple of copies left.
---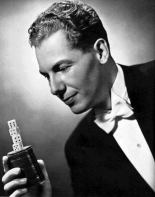 Back in 1965 Fred Kaps gave a landmark lecture at the Magic Circle and now this lecture is available on CD together with a booklet containing a transcript of the lecture. Bearing in mind Fred Kaps' reputation, it is strange that so little has been written about the man and his methods.
Other than several magazine contributions, little of Fred Kaps' work exists in the English language. There are two sets of lecture notes, one dealing with general magic and the other describing some of the coin magic Kaps performed on a film made for magicians. Both seem to be still in print although the name of the publisher is not indicated in either and those copies in circulation today may well be unauthorised. Although not an inventor, Kaps did have the ability to take any effect and make it a miracle by moulding it to his own personality; a personality which made it impossible for others to copy. This was one of the keys to Kap's success. He made the trick part of himself. Its presentation was so interwoven with his own personality that it was impossible to imagine anyone else performing anything that Kaps had already done. He did this again and again. The Floating Cork, Homing Card, Salt Pour, Surprise Stab, Blank Notes to Bank Notes, Chink A Chink and many others. After Kaps had performed the routine you could not imagine anyone else doing it better.
Many years ago Martin Breese released this incredible lecture on a Magicassette together with a small booklet. The whole recording has now been digitized. The booklet has been redesigned and re-written and the entire package is available on CD with the booklet.
Price: £15
---
Billy McComb - The Professional Touch 1 - Magi CD



This is the Professional Touch Vol One from Billy McComb - magic's most popular and respected magician. This Magi-CD features the material from Billy's first two Magicassette audio recordings made some time ago. The recordings have been digitally remastered by Goldman Associates, Cambridge, England and they sound as if they were recorded yesterday. 76 minutes of sound value.

The contents include information on the tricks that are right for you and how to find them. How to match your material to your performance. Billy's amazing presentation of the torn and restored newspaper, a complete section on cruise magic and how to prepare yourself should you get a cruise booking and full details on the trick that earned Billy two luxury cars and a couple of blocks of apartments: The Coin in Bottle. Here on this first Professional Touch recording are the thoughts of magic's most respected performer. Billy provides practical advice coupled with great trick ideas that you can use.

Billy was my magical hero when I was younger and I must have listened to his tapes a dozen times. The information I learned from him has proved to be invaluable!

Price: £15
---
Billy McComb - The Professional Touch 2 - Magi CD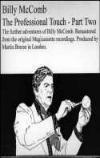 One of the joys of working with Billy McComb is that he has te total ability to speak on any magical subject at the nod of a head. He does not have to write a script or make notes or do anything whatsoever. As soon as a subject is mentioned, zap - and there he is giving us the benefit of everything he knows about caberet or close-up or cruises or whatever. On this CD, which lasts for 72 minutes of pure joy, we open with a rare recording of a live performance being given by Billy on a cruise ship. He performs the Colour Changing Silks with the half-dyed finish and then moves on to the Stodare Egg effect (sucker silk to egg) and from the response to his gags and bits and pieces it is very clear that the audience are enjoying every single moment.
The rest of the recording takes place at his home in North London. There in the comfort of his magical sitting room Billy treats us to his thought, opinions, gags and ideas of a variety of subjects including on this CD specifically his ideas on caberet work and how to make yourself bookable. He discusses the types of venue you can expect and hecklers and heckler stoppers and then goes on to outline a variety of great opening effects. Next we move on to a very detailed explanation of exactly how he is going to perform his routine for the Himber Ring and this is followed by a live performance of the entire effect. Finally Billy deals with other aspects of performing in caberet and the plus and minsu aspects of silent acts and talking acts. This CD is the second in the series. It has been extracted from the many hours of recordings I have made with Billy McComb and which were released as MagiCassettes. These are now being digitally re-mastered for release on a series of CDs. Several reviews have described the Billy McComb recordings as being a Master Class in magic - and they are right!
Price: £15
OR... Special offer buy both Volumes for the amazing price: £28
---