---
Welcome to the "Gary Jones" magic page.

Here you will find the range of magic that Gary has kindly put out through me here at Top Secret Magic.
Some of it I have been proud to have had a hand in. One thing is for certain. If it comes from "Gary Jones" It is a real workers trick!
Gary is without doubt on of the UKs top working magicians and is highly respected by those who now him!
Find out why...
---
Made in Bicycle stock


Price: £22

Sorry RED only
---
Out of Sight... Out of Your Mind... - Gary Jones
The notepad turns into a card box. You then follow by opening the card box and taking the cards out to perform a card trick.
No sleight of hand needed
Custom made gimmick supplied
You supply your own pack of cards
Comes with DVD with full explanations

Price: £17
---
AUTOMATA - Gary Jones and Chris Congreave

Pro-level magic. Massive reactions. Not a sleight in sight.

Gary Jones and Chris Congreave present 'Automata' - Nine completely self working, pro-level effects that are absolutely guaranteed to get massive reactions!
The idea that professional magicians don't do self working tricks is a complete fallacy. The truth is that the prudent professional well understands the power and practicality of a well placed self worker.
Make no mistake though - these are not your run of the mill, novelty self workers. These are PRO LEVEL magic effects, straight from the repertoires of two of the busiest working magicians in the UK. Real 'reaction getters' for the REAL WORLD!
And, what's more, of the nine effects presented, only THREE of them are card tricks meaning you'll not only bolster your repertoire with strong, practical magic that's easy to do - you'll also add real depth and variety to your performances - without breaking a sweat!
FULL CONTENTS

METAL SHEEP - A stunning multi-coin transpo!
CARD 2 MATCHBOX - A classic without the sleights!
KINGPINS - a finger ring jumps from one pin to another!
FREE PHONE - Mentalism with a spectators phone!
POKER CHEAT - They choose the cards - you always win!
THIRTY FOUR - A multi-revelation mental masterpiece!
BIRTHDAY CARD - Perfect for restaurant workers!
PRINCESS REDUX - An old classic - supercharged!
FIREBALLS - It's going straight into your repertoire!

Price: £18
---
Gary Jones Live Lecture - DVD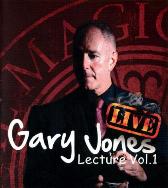 Sales of Garys Live lecture DVD have been so popular that Gary has aked me to sort him out a limited run for his lectures! So here they are...
As you probably well know by now Gary has been good friend to me for nearly 2 decades... Whoops, sorry Gary didn't mean to let on how old we both are! What I ment was... Gary is the consumate professional. He is want we all want / NEED to be. On this DVD you find material that is genuinely useable in the REAL world.
1. Coins to Pocket - A coin repeatedly vanishes from the performer's hand and appears in many different pockets of the spectator. This is a real lesson in sleight-of-hand, audience management and misdirection. This routine will teach you how to load coins, cards or just about anything into people's pockets with ease!
2. Starter For 10 - You show an order pad (like the type used by waiting staff) and instantly the pad changes into a full deck of cards. This is a superb opener for the restaurant magician! Easily made up in less than one minute with items you probably have lying around.
3. 3Fly Plus - This is Gary's version of this classic. Three silver dollar coins are magically produced (each coin is handled by the spectators), two of the coins visually vanish at the fingertips, these are again produced from the spectator's ear and jacket; the other coin now visually vanishes and appears back in the pocket. All three coins now travel from one hand to the other one at the time and at the very fingertips, each coin now completely vanishes in a most magical way. You are now left 100% clean and reset for the next table!!
4. Sponge Ball Surprise - If you do the sponge balls then you will love Gary's solution to the 'multi ball' climax without the hassle of picking up the balls. This routine also teaches you how to make your volunteers the stars of the show with very clever spectator management and clever routining This routine is perfect for the table hopper/strolling magician is now a firm favorite with many professionals!
5. Prediction Die - The magician places a prediction on view, spectator throws an imaginary die and calls out the number it landed on, prediction matches, or does it?! 100% self-working.
6. 3 Coin Prediction - You predict the outcome (Heads or Tails) of three coins tossed into the air before they land. 100% self-working.
7. Repeat Signed Cards to Pocket - Three cards are selected, signed and lost in the deck, one by one each card jumps to a different pocket, now without any moves the cards instantly jump back into the pockets. Yes they are really back in the pockets and the spectator can even remove the cards themselves!!! This is a stunning routine and a real magician fooler!!
8. Ring and Pins - A borrowed finger ring jumps off a MARKED safety pin held in your right hand and onto another safety pin held in your left hand, everything can be examined. Visually stunning and very easy to do!
9. 6 Cards to Pocket - Arguably the best method for the cards to pocket out there. This routine has received rave reviews from some of the biggest names in the business.
10. Pseudo Hypno Coin - First you show off with some one coin juggling and then you "make you hand shrink" to a quarter of its size. This a quick and funny routine which establishes the performer and also lets the audience know they're in for some fun.
11. Coins Across - Performance only.
12. Pop Up Phone - The magician openly places two coins into his hand, instantly the coins change into a mobile phone. Very easy to do and 100% impromptu!
13. Mindful Coins - You show a small metal box which contains a prediction (a coin) and this is placed on full view. You now bring out a handful of different coins from all over the world, a spectator chooses any coin (no force). Both coins match. Remember no forces of any kind.
14. Telephone Prediction - A pack of cards is shown to have 52 different telephone numbers written on their backs. The magician writes a prediction on the back of his/her business card and this is given to someone to hold on to. Any card is now named and removed from the deck, the spectator who's been holding onto the business card is asked to read out what is written on the card, but cannot find any writing, all they can find on the business card are the magician's contact details - .Yes, the freely selected telephone number matches the performer's contact details!! This is an excellent way of handing out your business card in a very magical way!
15. Ambitious Card (Incorporating Pocket to Pocket) - This is Gary's take on the classic Ambitious Card but - Gary's Pocket to Pocket sequence will have both magicians and lay people scratching their heads in bewilderment. Stunning!
16. Ring and String Climax - When Bobby Bernard saw Gary perform this in Blackpool he said " You caught me that was excellent!" If you do a ring and string routine then this is the ending you have been waiting for!!
Also included on this DVD is Gary's Top Con Control, a very deceptive card control which is very easy to do. Plus loads of tips on misdirection, palming, audience management, timing, pocket management, working tables, working pre dinner drinks receptions, corporate etc.
Every effect on this DVD is instantly reset and ready to go again immediately, so if you're a strolling magician you won't ever have to keep disappearing and having to reset your props or pockets.
The advice and tips on this DVD will help the magician who is trying to break into the 'Close-up' market, but the full time professional magician as well as the hobbyist will find many of Gary's tips and effects invaluable!
Running Time: Approximately 90min
Price: £15
---