---

The Perfect Rubber Bands (For Magicians)
---

If you perform magic with rubber bands then you have discovered by now that some bands are better than others...
So here we have #19 are the the ideal size bands and these are nice and stretchy
Sold in Bags of approx. 100 Bands
£2.00 for 100
Top of page
---
The Ultimate Elastic Rubber Bands - Yellow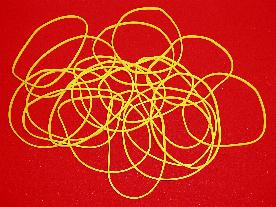 If you caught Ed Elliss lecture tour, you will have see him use some fabulous rubber bands. Not normal browny colour but bright Yellow! I unfortunatley missed it but was asked if I could supply some. Well with help we tracked some down and I can see why people are raving. So what is the big deal you may ask. Well here in the UK we seem to make our bands out of something different to those made in the USA. These are far strechier than any other band I have found.
In fact I persoanlly believe the bands I sell are definatley the very best you will find so much so that I will offer you a MONEY BACK GUARANTEE* if you dont agree!
Edd Ellis was selling these at £4 for 50 bands! Stand by for a bargain!
Price: £3.50 for 100 bands
*(on the purchase of the bands only apon return of the bands postage not included in the refund)
Top of page
---
Purse Frame (Goshman)



Keep your loose change and sponge balls safe!
OR BETTER STILL, produce them from this empty purse frame.
A must for all sponge and coin routines.
Price: £2.50
Top of page
---
Coin Purse - Vinyl - Goshman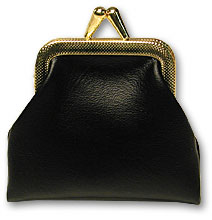 The classic Goshman-style coin purse.
Measures 2.25 inches tall and 3 inches wide at the base.
The vinyl "purse"is large enough to hold a large quantity of almost any size coin in circulation-half dollars, dollars and larger.
Great for sponge balls and gimmicked coins, in fact anything that fits, add a touch of class to your act.
Price: £6
Top of page
---
Watch Winder - Royal Magic

Secret noisemaking device!
You have the ability to "wind up" nearly anything - your digital wristwatch, your computer - whatever you touch can apparently be "wound up" like an old fashioned watch.
Made from heavy gauge metals for a loud, distinct sound. The perfect utility prop for magicians, clowns, MC's and comedians. A tried and tested laugh-making device.
Price: £3.50
Top of page
---
Fake Pencil

Remember the old rubber pencils that were completely made of rubber? Well this is nothing like that!
This is a small wooden golf pencil with rubber where the lead should be...While it can just be used as a joke, this could also make a very useful item for mentalists, an alternative to the dried up marker!
Looks like an innocent pencil, in fact you could have a few on the table to let them pick one up so it looks even more innocent.
Price: £1 each or £5 for 6
Top of page
---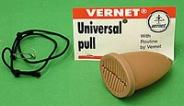 Vernet's Universal Pull is the only pull in existence with so many features. With this pull, you can make almost anything vanish! The size and shape of the pull make it very easy to naturally palm. The special design allows it to hold a large variety of items. It has removeable teeth to hold many different objects.
Use this gimmick to make a wide-variety of objects disappear right in front of the spectator's eyes. Such As...
Cigarettes, pens, coins, sponge balls, rolled up bills, Silks, Wands, Rings, Gaming Chips, Peanuts, even pieces of silverware can be held in this pull! . Any object you can hold in your palm, you can make VANISH.
Full instructions included along with clear diagrams.
Its named the 'Universal' Pull for very good reason!
Price: £7.50
Top of page
---
---
Peas for 3 Shell Game - Vernet
Pack of 4 peas made by Vernet two small and two large.
Price: £3.75
Top of page
---
Rope - Whit Haydn described this as some of the "best rope" he's "ever used!"
---

10 meters of some of the finest magicians rope available today.
Made to Houdini's original specifications!
This is standard 5mm "White" rope perfect for your "Cut & Restored" routines
Price: £6.50
Top of page
---
Rope - Best Quality

10 meters of some of the finest magicians rope available today.
Made to Houdini's original specifications!
This is best 10mm "White" rope perfect for your "Stage" Routines
Price: £7.50 One hank left!
Top of page
---
Flash products - Paper / String / Wool / Flashers
---
Finger Flasher

Lifetime Guarantee (Except for the flint wheel)
The flashers use a flint wheel, which can be obtained worldwide; these are taken from a Clipper lighter.
Perfect for creating a small flash from your hand.
Unlike electronics wont let you down at the last minute.
Price: £14
NB: The current ones I have in stock vary slightly from the picture they have a different finger hold (More sturdy i think!)
Top of page
---
New: This paper is thicker and faster
1 sheets 8" x 20" so in fact you get more for your money with this new pack!
Price: £3
Top of page
---
Flash Wool

This large packet of flash wool is superb! Very fibrous and fast burning.
Ignites easier than Flash Paper, so it is an excellent primer in all Glo-Plug devices.

Price: £4
Top of page
---
Flash String

6 strands - 26 foot long....
Flash Cord burns quickly with a bright light, no smoke and leaves no residue.
Extremely fast burning, usefull for many magic tricks & stage uses.

Price: £9
Top of page
---
Invisible Thread
---
Kevlar Invisible Thread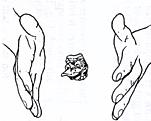 Perhaps the most incredible Invisible Thread to date. 5 times stronger than steel! This stuff is great under florescent lighting. Because of it's strength it's not only easy to strip, but you will be floating all sorts of things that were not possible before.
You will get 120 Strands of this incredible material. Included with the thread are detailed instructions on how to strip the thread.
Available in 6, 12 and 25 foot lengths
Top of page
---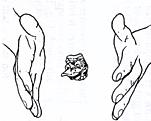 Pre-split Invisible Elastic Thread, we are proud to offer to the finest Invisible Elastic Thread in the world.
This is what the pros are using! Solution dyed black (no fading possible with this thread), Matte finish (already dulled), incredible elasticity!

Approx 200ft of the very best pre-stripped black/matte finish invisible elastic thread.

Price: £10
Top of page
---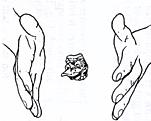 Perfect for almost any routine with invisible thread.
This package includes a 6-foot length of thread with more individual stands than we can count! (Yes I've tried!!!
Ready for separation.
Comes with detailed instructions for doing so!
Price: £4
Top of page
---
Black Dragon Brand - Invisible Thread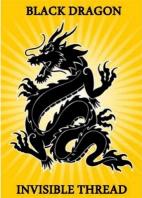 Just as you figure there cannot be anything new or better in invisible threads...
Here are a few words from the creator: As a thread worker I have tested all available threads on the market and found I needed something a little different. I wanted something that combined strength with the highest invisibility Possible. After many years I believe I have achieved that goal with Black Dragon Invisible Thread.

My thread is available in two colours Black for normal working conditions And a Unique light blue colour for working under lighter conditions. You will see that both thread's are not straight because of the way they are prepared. This makes them more invisible. They also have a springy quality which makes them much harder to break in performance compared to other threads.

Black Dragon come with 30ft of Invisible thread and stripping instruction sheet
Price: £7
Top of page
---
The Ultimate Invisible Thread Package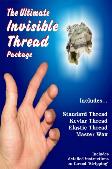 Includes...
Standard thread Unstripped 6ft
Kevlar thread Unstripped 6ft
Elastic Thread 200 ft
Master Wax
I put these together for as a convention special but I have a few left... So grab a bargain worth twice the price!
Price: £10
Top of page
---
Wax
---

For some time now I have been searching for a good supplier of classic Bees Wax. Well... Finally I have! Good Quality Wax for all your needs, thread work Etc.
As recommended by Steve Fearson!
Price: £3
Top of page
---
---
Vernet Thumb Tip (King Size-Standard-XX Large)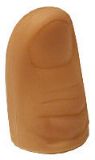 The classic hard plastic Vernet Thumb Tip suitable for matches and cigarettes as well as all the standard items.
Come in 4sizes.
Standard (see picture). Standard SOFT. same as the standard but softer (still quite stiff but a little bit of give in it. King size (Slightly longer) . And now... XX Large! Now if you have an oversized thumb this WILL fit! (2" long x 1" diameter) And Junior. This will also work well as a finger tip.
Price: £3.50 (XXL £4)
Top of page
---
Defy Gravity!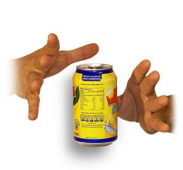 The Universal Levitator is a wonderful gimmick that allows you to float many objects including soda cans, bottles, cell phones, compact discs, balls, cups, DVDs, glasses, dishes, light bulbs, etc.

You can pick up any CD and cause it to levitate between your hands. While drinking a soda the can suddenly starts to float away from you. Borrow a cell phone and make it defy gravity. Just imagine going into a restaurant, picking up a drinking glass, and floating it and then returning it to the table. Everything can be examined.

- The gimmick is specially made.
- No batteries, threads, or magnets involved.
- Can be put on in seconds.
- Carry it in your pocket.
- No set up necessary, it's always ready.

These are an extra long version (you can of course cut them shorter if you wish)
No Instructions just the gimmick but if you need instructions... Probably time to take up plumbing!
Price: £3.50
Top of page
---
Card Wallet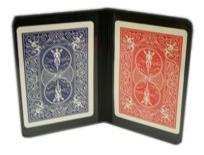 Often with packet tricks you receive a little wallet to keep them in.
If not, or if yours has worn out or maybe you just need a few more...
Look no further! We have them!
Price: 60p each
Top of page
---
Single Packet Trick Holder - Jerry O'Connell

This holder is made to hold a single poker size packet trick. It's flat and is easy to handle and it looks good too.
The packet trick is easy to remove and just as easy to replace. This is the ideal simple design to keep any packet trick neat and tidy until you're ready to perform the effect.
Made from genuine leather. Dimensions Approximately 3" x 4" (7.5cm x 10cm)
ONE left!
Price: £12
Top of page
---
Plastic Playing Card Box - Poker Size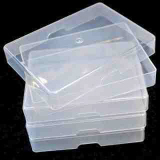 The perfect way to store and protect your favorite deck.

Designed to store and protect a full deck of poker size playing cards.

Protect your favorite deck and tuck box from damage.

Fits most poker size playing card decks.

These clear plastic boxes are made from polypropylene. Durable and stylish

Great for carrying your business cards or other small accessories .

Price: £1 Each
Top of page
---
Fanning Powder - Norm Nielsen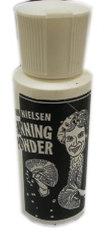 Cards getting old and not doing as they should...?
you have 2 choices... Buy a new deck or buy some fanning powder.
If any one knows about fanning powder ite the master himself

This powder is what magicians use to make the cards easier to fan.

It creates enough friction, yet sufficient "smoothness" on their surface to make perfect card fans
Price: £5
Top of page
---