---
Coins & Money
---
Back in stock...

Hopping Traditional Chinese coins - AKA Hopping Halves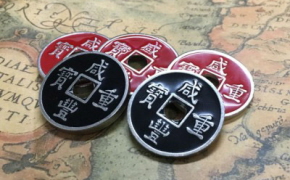 At last a version of "Hopping Halves" that anyone can afford. Made with traditional looking Chinese coins.
This of course opens up the imagination for all sorts of presentations. Like lovers, these coins they can never be apart...
The effect:
Two coins are shown, a red and a black traditional chinese coin . One of the coins is dropped into your pocket and it immediately reappears back in your hand. The other coin is placed in your pocket and it too hops back. The effect is repeated again and finally, when the poor spectator is about to give up, you open your hand and to his utter astonishment everything has vanished! With this beautiful set of coins the routine is simple to perform and when purchased as a set, represents a terrific value.
Other routines are possbile with the coins supplied
Hopping halves is a trick I use a lot. and never fails to geat great reactions. You won't be dissapointed!
Price: £20
---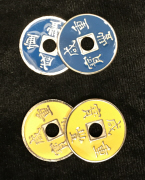 A single Chinese style coin

Silver coin (half dollar sized) milled edges

These are the same as the coins above
You recieve One coin and Shell
Price: £6
---
Dollar Coin Clip - Joe Porper (UK Exlusive)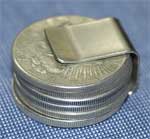 Here's an old utility device made new by Joe Porper. Fabricated from case-hardened steel, and nickel plated, this clip holds six Morgan, Peace or Eisenhower Dollars and can be used for the Slydini coins through the table, or two stand-up vanishes of the stack. Instructions include four different ways to vanish the coins
ONE LEFT
Price: £40
---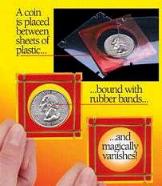 A borrowed coin is marked and then sandwiched between two pieces of clear plastic, this is all secured together with no less than four elastic bands. Covered or wrapped in a handkerchief it is given to the owner of the coin to hold. At the appropriate moment they unwrap it themselves, needless to say the coin has completely disappeared without a trace… A perfect addition to the "Coin In Nest" trick.
Dont be fooled by the low price, this is a great prop, simple, easy to use and most importantly VERY EFFECTIVE!
Price: £3
---
Okito / Boston Boxes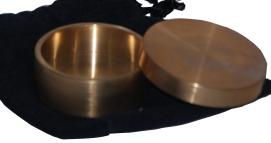 ---
---
---
The all time classic coin trick. Two brass caps a ring and a pile of 10p's produce a variety of miracles. The 10p's vanish from under one cap and appear under the other, penetrate thru the back of the solid metal cap and finally they vanish all together leaving no trace of the coins. Everything can be examined. Self working. Will also take 25c pieces (USA Quarters).
Price: £14
---
Double Headed / Tailed coins 10p


Just what it says on the tin! Either heads on both sides or tails.
Price: £10
Double Heads
Double Tails.
---
Coin in Bottle
All folding coins now with full instructions including my personal handling of coin in bottle!
---
Folding 50p

This single fold, folding 50p is one of the finest folding coins you will ever buy!
Price: £12
---
Folding 50p - Double Fold

Many of you have asked for them, so... here it is! A double fold 50p piece. One of the finest you can buy

Price: £13
---
Folding 10p

From the same manufacturer this single fold 10p is again one of the best I have seen!
Price: £11
---
Ok I admit it, I am obsessed with finding bands! First the perfect rubberband . Now after searching high and low I have found these, ideal for your folding coins! Available in 2 sizes 1/8" and 3/16"
1/8 ideal for 2p/10p
3/16 Ideal for 50p/half Dollar
Price: £1 for a bag of 10
---
Need some ideas for you folding coin? Try her
---

A commercial stunner! As seen on NBC's "World Greatest Magic III"! This has also been used on TV by Harry Anderson.
A sheet of white paper instantly changes into a $100 dollar bill! Very magical and very easy! No thumb tips - this is entirely self-contained! Perfect for television, close-up or walkaround! This is a lovely approach to a very popular effect, and the moment of magic is so strong! Supplied in Camirand stage money with instruction booklet including Gary Ouellet's handling, and everything you need to make this up yourself with your own money from any country.
Price: £8

---