---
---
Shoe Business - Scott Alexander & Puck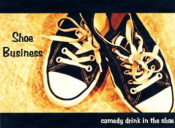 This is Scott Alexander and Pucks answer to the Vanishing Bandana. It is a modern take on the old premise that can quickly find a place for 6 minutes of laughter in anyones act.
This is a well thought out routine that's been worked over and over on real world stages. Just combine a bottle of water with a borrowed shoe and you now have six minutes of Hilarious Comedy without skimping on the Magic!
Scott Alexander and Puck have been performing "Shoe Business" on cruise ships all around the world and it never ceases to generate big laughs while still getting great reactions to the magic!
You borrow a shoe from a member of the audience and tell them you are going to teach them a practical joke
You call the "Practical Joke Hotline" on speaker phone to teach the audience a funny gag. You make a mistake following the instructions and inadvertently fill a spectators shoe with a bottle of liquid. This six minutes of comedy is virtually self working as all you do is follow the audio instructions like the old Vanishing Bandana Trick. What makes this routine so great is the tremendous amount of built in laughs as well as a surprise magical finish that really fools the audience. This is a fresh and modern take on the " Magician in Trouble " premise.
Shoe Business comes complete with Written Script that includes Directors Notes, Audio CD, Performance DVD, and Special Glass
Price: £42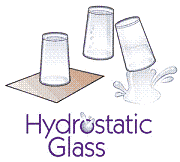 An Effect that has been presented by may top performers. Most notably it has been a feature effect of Geoffrey Durham and Alan Shaxon.
The Effect: A glass of is filled with liquid and a piece of paper placed over the mouth of the glass. Holding it carefully in place the glass is turned over and the hand removed… The paper stays over the mouth of the glass the water seemingly suspended in the glass. "That's Science," explains the performer. Slowly the performer pulls away the piece of paper and the water stills remains suspended in the glass. "That's Magic!" Now holds a container under the glass and on his or the spectators command the water will suddenly drop from the glass "And That's Reality!"

A great classic of magic. Difficult to find a nice one. But finally I have some that look nice. Made from a standard but very nice plastic tumbler that actually looks like glass.
And of course MY instructions!
Price: £12
---
Ghost Card Frame - Mikame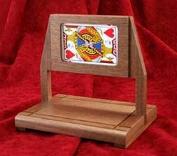 A chosen card is placed into the GHOST CARD FRAME, and the entire frame is covered with a silk. The silk is then removed to reveal the card has vanished. Magician reaches into his pocket and reveals the chosen card and puts it back into the frame. It is covered once more by the silk. The silk is then removed and the frame reveals another card. The magician asks if the card is indeed the chosen card. The audience states it is not and the magician hastily covers the frame with the silk. The silk is then removed to reveal the chosen card.
Packs flat for carrying... Assuming that you actaully use it and just keep it on your shelf in your extensive Mikame collection!
ONE ONLY!
Price: £80
---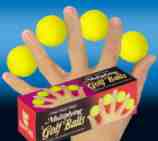 One ball becomes two and two becomes three should be in the repertoire of every magician. Produce a ball at your fingertips. In rapid succession four balls between your fingers.
Just as swiftly, the balls are caused to vanish one at a time until nothing is left.
Each ball is made of rubberized plastic for easy grip. The balls have that 'stick' to them that makes easier manipulating. The color (a vibrant yellow) is dyed completely through the ball. No more of slippery balls that fall easily. Will not chip or crack. Comes with three balls and a gimmick.
Price: £10
---
The spectator blows up the balloon. You the magician take a sharp 45-cm long stainless steel needle, thread a thick cord through it's eye, then push the everything right through an inflated balloon!
The needle passes through, the cord passes through, it's a clear balloon & the audience actually sees the penetration from start to finish. The balloon will not pop!
Self working, mind boggling, easy to perform, supplied with the needle and Transparent Balloons.
Self working. Mind Boggling. Easy to perform
Price: £10
---
Vanishing Bird Cage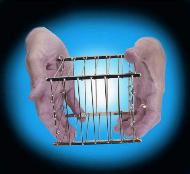 The magician holds a brightly polished metal cage between the palms of his hands. Suddenly, while surrounded by closely watching spectators, the cage disappears. The sleeves are pulled up and the coat is opened but the cage has completely vanished! This is one of the most popular effects in stage magic and should be in every magicians repertoire. This beautiful all-metal cage is meticulously hand-crafted and may easily be held in one hand prior to performance, yet vanish instantly with very little effort. Absolutely silent and built to last a lifetime, the Milson-Worth style Vanishing Bird Cage is one of the finest pieces of magical apparatus available to the magician!

The Vanishing Bird Cage is a classic piece of magic, created by Bautier de Kolta, (who designed this as a cylindrical cage), redesigned by De Biere in the rectangular form familiar today, and made famous by the Blackstones (Senior and Junior) and the incredible sleeves up version by Tommy Wonder. as an outstanding magical illusion. Because of the set up and handling required for effective performance, it is also an item attempted by very few performers.
Comes with everything needed to perform this amazing effect, including illustrated instructions. (Supply your own canary!)

Imagine making a bird cage vanish into thin air! For example, show a small bird in a cage. Set him free and show the audience he is free forever by making his former home disappear! An excellent and impressive finale.
Approximate dimensions of cage- 6" x 5"

Price: £35
---
Better Newspaper Tear - Robert Baxt

Do you want to perform the classic Torn & Restored Newspaper effect, but hate the hassle? Well your wait is over. Master comedy magician Robert Baxt has finally released his Better Newspaper Tear effect, straight from his FISM award-winning act! Just imagine displaying a full-sized sheet of newspaper, legitimately ripping it up into dozens of little pieces, then instantly putting them all back together in a flash restoration (and not having to tediously cut and gaff duplicate sheets or mess with rubber cement)! Robert Baxt's Better Newspaper Tear is perfect for the working performer, with a 30-second reset and no need for tape, glue, scissors, fuss or muss-just the incredible gimmick that lasts a lifetime and any newspaper. You receive the specially-designed gimmick, a Performance & Instruction DVD which includes Robert's method, hilarious routine, and complete presentation. You'll also receive a helpful Tutorial Chart which takes you through the routine step-by-step and a signed, numbered certificate of authenticity with exclusive performance and television rights personally signed by Robert Baxt.
"Baxt has created what can only be called the perfect micro illusion. It's as strong as any cabinet on wheels with a fraction of the cargo space." -Franz Harary
"It's easy! Even I can do this!" -Ed Alonzo, The Misfit of Magic
"Robert's newspaper trick gives you the maximum effect with minimum set-up. I love it!" -Johnny Ace Palmer
"You'll love the method, the method you will love!" -Goldfinger & Dove
"The reset time makes your newspaper tear PERFECT for a cruise ship, where you do several shows a day." -James Cielen, I.B.M. Gold Medal Winning magician.
Price: £80
---
Equal - Unequal Ropes - Professor's Nightmare (Deluxe)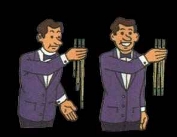 The great Magi shows three pieces of rope each a different length. One short - one medium and of course one long. He takes the ends, three in each hand and pulls… To the surprise of everyone the pieces of rope seem to stretch until they are all the same length. After showing each rope clearly now the same length you reverse the process and each rope returns to it's original size and of course all three pieces can be minutely examined. Easy to do and a real stunner one of the great classic tricks of all time. You've simply got to have it.
Price: £6
---
As you may know Fantasio has ceased production of his canes and candles so this is all I have left...

I do however have a couple of 2nd hand items Drop me an email.

---
The Magician displays a tall Candle and lights it. He then touches the flame and instantaneously, the candle vanishes or changes into a silk.
Price: £22
---