---
Ultimate Snowstorm Set (With Fan and Book) - Larry Maples and Raven

Secrets of the Snowstorm
In recent years, the classic snowstorm effect has gained more and more popularity. We thought it was time to explain, in depth, one of magic's best kept secrets. The book in this set is a complete explanation of the Classic Snowstorm including tips, suggestions and ideas to help bring a new light on this stunning effect. If you use this book you will have the tools necessary to place your own stamp of originality on a classic effect.
Larry Maples and Raven are full time working professionals who perform for cruise lines and resorts all over the world. In 1989, they released The Ultimate Snowstorm. This was the first pre-made banded snowstorm load made in the United States. Today, their Ultimate Snowstorm is used by professionals all over the world and is a staple product in the lines of the most prestigious magic shops.
Comes complete with 6 snowstorm loads (4 white, 1 red, 1 multi), 12 inch fan and 32 page Secrets of the Snowstorm book.
Refills available here
Price: £28
---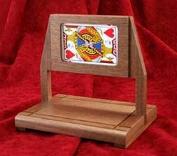 A chosen card is placed into the GHOST CARD FRAME, and the entire frame is covered with a silk. The silk is then removed to reveal the card has vanished. Magician reaches into his pocket and reveals the chosen card and puts it back into the frame. It is covered once more by the silk. The silk is then removed and the frame reveals another card. The magician asks if the card is indeed the chosen card. The audience states it is not and the magician hastily covers the frame with the silk. The silk is then removed to reveal the chosen card.
Packs flat for carrying... Assuming that you actaully use it and just keep it on your shelf in your extensive Mikame collection!
ONE ONLY!
Price: £80
---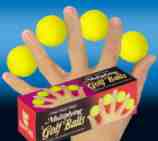 One ball becomes two and two becomes three should be in the repertoire of every magician. Produce a ball at your fingertips. In rapid succession four balls between your fingers.
Just as swiftly, the balls are caused to vanish one at a time until nothing is left.
Each ball is made of rubberized plastic for easy grip. The balls have that 'stick' to them that makes easier manipulating. The color (a vibrant yellow) is dyed completely through the ball. No more of slippery balls that fall easily. Will not chip or crack. Comes with three balls and a gimmick.
Price: £10
---
Levent's Super Salt Pour Gimmick & DVD Combo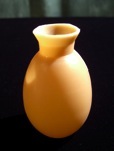 A complete sellout at the Magic Castle lecture!

A magician pours a shaker full of salt into his left fist. Suddenly the salt disappears from his left hand and reappears in a long stream from the right hand.
This legendary trick has been featured by such great magicians as Dai Vernon, Roy Benson and Fred Kaps, and it has been written about in the acclaimed book "Roy Benson By Starlight". As a result many magicians have been hoping to include it in their acts. But the perfect gimmick has been unavailable.
Finally the wait is over!
Levent, the author of "Roy Benson By Starlight" has taken Roy Benson's original Salt Pour Gimmick and he has added many unique design features that make it by far the best gimmick ever produced. Custom molded out of durable and corrosion resistant flesh-colored plastic, "Levent's Super Salt Pour Gimmick" never requires painting or touching up. The lightweight material is slightly translucent so that under proper stage lighting conditions the magician can see exactly how much salt remains in the gimmick as the salt is reproduced. This feature is crucial for magicians that wish to choreograph their salt pour routine to recorded music.
The following are among the advanced physical features:
A very large flared opening which makes it effortless to fill with salt and allows it to be thumb palmed very securely;
A high salt capacity egg-shape that ergonomically conforms to the shape of your closed fist, thus making it easier to palm;
A concave base enabling the gimmick to sit upright and be ready to use in the prop case which also provides an indentation for your thumb making it easier to do the Benson "Turnover Move" as well as allow for better control during Vernon's salt flow control technique.
The gimmick includes a DVD, in which Levent teaches the various Salt Pour techniques from the past masters of magic such as Dai Vernon, Roy Benson, Ross Bertram and Fred Kaps. Levent's comprehensive lessons show the real secrets, such as how to covertly introduce the gimmick into your hands at the start of the routine, how to control the flow of salt when it is reproduced and how to secretly ditch the gimmick at the conclusion.
Levent also teaches the entire Salt Pour routine that he currently performs in his comedy magic act. Plus, he includes multiple variations such as the production of the salt from both fists. Finally as a bonus he reveals the secret of his earlier routine in which a borrowed wrist watch is transformed into an hourglass, the sand from the hourglass is used for the Salt Pour trick and at the finale the sand magically transforms back to the borrowed watch.
Wow talk about value for money... You learn EVERYTHING there is to know about the trick from A-Z even if you never perform this the history lesson alone is worth the money! GET IT!
Price: £48
---
Vanishing Bird Cage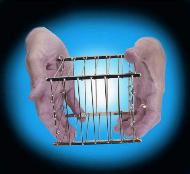 The magician holds a brightly polished metal cage between the palms of his hands. Suddenly, while surrounded by closely watching spectators, the cage disappears. The sleeves are pulled up and the coat is opened but the cage has completely vanished! This is one of the most popular effects in stage magic and should be in every magicians repertoire. This beautiful all-metal cage is meticulously hand-crafted and may easily be held in one hand prior to performance, yet vanish instantly with very little effort. Absolutely silent and built to last a lifetime, the Milson-Worth style Vanishing Bird Cage is one of the finest pieces of magical apparatus available to the magician!


The Vanishing Bird Cage is a classic piece of magic, created by Bautier de Kolta, (who designed this as a cylindrical cage), redesigned by De Biere in the rectangular form familiar today, and made famous by the Blackstones (Senior and Junior) and the incredible sleeves up version by Tommy Wonder. as an outstanding magical illusion. Because of the set up and handling required for effective performance, it is also an item attempted by very few performers.

Comes with everything needed to perform this amazing effect, including illustrated instructions. (Supply your own canary!)


Imagine making a bird cage vanish into thin air! For example, show a small bird in a cage. Set him free and show the audience he is free forever by making his former home disappear! An excellent and impressive finale.

Approximate dimensions of cage- 6" x 5"


Price: £35
---
Better Newspaper Tear - Robert Baxt

Do you want to perform the classic Torn & Restored Newspaper effect, but hate the hassle? Well your wait is over. Master comedy magician Robert Baxt has finally released his Better Newspaper Tear effect, straight from his FISM award-winning act! Just imagine displaying a full-sized sheet of newspaper, legitimately ripping it up into dozens of little pieces, then instantly putting them all back together in a flash restoration (and not having to tediously cut and gaff duplicate sheets or mess with rubber cement)! Robert Baxt's Better Newspaper Tear is perfect for the working performer, with a 30-second reset and no need for tape, glue, scissors, fuss or muss-just the incredible gimmick that lasts a lifetime and any newspaper. You receive the specially-designed gimmick, a Performance & Instruction DVD which includes Robert's method, hilarious routine, and complete presentation. You'll also receive a helpful Tutorial Chart which takes you through the routine step-by-step and a signed, numbered certificate of authenticity with exclusive performance and television rights personally signed by Robert Baxt.
"Baxt has created what can only be called the perfect micro illusion. It's as strong as any cabinet on wheels with a fraction of the cargo space." -Franz Harary
"It's easy! Even I can do this!" -Ed Alonzo, The Misfit of Magic
"Robert's newspaper trick gives you the maximum effect with minimum set-up. I love it!" -Johnny Ace Palmer
"You'll love the method, the method you will love!" -Goldfinger & Dove
"The reset time makes your newspaper tear PERFECT for a cruise ship, where you do several shows a day." -James Cielen, I.B.M. Gold Medal Winning magician.
Price: £80
---
No Tear Torn & Restored Newspaper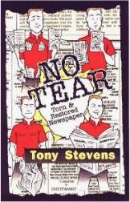 You walk out before your audience and display several torn pieces of newspaper. Each piece is shown freely and openly. You explain that you are trying to find a certain article, but unfortunately you can't seem to locate it. In a moment of inspiration, you drop the pieces and they visibly fall restored into a complete newspaper! Tony Stevens' NO TEAR is a startling and visual restoration of a newspaper. Many performers are calling it the most amazing restoration ever invented! It comes complete with everything you need and it' s ready to perform right out of the package! No wading or folding... The pieces just seem to melt back together. The gimmick can be put into any newspaper and once inside, it can be used for dozens of shows before you need to change the paper. There is no difficult handling or complicated moves...in fact it's virtually self working!
Price: £22
---
Equal - Unequal Ropes. Professor's Nightmare (Deluxe)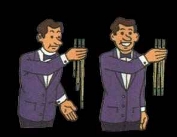 The great Magi shows three pieces of rope each a different length. One short - one medium and of course one long. He takes the ends, three in each hand and pulls… To the surprise of everyone the pieces of rope seem to stretch until they are all the same length. After showing each rope clearly now the same length you reverse the process and each rope returns to it's original size and of course all three pieces can be minutely examined. Easy to do and a real stunner one of the great classic tricks of all time. You've simply got to have it.
Price: £6
---
Fantasio and Norm Nielsen Products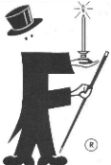 Appearing and Vanishing Canes, Wands, Candles by Fantasio.
We hold a large range of Fantasio products, on their own page here
Norm Nielsen's vanishing bottles, latex doves and other items also have their own page here
---
Can't see what you are looking for drop us a line
---
Questions or Queries ?

E&OE