---
PDFs & Ebooks
---
FREE DOWNLOAD!
Magic Modeling Language (MML 1.0)
By Alvo Stockman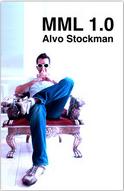 Magic Modeling Language (MML) is a way professional magicians can abstractly describe and quantify the dynamics of a magic trick.
By looking past the presentational details of a particular trick, we can compare tricks that are seemingly very different in interesting ways.
Through effect maps, we can quantify elements of magic tricks that are sometimes clouded by presentation. effect maps are one more way that professional magicians can further analyze and refine their performances...
This e-book offers the serious performer a simple, powerful way to diagram and analyze effects. The result is a refreshing look at the magic you perform every day.


To download MML-1.0 now. Either click to open or right click and "save Target as"
---
All downloads will be emailed to you ASAP within 24 hours!
---
Gary Jones Lecture - Notes #1 - No Frills, Just Pure Magic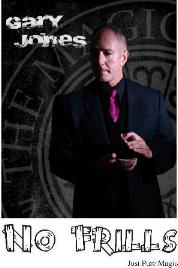 These are the notes for Gary's 2007/8 lectures. Gary has worked on and developed these effects over many years as a professional magician. Every one of these effects are real workable effects usable in the real world from the mind of ones of Britians top working Pros...
Starter For 10
Back Palm Change
Colour Changing Silk Surprise
Instant Reverse
Instant Sandwich
Mindful Coins
No Palm Coins Through Table
Bottle Production
No Sleep
Shaken Not Stirred
6 Cards to Pocket
GJ 3Fly

No Palm Signed Card To Card Case
Thought of Cards Across Plus
Balducci, Balducci, Balducci
No Count Oil & Water
Ultimate Inversion
Ambitious Jazz
Quick Reminder

"The effects shown and taught were not only high caliber cards effects but also effects with coins (one of the best 3 Fly routines I've seen) finger rings, the cheekiest watch steal ever, balls, pins and hankies. I've always been a fan of the cards to pocket routine but the vanish of the last card has always been a problem, Gary has eliminated this problem and this routine will catch you, this is the last word on cards to pocket"

As a friend of Gary's I can say that rarely will you find material of this caliber offered in this way. Chris Congreave (Professional Magician).
As another friend of Garys I can promise you you find stuff here you will use. Gary is a true Pro in every sense of the word.
Price: £6
---
Mind Blasters - E-Book - Edited by Peter Duffie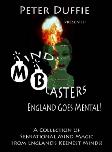 I am Proud to be be able to offer you our first downloadable E-Book and what a book!
The ultimate collection of mind-blowing English mind magic! Some of the world's top mentalist's tip their mitt! After the success of Miraculous Minds - Scotland goes mental Peter Duffie pulled off an even bigger job covering England with 41 contributors and 57 sensational routines. Do the math yourself, this is the quality and quantity bargain of the year.

The ultimate collection from some of the UK's finest performers. A Whopping 195 pages! Over 40 Contributors! 55 Sensational Routines! Illustrated with Photographs & Graphics
E-Book - PDF format - Download

Table of Contents
Marc Paul AAA Serial Number Divination / Shuffle Challenge Too
John Archer Back to the Future
Wayne Dobson Fluke
Stephen Tucker 58 to 1 / ACAARN
Paul Hallas Still Battling Along
Christopher Williams Ungaffed Entourage / Predictext
Abracadaver Con-Flatulation
Les Johnson Remote Viewing Magic
Harold Cataquet The Knight's Tour / Seeing & Believing
Andy Nicholls Borderline Location / Out of the Ordinary
Shiv Duggal A Good Year / Frequency
James Ward What's in a Word? / Sentimental Journey
Stephen Jones 1812 / Titanic
Russell Hall The Blackwood ESP test
Roni Shachnaey The Inquisition
Lewis Jones Concord
Scott Creasey The Eternal Triangle
Barry Cooper Are you a "real" mentalist? / The ABC of ESP
Al Smith Tryangle / Friendly Persuasion
Roger Curzon The Devil Rides Out
Andrew Brown The Living & the Dead / The Clairvoyant Card
Anthony Brahams Cabin Book Test
Dominic Twose Drawing Close
Justin Higham Double Minded
Mike Hopley Two-Person Book Test / A Card in Motion
Roger Ferriby The Ghost of the Ferry Boat Inn
Todd Landman My Ching
David Britland Fooler's Gold – T. A. Waters
Walt Lees Ring Master
Andi Gladwin Mentalist's Luncheon
Chris Hare Crab
Chris Wardle P.S.
James Brown Dark / Caught 3 Times
Olly Crofton Three Thoughts
Paul Gordon Twin Peeks / Thought Stealer Rethought
Steve Cook Balls 2 / Barefaced!
Stephen MacRow Brain Fry!
Mark Elsdon Bottle Capped / Best Telephone Trick / Brainwave-2
John Holt Absolutely Positive
Doug Segal I'm Sorry I Haven't a Cluedo
David Penn Drawing Duplication – A Video Bonus!

To read a fuller description see here
Price: £12.50
---
Mind Blasters 2 -E-Book - Edited by Peter Duffie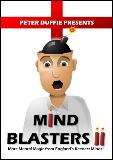 With great pleasure be able to offer you our 2nd downloadable E-Book - PDF format - Download

Once again, some of England's top mentalist's tip their mitt. Following the success of Mind Blasters we now have: Mind Blasters II - the Sequel! A Second Bumper Collection of Sensational Mind Magic From England's Keenest Minds.
A massive 224 pages! 45 Contributors! Over 60 Sensational Routines! Fully illustrated with Photographs & drawings.

Once again, here is a book which really does have something for everyone. Editor Peter Duffie has persuaded many of England's top mentalists to part with even more of their cherished routines. Here is practical material you will use!

The list of contributors and routines is hard to believe:
Wayne Dobson: Tax / TLC
Marc Paul: Square Thoughts / T.A.R.P. Squared
Simon Shaw: Stuck for Words
Mike Hopley: Crystal Clear / Beyond Chance
Craig Petty: Frick Off! / Psychic Paper Clip
John Holt: Hit List / Open Minded
Andi Gladwin: Peeked Too Soon
Doug Segal: The Shadow Knows
Lewis Jones: The Odd Couple / Impulse
Tom Lauten: Stepping Stones
Anthony Brahams: Spectator Reads the Pockets
Mark Ashcroft: The Robber
Steve Cook: Matched / Auto ESP
Barry Cooper: A Special Place
Paul Gordon: "Mentalist's" Muldoon Match / Sum Of All (Hidden) Parts
James Ward: Wishful Thinking
Christopher William: Dropped Card Trick
Todd Landman: The Presence of Mind
Andrew Brown: Design Psychometry / The Stop Trick
Dan Burgess: Simulacrum / Enigma unshuffled
Sean Carpenter: Zodiac Double
Scott Creasey: Close Up Dupe / The Druid's Eye
Roger Curzon: Coinomancy
Justin Higham: Mindreader's Pipe Dream
Shiv Duggal: Psychic Journey / Taste Buds
David Gemmell: Thanks to James / 3-4-1
Joel Dickinson: Sybil's Pick
Chris Wardle: It's a Gift! / Squared Circle Prediction
Stephen Tucker: First Spot / Freer Chance
Roger Ferriby: Cajun Joe and The Absinthe Bar
Chris Hare: Taken a Step Further
Russell Hall: Tri-Psyche
Ben Highway: The Serial Effect
Walt Lees: Note a Chance
Stephen Jones: COPS / Droodlesp
Ian A. Thomson: Bank Nite Congealed
Jamie Dawes: Psychological Jukebox
Jozsef Kovacs: Colour Scheme
Roni Shachnaey: Add a Number, Hate a Number
Al Smith: Before the Fire / Beat Tapper
Dominic Twose: A Fruitful Trick
Martin Jacobs: Dice Counting
Liam Montier: Sleuth / Mapped Out
David Penn: Bluff Headline Prediction
Harold Cataquet: Little Miracles

Price: £15
---
A Collection of Card Magic - Christopher Williams - E-Book PDF


Chris is young man who has an incredibally inventive mind. He is so full of ideas, that most days he cannot contain his excitement at some new move or idea. Chris is already becoming an underground legend amongst the "workers". Here is his first booklet of routines that he has created taking some classic effects and adding some different touches to them. Originally released as an E-book recieving many excellent reviews, we have decided to make it into a "Hard-copy".
Contents:
Oil and Hot Water - A four card 'oil & water' routine with a colour changing back kicker! Killer, practical card magic!
Named Ace - 'Twisting the Aces' meets 'All backs' with a named four of a kind. Then they change to the Four Aces! A LOT of magic in one very clever routine!
A Very Nice Pair - A tabled selection changes to a King then both Kings trap the selection in the deck! You'll be doing this very cool 'quickie' the day after you read it!
Joker in the Box - A brilliant exploration of 'Dr. Daleys Last Trick' that takes the effect way beyond the original. Flashy and impressive, this is a real gem!
Find that Ace - 'Spectator Cuts the Aces' routine. An excellent combination of devastating principles balled into one show stopping routine. Better make it a closer because this will be difficult to top!

"If you like visual magic with multiple climaxes, check out Christopher Williams new booklet, 'A Collection of Card Magic. "... Mike Powers

"Genuinely one of the most interesting manuscripts on cards I've read in a long time. All the effects are created with the real world performer in mind and they are put together beautifully. You WILL use the effects contained within 'A Collection of Card Magic', there just isn't any good reason not
to!"... Dave Forrest
Read a review of this book here!

Special Price: £6
---
Card College #1 EBook - Roberto Giobbi

Supplied on CD!



Card College is a modern classic. It is without a doubt the most important work on sleight of hand with cards. This is the first volume in a series of five. The speciality of this electronic book are its 89 video clips, which show how Giobbi executes each and every technique described.
Please note that there are significant differences between the latest printed edition of "Card College 1" and this ebook, beside the video clips. This ebook was based on the German edition "Grosse Kartenschule 1" which has a somewhat different selection of chapters than the English one from Hermetic Press. One could say it is the author's cut: Chapter 9 'The Glimpse' in this ebook appears in volume 2 of the Hermetic Press series. On the other hand chapters 13, 14, 15 and 16 from the Hermetic Press book are missing in this ebook. They will be available in the electronic Card College 2.
Beside the chapter differences between the paper edition and this ebook, Giobbi added about 20 new pages to "Card College 1" since the latest printing. There have been numerous additions particularly to the 'Final Notes' and 'Check Points' sections. Chapter 1 has a new section on the card case.You might think that opening a card case is a trivial matter. Not so, says Roberto, who disects this process into its smallest part and gives you plenty of good reasons why you should know all these details. A new routine 'Further than that...' was added to Chapter 5 'Force Techniques Part 1'. And finally the 'Bibliographic Notes' have been updated and extended.
Special Price: £20
---