---
---
Mentalism / Kenton Knepper / Escapology / Cards / Assorted Titles
See our PDF Downloads - Here Audio books - Here
---
---
Distorted Thoughts - Jack Curtis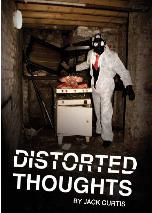 I am very pleased to be able to bring you a book of excellent workable material. No pipe dreams this stuff works. The guy knows what he's talking about... Outstanding value for money!
Jack Curtis is a professional mentalist from the UK. This book is a collection of Jack's favorite mentalism routines and theories that he uses personally on a regular basis. Every effect is very easy to perform, however, the book requires an advanced knowledge in the field of mentalism and is not written with the beginner in mind.

Contents:Extra Subliminal Persuasion
Instantly resetting close up mentalism using five ESP cards contained in five small envelopes.
Red Sky in the Morning
NLP playing card divination with a kicker ending.
Digital Video Prediction (DVP)
A multiple out solution for the stage performer.
H2O
A three phase routine using an empty glass and a jug of water.
Blank
Subliminal influence demonstrated with playing cards. A quick, easy and effective opener.
Law of Attraction
A beautiful routine using a stack of business cards that brings the participant closer to a loved one.
The book also includes essays about why playing cards should never be taken for granted and why everything you know about approaching tables in a walk around environment is wrong.
Every effect in this book is simple and direct, just how I like them! Jack has thoroughly thought through every presentational nuance to bring you not only a small collection of strong mentalism effects, but also some very important performance and delivery ideas often overlooked by entertainers in this industry. - Looch (professional mentalist, author of S.A.D)

The direct plots and simple methodology make each piece super easy to slide anywhere into your repertoire. - Dee Christopher (professional magician and magic author)

As an actor and film maker, Jack knows how to draw people into the experience and engage his audience. Besides the clever ideas and routines full of details, you might find yourself thinking about how you can improve your own performances. Very inspiring! - Harry Lucas (Austria's finest mind reader)

I absolutely love the effects in Distorted Thoughts, the production is tip top too. - Anthony Jacquin (professional hypnotist, mentalist and author of Reality is Plastic)
Full colour, 75 page, perfect bound book
Price: £20
---
The Very Modern Mindreader and Other Miracles - Richard Osterlind


The Triumphant Return Of One Of Mentalism's Living Legends! Richard Osterlind's name has always been associated with strong and practical effects guaranteed to leave a powerful impression on an audience. In this new manuscript, The Very Modern Mindreader and Other Miracles, his first release of completely new material to the magic and mentalism fraternity in over ten years, Osterlind delivers three outstanding effects, ready to go right into your professional repertoire.

The first, "The Very Modern Mindreader," takes Annemann and Hewitt's classic routine into the 21st Century. With practical touches developed over thirty years and never before released, Osterlind gives you the power to divine information sealed in envelopes by audience members with no gimmicks whatsoever-in fact, all of the elements may be left with the audience. This is reputation-making material, suitable for all venues from close--up to platform.
The second offering is the "Osterlind ESP Card System," a revolutionary new
idea for ESP cards. Although there have been thousands of effects with these cards, there has never been a routine for the basic tests for which they were devised. Osterlind solves this problem with a stack for the ESP deck which looks random, has no exceptions to the rules and is cyclical so that the last card leads back to the first. In addition to allowing you to "test" your ESP powers according to the cards' instructions, this new stack will open up realms of new effects with these wonderful cards.
The third effect is really two in one. The three-phrase prediction effect has always been a favorite of Osterlind and he's released a number of these ideas over the years. "StenoESP" allows you to perform this classic "Mental Epic"-type effect using nothing but a steno pad and grease pencil. The working is clean, easy and convincing. In addition, Osterlind offers an additional routine that uses slightly different apparatus and streamlines the effect for a quick stage presentation.
Softbound, fully illustrated.

Price: £18
---

In his first ever book, Ben Rayot reveals some of his most "deadly weapons," the routines that he has used time after time to get strong reactions from audiences. These are some of the finest mental effects released in some time.
Contains: E.S.Pecially for You - Eye Can See What You Are Thinking - Magnas Veritas - Off Centre Tear - Singing in the Vain - What Sign are You? - Hallucinations - a spectator hallucinates seeing a card in the deck
If you're looking for high-impact mentalism, look no further. Staplebound, 15 oversized pages.
Price: £22
---
---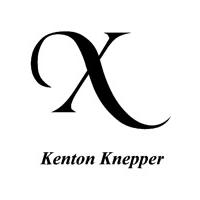 X contains over a dozen extremely strong, yet very easy-to-do effects from Kenton Knepper, including pieces straight from his professional act. Kenton's unique use of linguistics, multiple-reality ploys and "special somethings" make for the sensational impact these effects have on audiences. Here are just a few of the effects in X:
Imagine giving a spectator a pair of "X-Ray Glasses" which apparently allow her to see inside a pocket or cardbox! The glasses can be examined and there is nothing to ditch, palm or sneak out.
A spectator seemingly uses her own intuition to pick the one unmarked coin from others donated and initialed by audience members. The coins are then handed back to the owners - no coin switch required.
A spectator chooses which bottle of three is the safe bottle - two are "poisoned". She easily chooses the correct "clean and safe" bottle, as the other two poisoned ones have large X marks on them (no nailwriter).
X also includes Docc Hilford's amazing Traveler effect: A spectator travels through time, and upon her return chooses three postcards in order. Each postcard predicts the exact order in which the spectator would select them! Staplebound, 26 pages.

Price: £22
---
Mystery by Association - Kenton Knepper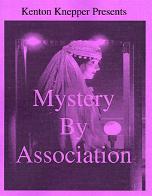 A new masterwork from Kenton.
Over 100 full size pages on the secret principle of Association and how Kenton and students use this long ignored and mysterious factor. We simply cannot say enough about it, or what it will do for you.
Using association causes spectators to stop being spectators. Association actively engages onlookers, causing more of an experience and relationship with your audience. The audience becomes an active force in your performance. They do not feel left out of the act. With association, the audience is a willing and active participant, rather than an antagonistic force to be won over by manipulation.
Best of all, magic and mentalism can easily be made into legitimate art by applying association to standard tricks and presentations. In a sentence or less, with one object, or less, association casts its spell. Immediate ART and MEANING can be had without hard work, once you grasp the underused and oft ignored principle of association.
Influence and shape audiences to do as you desire by association and its related branches of sneaky psychology. People will follow your lead and more. Your audience is just waiting to be taught what to do!
All of this is just for starters. We know these sound like impossible promises, but they are true. Artists and psychologists have proved these claims about association reliable for ages. Association is the standard used in video, persuasion psychologies, advertising, art, music and theatre. Yet mentalists and magicians use it unknowingly, as if by happenstance.
Like Wonder Words, Kenton once again changes the landscape of mentalism and magic forever with this book. You will wonder how mystery performers ever performed without this incredible principle.
THIS work will remind you why Kenton is considered a groundbreaking leader in mentalism and magic.
New effects, tricks and methods included, as well as material from The S.E.C.R.E.T. School
Pages 111 - Tapebound
Price: £35
---

This work contains six of Kenton's most unusual effects and methods. Previously unreleased except to a private few, these concepts will challenge you. Far from the "ordinary" this manuscript details:
How to find a card by "channeling" a spectator.
Perform a routine in which words and scent are the actual method.
Make vanished coins or charms reappear inside a lit candle.
And much more, of course, including further effects and presentations, more extended and diverse applications, and new gut-level essays.
It is little wonder that many have awaited Kenton's release of this "Weerd" material. Now these often startling effects and strange but magical methods can be YOURS.
Price: £32
---
Secrets of Indirection - Kenton Knepper

As those who have attended some of Kenton's more exclusive and expensive workshops know, "Indirection" is a key principle in Kenton's work. Far more important than "mis-direction", indirection is a subtle way to cause the audience to accept things as true without conscious criticism.
This manuscript details new effects and techniques based upon this powerful principle. From making "standards" truly remarkable (such as the Linking Rings, Egg Bag and even the Lota Bowl) to new works such as Kenton's "Indirection Bowl" direct from the opening of his act, or "Drawing Duplication" from television, many great effects and ideas are examined in detail.
It's hard to get a room full of magicians to applaud a Lota Bowl or hardcore mentalists to be fooled by the use of a stooge. But "Secrets of Indirection" reveals how to do all of this and more. Once you grasp the principle, you'll apply it to nearly everything you do.
Kenton's use of making a compass move while attempting metal bending is in here too. This is not the same thing as "Kenton's Kompass". You'll find Kenton also tips for the first time his "Famous Bottle Vanish" used in clubs, banquets and on full stage. This alone is worth the price of this manuscript to any performer - and it is easy to do. Many more effects are detailed.
This manuscript will change how you look at everything you do in performance. The simple concept of "indirection" will radically alter our magical and mental arts - if we but think and apply this remarkable tool.
The majority of effects described are magical in nature, though some mentalism is of course included. Magic examples make for the easiest and quickest way to grasp the indirection concept, that you may then apply to mentalism and everything else you do. While effects may be magic oriented, this will not dissuade the thinking mentalist who is after principles, not simply tricks.
This key principle upon which Kenton depends in all manner of work and styles of performance is now revealed at last.
This is the latest of the in-depth work by Kenton upon which so many await and rely. You will want to get ahead of the pack and begin reconsidering your act using the power of indirection.
Price: £22
---
An Enchanted Evening - Kenton Knepper


Here's what Kenton himself says about this "enchanted" work: "I am really excited about this diverse manuscript for a lot of reasons. It's 60 full size pages. It has magic, mentalism, readings, essays and more in it. I have put in some of my favorite new material for both stage and close-up. I really LOVE this material as I do it often!"
Here are some highlights:
Spoon Bending Parties - a detailed examination which many mentalists have asked me to share with them alone, or keep to myself.
Bending Coins - with no moves, and Manifesting Coins as desired by a spectator.
Packet Trick Readings - this is a riot! Magicians love it. Mentalists hate it. You should use it. How can it be this easy and startling too?
Flower Psychological Force as a Reading - with Outs as Personality Tests and more.
Flowers From Fingertips - A no palming, no holder spring flower production that has fooled many well-versed performers. It's EASY. An amazing invention.
A wide and eclectic blend of magic, mentalism, essays on enchantment, psychology, linguistics and more that I use almost daily in my work.
The Full Linguistically Twisted Kenton Tarot Trick for BSM - ALL the details! Beautiful, poetic, miraculous, memorable magic and mentalism that is truly different.
Please note this is now out of print and I have 3 copies left!
Price: £36
---
Kenton's Little Book of Wonders - Kenton Knepper

Packing a giant wallop in a small, compact size...About 60 pages packed with original Kenton material never published before. Here are some of Kenton's cherished secrets such as his work with The Hoy Deck which sent mentalists reeling recently. This 5 1/2 X 11 inch booklet has more truly creative and honestly practical effects than most books three times its size. EVERYTHING you enjoy can be found here. Close-up, mentalism, stand-up, weird magic. Plots never considered previously, and wild takes on a few forgotten classics. Here is a taste: Pop popcorn in your hand - Spectators HEAR it actually popping! Learn of Kenton's O.K. "Okito" box which uses hinged lids and mini-mint boxes. Yes, HINGED on lids as an Okito Box. This will create a new revolution in the Okito Box tradition. Don't just melt a spoon - squish the bowl like it were putty. Is it putty? No! The bowl while seemingly molten instantly becomes solid again and the hands are seen empty. NOT like anything you have seen before. This is different. Props are taken from a large Altoid type box, as the performer displays his unusual abilities. BUT, the box instantly seals itself shut with tape, postage stamps and more in a split second and in full view. The tape must be removed before the box can be opened to once again show all the props inside (including a borrowed item). This is impossible to describe and weird to experience! A key chain with a light is held over a spectator's hand. The spectator attempts to light it with her mind. That never happens. But what does happen will surprise you and your spectator for some time to come.
There is MORE in this little booklet to be sure. Any one of these effects could have been marketed on their own, as many are doing with manuscripts these days. But Kenton, as he begins to wind down his writing for performers, wanted to cram as much as he could into one little booklet. That he has certainly accomplished. Several secret groups were privy to small portions of this work last year. Each commented on how these methods were going to change their own methods, effects and presentations. Each group noted that at least several likely instant-classics were contained in this booklet. This is truly a Little Book of Wonder which you can't afford to miss, and at a special price to top it all off.
Price: £15
---
K.E.N.T. - John Mahood / Kenton Knepper

Ultimate proof that you can read minds even in the worst situations. K.E.N.T. is a wild mix of principles making for a REAL solution to mind reading. This looks like the REAL thing...Please read this entire ad carefully. All we say here is TRUE.
Whether you are a close-up performer or a mentalist that plays it seriously, K.E.N.T. is a must have for you. Kenton calls K.E.N.T. "One of two tools I rely upon for close-up work of any kind, magic or mentalism". K.E.N.T. is the creation of Irish magician and mentalist John Mahood. IMAGINE... A wise guy pulls out his own deck of cards and demands that you prove your abilities. He wants you to prove yourself, without touching the cards, without writing anything down, without others helping. NO touching, NO marks, NO sleight of hand of any kind. NOW WHAT? With K.E.N.T. you tell the spectator to make it tough on you and think of one of a few cards he himself removes from his own deck. You never see these. You instruct him how to focus upon his thought of card and you NAME HIS CARD to the degree that he freaks out and swears you are the REAL thing. He dares you to tell him what his card is, and that is exactly what you are seen to do. This friends is a true mindblower. It is POWERFUL stuff. But it is not for everyone. This is as close to real mind reading as you can get. Like real mind reading, you will at very rare times, miss. You should know this up front. K.E.N.T. is for performers. For many real performers, given the impossibility of this situation, this is not much of an issue. You would likely fail anyway, so why not have the tools to usually win out instead? Yet we wanted you to be aware of this possibility. Add Kolossal Killer to the mix, and you will do this and never fail. In an effort of complete disclosure, the effect is you name the entire card. The reality is you name the name or number of the card, not the suit generally. But due to the psychology used, it appears you have named not only the name, but the suit as well. You should also know that this is based upon English and American English as well as American playing cards, so this may make a difference to you. If you and the people you perform for will speak in English generally, then this is great for you. If not, this may not be perfect for you. You would surely have to make a fair amount of adjustments to be able to use the basic idea in other languages. We like to be as clear and open as we can about such things.
With that in mind, this and "Killer" Kenton calls his "lifeblood of close-up and mentalism" with cards.
K.E.N.T. is also a must have for the close-up card worker who faces the type of spectator that challenges you to find or tell him his thought about card. NOW YOU WILL. For the mentalist who is asked to prove the "impossible", this is a tool that must be in your arsenal. Perform K.E.N.T. over the radio, phone or Internet if you wish! Once you have K.E.N.T.in your mind, you will need nothing else. Another person's mind and their own deck of cards is all that is used. That and the special secrets explained in K.E.N.T. 25 pages of 5 1/2 X 8 1/2 size. Includes how Kenton uses K.E.N.T. in a One Behind or One Ahead effect as well!
Now even I can do this! - M
Price: £11
---
Readings for the Magician - Kenton Knepper

So, you want to begin sneaking a bit of mentalism and maybe even a few readings into your magical work? Kenton Knepper's Readings for the Magician will show you exactly how to reply to, "Hey, can you tell me my fortune?" in a powerful and entertaining way (without memorizing anything). With a blend of totally new material, improvements on past work and twists galore, this booklet will allow you to do what you have been wishing to do. If you've ever wanted to add a touch of readings to your magic, don't pass up Readings for Magicians. Staplebound, 20 pages.
Price: £18
---
Killer Konceptions - Kenton Knepper
How could anyone improve on the Original Kolossal Killer manuscript? Kenton has! This manuscript contains what Kenton believes to be to the most impressive and entertaining versions of Kolossal Killer ever! Here you will find versions that outdo the original! These methods include ways to do Killer without using a wallet, methods that allow you to hand the spectators the wallet, gaffs so the wallet would be truly empty, and much more. There are even ideas from the late Doug Henning that Kenton couldn't keep to himself, as well as contributions from many others.
Please note... You need to have read "Kolossal Killer" to be able to utilise this.
Price: £26
---
---
How to escape from handcuffs...
In this booklet David explains all the known methods of escape from Handcuffs and Leg Irons in current use throughout the world. Escape from all types of handcuffs just like magic. Even double locking cuffs are covered. All is revealed in this essential must have booklet of Handcuff escapes.
Price: £6
---
16 Thumb Tie Gems - Max Andrews

Want to put a thumb tie in your act... Having difficulty in choosing a version to use! This book pretty much has them all! And at a fraction of the cost of some of the other books available! with in in this exceptional book you will find... History of the trick, its presentation and many variations on it. Comedy stunts, Scissors Tie, Wire Tie, Pipe Cleaner Tie, The Tape Tie, "La France" tie, gimmick tie, the Ten Ichi tie, Thumb Stocks, Thumb Screws, Etc. One of the greatest mysteries of all times. 50pp. Illustrated ... Almost a collectors item... And highly recomended!
Price: £4
---
---
A Collection of Card Magic - Christopher Williams


Chris is young man who has an incredibally inventive mind. He is so full of ideas, that most days he cannot contain his excitement at some new move or idea. Chris is already becoming an underground legend amongst the "workers". Here is his first booklet of routines that he has created taking some classic effects and adding some different touches to them. Originally released as an E-book recieving many excellent reviews, we have decided to make it into a "Hard-copy".
Contents:
Oil and Hot Water - A four card 'oil & water' routine with a colour changing back kicker! Killer, practical card magic!
Named Ace - 'Twisting the Aces' meets 'All backs' with a named four of a kind. Then they change to the Four Aces! A LOT of magic in one very clever routine!
A Very Nice Pair - A tabled selection changes to a King then both Kings trap the selection in the deck! You'll be doing this very cool 'quickie' the day after you read it!
Joker in the Box - A brilliant exploration of 'Dr. Daleys Last Trick' that takes the effect way beyond the original. Flashy and impressive, this is a real gem!
Find that Ace - 'Spectator Cuts the Aces' routine. An excellent combination of devastating principles balled into one show stopping routine. Better make it a closer because this will be difficult to top!

"If you like visual magic with multiple climaxes, check out Christopher Williams new booklet, 'A Collection of Card Magic. "... Mike Powers

"Genuinely one of the most interesting manuscripts on cards I've read in a long time. All the effects are created with the real world performer in mind and they are put together beautifully. You WILL use the effects contained within 'A Collection of Card Magic', there just isn't any good reason not
to!"... Dave Forrest
Also avilable in PDF here

Price: £10
---
Three Card Monte - John Scarne

A classic of gambling, explained by John Scarne, this 47 page illustrated booklet covers everything there is to know about the three card monte. The basics of the 'game' and a definition of gambling terms are given before Scarne reveals a variety of convincers, such as a bent or even torn corner on the money card.

Price: £4
---

The Stripper Deck is one of the most ingenious magic decks of cards ever invented. You can learn up to 110 amazing magic tricks using this apparatus. You can amaze your friends or audience after a short period of practice.
- A group of people think they selected the same card
- Immediately find any card that has been hidden in the deck.
- Separate magically all the Aces from the deck.
- Deal yourself a royal flush
Price: £3.50
---
110 Magic Tricks with a Svengali Deck

The Svengali Deck is an ingenious magic deck of cards. You can learn 110 amazing tricks & routines with this book. You can amaze your friends and audiences after practicing. Below are listed a few of the 110 tricks you can learn from this book...
- Show a normal deck - then change ALL the cards to the previously selected card.
- Seal a card in an envelope - then have a spectator pick the card in the envelope.
- Spectator stabs the deck - the selected card is where the person inserts the blade.
- The selected card appears in your pocket or anywhere else.
- The card that was selected appears anyplace where the spectator cuts into the deck.
Price: £3.50
---

This Manuscript is a collection of some of Larry Jenning's best effects.
Up In Smoke - Any four-of-a kind is removed from the deck. The magician blows a puff of smoke toward the cards, causing them to instantly vanish. The missing cards are then immediately produced from four different pockets.
A Handy Transformation - A card is selected and returned to the deck. Four cards are shown and this packet is placed between the spectator's hands as the magician explains that he will cause the selected card to appear between the cards he is holding. However, when the spectator separates his hands he is surprised to find not five cards, but only one—the selection.
Estimated Toss - Offering to give a demonstration of estimation a card is selected and returned to the deck. The top card of the deck is removed and, using estimation, the magician attempts to toss it into the deck next to the selection. However, when the card adjacent to the tossed-in card is displayed, it is not the selection. Snatching victory from defeat, the tossed-in card is turned over to reveal that it has magically changed into the selection.
Oil And Water - The classic plot of red and black cards magically separating, culminating with a surprise finish.
K.J.V. Oil And Water - Larry's favorite oil and routine combining the ideas of Ray Kosby, Dai Vernon, and himself.
Flawed Transposition - The magician offers to demonstrate a new trick, but mentions that it does have a flaw. The four kings are placed on the table while the magician holds onto the four aces. One at a time, the kings change places with the aces until the magician is holding the four kings. Reminding the audience about the flaw in the trick, the tabled packet is shown to also consist of four kings as the magician announces the trick's weakness—"It takes eight kings to do the trick."
New Outstanding Triumph - Larry's stand-up version of the classic Dai Vernon effect employing his clever riffle display.
Tahoe Triumph - Larry's approach to Bill Simon's Four Packet Shuffle.
Hip Pocket Prediction - A spectator freely selects any card to act as a prediction. Another card is now selected, noted, and replaced while the deck is out of the magician's sight. The prediction card is now revealed and its value accurately locates the selection.

And More
Price: £23
---
---
Invisible Thread Manual by Ralph Wichmann

Here are the real secrets of thread work. This book was originally published by the Berlin Magic Circle, and in England it was sold and recommended by Ken Brooke. If you are prepared to spend the time learning some of the material in these pages you will have miracles at your fingertips.
One routine for the floating cigarette was used by a young close up entertainer to win the close up competition at the Magic Circle a few years ago. This book also contains a special bonus: the full routine for Mike Danata's Floating Golden Stick. This is the best book on the subject still.
---
Fetsching Magic - Robert Spencer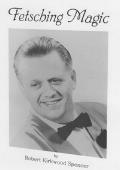 With great pleasure and pride, MAGICO presents Fetsching Magic: The Life and Legacy of Hen Fetsch by Robert Kirkwood Spence. Here is a long overdue testimonial to the untold influence of a gifted Twentieth Centrury magician's magician, who might well be called "The Father of the Modern Magic Lecture."
"...In an era when inventors are all but forgotten and books of practical platform magic are a rarity, Mr. Spencer is to be saluted for reviving memories of a wonderful magician and for bringing Hen Fetsch's magic tricks to the attention of a new generation of performers..." Steve Bryant
Pages 206 - Hard Bound
Price: £38
---
Making Real Magic - Richard Osterlind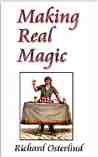 In Making Real Magic, Osterlind exhorts mystery entertainers everywhere to take magic beyond the province of tricks and storybook tales and to make it a reality in their own lives and also in the lives of their audiences. In this major new work, almost twice the length of Making Magic Real, Osterlind encourages magicians to seize the birthright of their craft and restore magic to its rightful place among the performing arts. To demonstrate the reality of his assertions, Osterlind has also included his greatly expanded version of the Amazing Memory Demonstration. Appearing in print for the first time, this routine is an anytime, anyplace showpiece that will make you a miracle worker in the estimation of your audiences.
Price: £14
---
The Magic of Bob Ostin - A Lifetime of Magical Inventions


The name Bob Ostin has long been synonymous with creative close-up and card magic, but until now the true depth and breadth of his original effects and methods has remained hidden. No longer! This landmark volume, The Magic of Bob Ostin, will ensure the author his deserved place in history as one of the pre-eminent creators of the 20th Century.
Those who prize commercial, practical magic have long praised Bob's earlier work, Fingertip Fantasies, as a classic in the field. Yet despite that book's deserved status, and Bob's underground reputation as creator par excellence, he has remained something of an unknown to the magic community at large. Well all that is about to change! In an era when so many are striving to 'invent' tricks that are fresh, novel and commercial, it is a genuine pleasure to see a master at work. Bob Ostin has been devising cutting-edge magic for over half a century and the material he created fifty years ago is as ingenious, practical and fooling as the new material he developed last week!
Always thinking, and more importantly always thinking outside-of-the-box. Bob is constantly working on new magical 'problems' as he likes to think of them and inevitably he works out a brilliant yet practical solution, resulting in a 'worker' that will happily do double-duty and fool the boys at the local magic club as easily as it will stun a lay audience.
One of the definitions of genius is someone who creates (music, literature, art and in this instance Magic!) something that would never have been created had that person never lived. Such a definition surely fits Bob Ostin. Even a cursory glance through this volume will be enough to convince the casual reader of Bob's creative talents; the more diligent student will be amply rewarded by learning tricks and routines which simply seem impossible! Water that turns to beer, origami men that take on a life of their own, cards that just melt through one another Tricks with cards, coins, dice, rubber bands, chop sticks, liquids, matches, paper, plasters, numbers, photographs, torches, fruit, cars the list is almost endless! Think of any object you like and chances are Bob has a trick (or two!) with it.
Containing virtually all his published output from the past 50 years, this book includes the material from his limited-circulation lecture notes, rare manuscripts, dozens and dozens of magazine contributions, the full instructions for every single one of his marketed effects as well as the many gems that have remained hidden in his notebooks - until now. This book truly is a truly is a lasting and worthy record of The Magic of Bob Ostin A Lifetime of Magical Inventions.
Price: £45
---
Sponge Balls - Library of Magic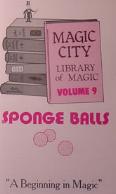 Within its pages you will find knowledge on how to perform quality routines and performances using Sponge Balls.
Basics: Sleights, Holders, Attitude

Tricks: Ball Through pocket, Ball Through Table, One and Two, Baffling Balls

Routines: Three Ball Trick, How Many, A Bowl Routine, Chinese Bowl Routine
29 pages
Need Sponge Balls...then see our Sponge Ball page
Price: £3.50
---
The Sponge Book- Frances Marshall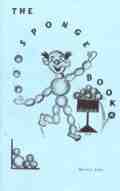 Here is a concise volume on ball manipulation. From the basics to some fine routines, this book has it all. Make the sponge balls multiply, vanish and magically appear in the spectator's hand.
This fine book is a must for any magical library.
Full instructions for thirteen routines. The book is soft bound, well illustrated and contains 48 pages.
Price: £8
---
Slydini's Linking Rubber Band - AKA Crazy Mans Handcuffs

Part of the "Slydini's Untold Secrets Series" This covers Slydinis handling of the now famous penetrating bands illusion something every magician should be able to do! So if this trick is not yet in your repertoire get it now! A complete routine and bonus trick. Fully illustrated. A real crowd pleaser!


Price: £6
---
Linking Rings - Library of Magic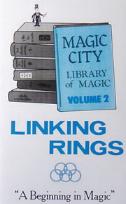 Within its pages you will find knowledge on how to perform quality routines and performances using Linking Rings.
The Basics: History, Selections, Designs
The Penetrations: Linking, Unlinking
Routines: Basic Routine, Don White Routine, Jean Hugard Routine
Subterfuges: The Odin Count, The wrist Count, the Drop Count
31 pages.
Price: £3.50
---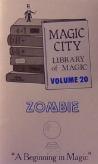 Within its pages you will find knowledge on how to perform quality routines and performances using Zombie.
The Basics:
History - Karson's Routine - Desmond's Routine - Variation - Pointers
Some Tips:
The Foulard - The Gimmick - The Ball
This book is softbound and is 22 pages.
Price: £3.50
---

This is the most up to date booklet on the Electric Chairs routine ever written! Although the effect (of audience members mysteriously been zapped by "an electric current" from a chair) has been around for many years, the number of magicians who actually know the secret to the Electric Chairs seems surprisingly small. this my be due, in part to the small amount of material that has been written on the subject. And what little there is has not been very informative. Past masters of magic, such as Chefalo, Fogel, and David Devant, all recognized its entertainment potential and featured this effect in their programs. Today, Dominique, Paul Daniels and Marvyn Roy are among the few professionals performing the routine.
This book will give you the insight and the necessary audience management skills to accomplish this entertaining piece.
(Softbound - 29 pages)
Price: £14
---
Cups & Balls - Library of Magic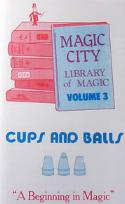 Within its pages you will find knowledge on how to perform quality routines and performances using the Cups and Balls.
Basic Information: The Basic Moves, Production Loads
Basic Routines: Simple Routine, Seated Routine, Standing Production Routine
More Moves: Ball Grips, Working Tabled Cups, Cup Manipulation
Advanced Routines: Little Ones and Big Ones, the Alchemist's Ball
This is a great bargain for some GOOD Quality Magic
30 pages.
Price: £3.50
---
Animated Miracles Book - Yigal Mesika


Yigal Mesika is an incredibly talented young magician from Israel. He has created many powerful new effects with the loop. He also found it necessary to improve the quality of the loop and so, for the past seven years,Yigal searched until he found a better way to manufacture the loop. The product you see here can be stretched up to 400% of it's original size and is perfectly suited, in strength and invisibility, for the routines found in this book.Until now there has been very little information available on the loop and that kept the subject relatively unknown and rarely used. The aim of this book is to guide you through the techniques of working with the loop, as well as to give you some applicable routines for stage, close-up and mentalism. Most of the effects were created by Yigal Mesika. The rest of the effects, as indicated, were compiled from the repertories of working magicians, Yigal's friends.
Animated Fork - Phenomenon Fork - · Falling - The Floating Card - Jumping Fork From Glass - Mystery Glasses - Self Revealing Card - Matchical Magnetism - A Touching Trick - The Floating Ring
Price: £16
---
The How To Book on the Zombie
- Merlyn T. Shute

Many performers have difficulty in adopting the zombie into their repertoire. In this work Merlyn T. Shute has separated the handling into discrete moves which can be re-arranged by the individual into personal routines. The text is divided into three sections
First, the apparatus itself, ball, gimmick, foulard, etc.Secondly, several moves are described. Finally, a discussion on zombie routines.
Price: £5
---
Change Bags 101 Tricks



As the name suggests, this book contains 101 tricks , (including tricks from "23 Deceptions with a Change Bag") that can be done with different varieties of change bags including the Flat or Draw String Change Bag, One Hand Change Bag, Regular Two Hand Change Bag, Repeat Change Bag, The Clear force Bag and The Mesh Change Bag.
The tricks contained in this book can be performed by beginners, amateurs or pro's, kid show performers or mentalists. And you will probably come across something that will prompt you to wipe the cobwebs off that bag in your collection of junk, and put into your act! Or perhaps a presentation angle will spark an application for another of your Change Props, like a Card Box, or a Change envelope etc. Soft cover book, 5.5" x 8.5" size with 48 pages, and information on a variety of Change bags, and 101 tricks you can do with them. This new Electro Fun publication, includes never before published mental routines, worth 10 times the price of the book. Excellent value.
Price: £3.50
---
All you need to know to make the most of the terrific Folding Coin effect! Instructions on penetrations, productions, routines, care and proper maintenance and repair. Included are four complete routines with folding coins
30 pages of illustrated instructions. From the basics to penetrations, productions and super routines. How to put someone's coin into someone else's bottle, plus variations that will baffle an audience without taxing your pocketbook for gimmicks. Another great party trick! Here is everything a beginner should know about his folding coin, from care and maintenance to odds and ends. Four chapters of exciting ideas that make the folding coin a very versatile piece of magical equipment. Included are the ever popular "Coin in Bottle", "Paper penetration", "Barehanded Production", "Making a Profit" and more. If you own a Folding Coin, add this book to your magic library.
Price: £3.50
---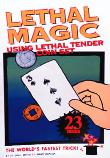 If you have a "Lethal Tender"
(The world's fastest trick!)
Then this booklet gives you 23 routines to perform with it!
Price: £4
---

If you have a "Scotch and Soda" Then this great booklet will give you 15 routines to perform with it!. Can you really afford to be with out it?

Price: £4
---
5 Thumb Tip Miracles - Slydinis Untold Secrets

Another in the Slydini's Untold Secrets series. Here are six full routines all using a thumb tip. Full detailed instructions and photo illustrations for performing The Restored Ribbon, Miracle Rope Restoration, Silk from Dollar Bill, Adam and the Rib (Silk from an apple), Coin Guess (six coins vanish and reappear), and the bonus Flames to Red Ashes. All classic Slydini routines.
Price: £3

---
101 Tricks with a Thumbtip - booklet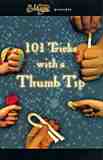 Learn how to become an expert Thumb Tip manipulator. This book provides all the basics, and then some. Imagine having the power to vanish nearly any small object, in any situation, whenever you want. That's the sort of versatility a Thumb Tip can provide you with. The Thumb Tip is commonly used by amateur magicians. But professionals find it indispensable to their work, too. With careful thinking and a minimum amount of practice, you can use the Thumb Tip in a number of diabolical ways to astound even the most hardened audience. The step by step instructions in this book give you all the details on how to work miracles with this secret device. Don't have a Thumb Tip!? Shame on you! Get one here!

Price:£3
---
The New Bottle Book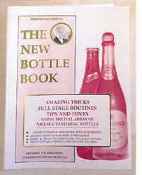 This is the companion book to the Nielsen Vaninishing Bottles. It contains over 75 tricks, routines, tips and hints to do with the bottles. It explains how to gaff the bottles and how to use them to obtain maximum effect from your audiences. Comic, dramatic and even mental effects are described and explained. Contributors include: Harry Anderson, Bobby Baxter, Bev Bergeron, Rhett Bryson, Tony Clark, Bill DeMarr, Ricki Dunn, Karrell Fox, Bruce Gold, Ernie Guderjahn, Bruce Johnson, Tom Jorgensen, Ted Lesley, Mark Miller, Al Murdy, George Murray, Norm Nielsen, Johnny Thompson, Bruce Walstad and Michael Weber. (58 pages)
Price: £14
---