Floating Match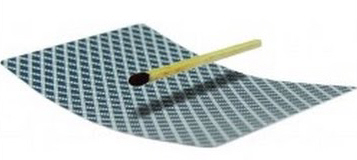 An absolute classic magical illusion.

A match is placed across a playing card. At the magicians command the match rises and floats above the card.
Another card is passed under the match to prove it is floating. The match then floats down and rests on the card.
Very simple and very deceptive.
Price: £3.50
---
Blind Date - Stephen Leathwaite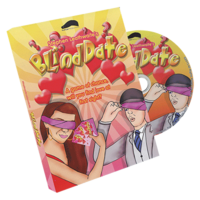 A game of chance, will you find love at first sight?

12 contestants (ALL MEN) are displayed, but this is a "Blind Date" so no faces are shown yet! Just one is the perfect man for your lucky spectators "Blind Date".
A Prediction is placed to one side.
A random number is created to select the spectators "Blind Date" for the evening.
All the potential suitors that where rejected are then shown, one by one, before the chosen "Blind Date" is revealed to match the Prediction for a moment of comedy gold!
•Easy To learn
•Easy To Perform
•Instant Reset
•Multiple Handlings
•Guaranteed a Laugh and Possibly a Date....
•Comedy Meets a Prediction Effect...
"Stephen's Blind Date trick is commercial, Very funny and I ACTUALLY found my perfect match! Stephen and I are now married!" - Liam Montier
"So good I showed your mum and I scored!" - Wayne Goodman
"Blind Date" is a fun modern approach to magic if you want to make the ladies laugh like crazy or even steal a kiss this is for you!" - Keiron Johnson
"Modern presentation and built in humor. Think Casanova meets conjuring... Do yourself a favor and pick up a copy!" -Daniel Chard
"Stephen Leathwaite's Blind Date is a great Prediction effect. It's funny, has a romantic approach, and will most likely get you a date. If not, they witnessed an amazing piece of magic."- Fritz Alkemade, BlindDater
"Stephen has come up with a fun piece of magic that will bring screams of laughter to the close up Audience!" -Wayne Fox
"I love Stephen's way of thinking, Killer Reactions, this is a worker." - Titanas
"Very commercial, funny, and strong too. I will use this!" - Chris Congreave
"Blind Date" its cheeky practical And Funny, It will be going in to my Repertoire immediately." - Paul Gordon
Price: £20
---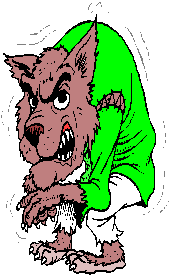 NEW! 100% ORIGINAL ! Hot off the press !!!

A fabulous new packet trick. One by one four Men turn into Were-Wolves ! Then with the aid of a Silver Bullet, three of them are killed and revert to their original forms. Finally by the light of day the very last Were-Wolf changes back into a Man so that come next Full Moon he can perpetuate the Legend of the Were-Wolf. Great logical storyline.
Laminated cards to last a life time.
Easy to do with VERY comprehensive instructions and photographs… And as if that wasn't enough when you finish it is already reset, perfect for table hopping.
Price: £10
---
Arachnophobia - The spider bites back - Malcolm Norton "M" & Matt hall "M" Junior
Be Afraid be very afraid….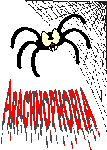 Asking a young lady to help, you show her five cards. Four cards depicting mirrors and one a spider, you weave a story around a spider that leaves cobwebs on all of the mirrors, then just disappears. Sure enough the mirrors suddenly become covered in cobwebs and the spider has vanished from his card… You ask the young lady to help make the spider reappear by waving her hand over the cards. Wait for the scream… Trust me there will be one. For there on the back of her hand is the spider. This is the ultimate reaction trick ! Laminated to last a lifetime. Included is a bonus routine for those that feel giving their audience a heart attack maybe going too far for the sake of entertainment… Based on "The Web" by Jim Pace.
Price: £10
---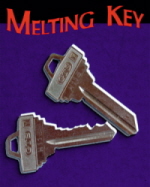 A standard blank (uncut) key is shown front and back. With a rubbing stroke of the forefinger, the key notches are magically cut.

The key can be passed out BOTH before and after the performance.

Includes routine, keys, keyring and special gimmick.

Visual masterpiece!!

Price: £10
---
Pull Top (DVD and Gimmick) by Mr. Maric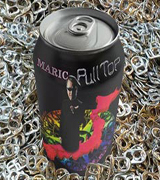 Imagine, taking two borrowed soda pull tops and visibly linking them together or having them link in a spectators hand! Just as easily, you visibly unlink the pull tops and hand them back out for full examination! This is just one of the many effects that are possible with Mr. Maric's Pull Top.
Effects:
•Linking 2 Pull Tops
•Linking 3 Pull Tops
•Pull Top thru Straw
•Pull Top thru Fork
•Pull Top thru Hand Vanishing
•Pull Top from Shoelace
•Stretching Pull Top (bonus effect)
Features:
•Repeat Instantly.
•No Difficult Sleight.
•Perform Surrounded.
•Items are examinable.
•Any pull top in the world can be used.
•Even a pull top from a spectators drink can be used.
Includes:
Gimmicks, DVD (English and Japanese).
Effects and handling are clearly explained by Mr. Maric.
Price: £45
---

A commercial stunner! As seen on NBC's "World Greatest Magic III"! This has also been used on TV by Harry Anderson.
A sheet of white paper instantly changes into a $100 dollar bill! Very magical and very easy! No thumb tips - this is entirely self-contained! Perfect for television, close-up or walkaround! This is a lovely approach to a very popular effect, and the moment of magic is so strong! Supplied in Camirand stage money with instruction booklet including Gary Ouellet's handling, and everything you need to make this up yourself with your own money from any country.
Price: £8

---
Cups & Balls Set Purple Heart Edition (SPECIAL PRICE)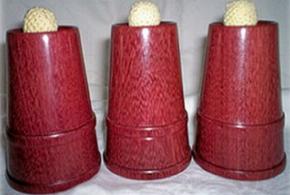 These Medium Sized Set of Cups have been turned in Purple Heart Wood...this distinctive exotic wood offers an unusual colour with an open 'feather' grain which becomes darker and more vivid as the wood oxidises...
The height of the cups is approx 3.75" with a generous opening of 2.75", the elegant & simple lines of the cups allow the natural beauty of the wood to speak for itself, a tapered design which follows through to the inside of the cup with a dome feature inside the cup... and a matching reverse 'recess' on the outside top.
The Cups have a turned shoulder on the bottom edge, with a further matching shoulder just under halfway up the cup for perfect stacking.
This wood although beautiful does not have the weight or density of many exotics and as such the overall weight of these cups is lighter in the handling...this set will find equal admirer's from both 'Working Magician's' and Collectors...offering an unusual wood, but with an original and distinctive element to this 'classic of magic' for those who relish the 'signature' of hand crafted turned wooden magic!
Presented in Signature Red Corduroy Bag and a Ball Set (colour may vary).
Price: £175
---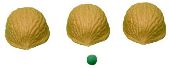 Now you too can perform the "Three Shell Game" with ease.
The Vernet Shells are perfectly balanced, made of unbreakable plastic and the inner surface is curved to allow easier manipulation of the special pea. Very realistic in appearance, these are far superiour to any other shells in this price range!
Price: £9
---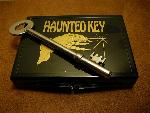 This key comes from a Haunted house. There still remains some essence of the poltergeist left in the key. To prove it you place it on your hand and slowly almost imperceptibly it starts to turn over. Very, very slowly it turns over completely. Your hand does not move at all, the spectator can even keep hold of your hand. Believe me this is oh so spooky, it really does turn over with out you doing anything. It frightens me and I know how it's done. (That probably makes it even worse). These keys are perfectly balanced, with routine and instructions on the proper technique for handling the Haunted Key. Frighten your friends while you still have some left to frighten…This will freak them out…Bizarre!
Price: £7
---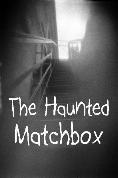 The Effect:
Somebody need a match? What a great excuse to intorduce this visual fest of magic from one small matchbox!
This match box will crawl and move about on your hand this way and that, even turn over... And as if that wasn't enough... The drawer of the box opens mysteriously of its own volition!!!
You then take a match out for them, close the box and put it back into your pocket. They will be absolutely frozen still with amazement!
A superb close up magic trick that will leave all wondering!!!
Comes with very comprehesive instructions and routine.
"I've used many Acrobatic matchboxes but your sare the best I've ever used" A happy customer...
Price: £7
---
I am very proud to have been given permission to reproduce this fabulous classic effect.
" I love the new subtleties you have added.....The best version on the market!"- ALBERT SPACKMAN! High praise from the inventor himself
The spectator shuffles the cards and is asked to choose one in the fairest manner possible. The chosen card reveals the fate that is to befall the victim. the card is revealed... There is an "X" on the foot... when the victim card is turned over ITS FOOT IS NOW MISSING!
Now made in laminated cards. Perfect for halloween! One of my personal favorites.