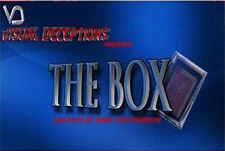 From the creative mind of Mark Southworth comes this Revolutionary step forward in the signed card to box plot...
A box with a folded card is clearly displayed trapped in rubber bands & placed into a spectators hands or pocket or nearby table. 52 cards are displayed & your spectator takes anyone & signs the card. The card is lost back inside the deck, shuffled & place away in the magicians pocket. The Box is now displayed & rubber bands removed... the card is tipped out... The spectators signed card.
2 Sec Reset
Interchangeable Gimmicks
Examinable
Portable
Includes Marks Impossible Banknote to impossible location using The Box in a way that looks like TV Magic...
The Box •1 x Red Backed Bicycle Card Gimmick
•2 x Extra Gimmicks... For Banknotes, Predictions etc
•1 x Resetting Tool
•Routines
•Live Chat Session With Stephen Leathwaite
Bonus Ideas & Tips
BONUS!!
1-Spare box
1-lockable Prediction bag (cloth bag with eye for a padlock)
1-extra gimmicks ( to make various card etc.)
What Others Are Saying:
"The Box is a mechanical marvel! Kennedy's Mystery Box updated and ultra portable. A very powerful utility box that all magicians should carry on them." - ANGELO CARBONE
"What a step forward in the box plot, love it !" - STEPHEN LEATHWAITE
"Outstanding, one of the most beautifully deceptive bits of kit in my arsenal, this should be called the sniper box, because it kills every time." - WAYNE GOODMAN
"This is ingenious!" - PETER EGGINK
"This is THE best card to box I have ever had the pleasure to witness. It has everything that REAL magic should look like. Organic, open, and a diabolical method that sits right under their noses." - JUSTIN MILLER
Price: £45
---

I have managed to get a very limited supply of these at a sensible price, so I can put them out at what they used to be before they shot up dramatically. And they are the original version not the the rather nasty copy made in China!

An amazing vanish of cigarette so stunning it looks like trick photography! A cigarette is slowly & visibly pushed up your nose. Your hands are then shown absolutely empty! Includes special hand crafted gimmick and detailed instructions thoroughly illustrated by Tony Dunn.
"One of the greatest small illusions I have ever seen." - Michael Skinner
"It's the most perfect trick of it's kind I've ever seen!" - Mac King
Very nicely made gimmick not cheap but a fab trick!
As used by Criss Angel on Mindfreak!

Please note: This is an original NOT the cheap copy!
Normally retails at £40+

Price £30
---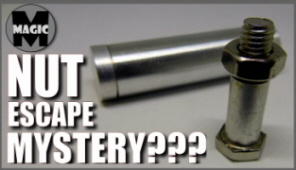 This incredible little trick with a nut, bolt & tube. The nut is screwed halfway onto the bolt and dropped into a small metal tube. The Magician now gives the tube a little shake, removes the lid and simply tips the contents out - to the audiences complete astonishment, the nut has not only unscrewed itself, but has penetrated right through the head of the bolt and rolls out of the tube separated from the bolt. Everything is immediately dropped into the spectators hand for thorough examination.
Comes complete with alternate presentation.
Price: £10
---
Bcck in stock...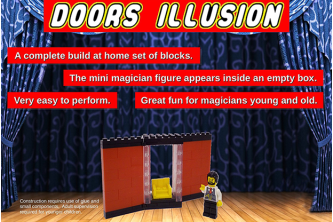 Wow...
This is really cool. A big stage illusion in minature that you can carry in your pocket and perform close up around the tables.
Now incase you have never seen this illusion performed... This is how it goes.
On stage is a doorway, doors front and back. The whole ensemble shown around completley. Both doors are opened and the audience can see right through, nothing there. Both doors are closed and again the whole thing is shown all around. When the front door is opened again it is seen that the magician has now appeared inside the frame of the doorway!
You can now perform this in all your close up gigs. A grand illusion on a minature scale.
With Lego being so popular now it makes it even more relevant.
AND heres the best part... It's like e real Lego kit with instructions. You get to build it yourself! (Glue recommended to keep it permantly fixed)
How much fun are you going to have with this!
Price: £18
---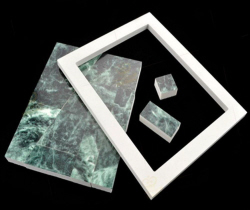 Based on the William Freer puzzle. Also known as the puzzle of life and several other names.
It has presented itself in many forms but this has become the most popular version.
This magical puzzle is a masterpiece of ingenuity.
A rectangular puzzle is presented and shown to fit perfectly inside of a frame. The magician adds a new piece and rebuilds the puzzle, yet somehow it still forms the same rectangle the same size as before, When you add another piece this time twice the size of the last one and once again rebuild the puzzle, it impossibly still forms the same exact size rectangle, and fits perfectly within the same frame.
The more you add, the more things remain the same. A Perpetual Puzzle.
Not only a great "Magical - how the hell" type puzzle. Also a great presentational piece. Check out you tube for the "Puzzle of life"
This great unusual piece comes complete with instructions and carrying pouch.
You'll love this!
Price: £14
---
Baby Jade Rings and Coins - Alan Wong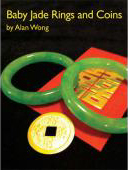 This set of classic Rings and Coin trick comes with two REAL JADE BRACELETS that makes it a collector's item. From a small velvet bag you bring out two small jade rings, a red lucky envelope and carefully place them on top of the bag. You explain that the jade rings are traditional lucky charms for newborn babies in China, and newly wed couples give away "lucky money" on their wedding day with these lucky envelopes. From the red envelope you drop out a shiny gold Chinese coin that represents luck and prosperity. Tell your spectator you want to send her good luck and prosperity by performing a ritual using these lucky items. You place the rings over the coin with the red envelope in the middle, and then make a wish to send it your friend. You slowly remove the envelope and the coin is gone! You then repeat the actions and show that the coin has magically reappeared under the ring - "because the blessing will always come back to you one day."
Each baby jade rings set comes with 10 golden brass Chinese coins (for give away), two red envelopes ( one more to spare) for the lucky money. The envelopes are embossed with the Chinese character "Double Happiness". The baby jade rings ( about 2" diameter) are authentic REAL JADE, and all the items are contained in a drawstring black velvet bag. The whole trick's effectiveness lies in this bag, which acts as a black-art mat and performing surface, giving it a good reason to be there. Many presentations themed around "Luck," "Prosperity," and "Blessings" can be created using these fine props. A separate smaller velvet bag is included to store and protect the jade rings when they are not in use. Instructional DVD included. Very easy to perform and great story telling piece. This elegant set of close-up magic can be carried in any close-up case or even in your pocket, always ready to perform.
Alan has added a lovely subtly to this trick as well as making it with very nice props and remember these are real Jade rings, hence the price!

Price: £65
---
Floating Match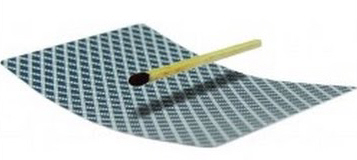 An absolute classic magical illusion.

A match is placed across a playing card. At the magicians command the match rises and floats above the card.
Another card is passed under the match to prove it is floating. The match then floats down and rests on the card.
Very simple and very deceptive.
Price: £3.50
---
Blind Date - Stephen Leathwaite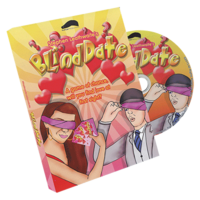 A game of chance, will you find love at first sight?

12 contestants (ALL MEN) are displayed, but this is a "Blind Date" so no faces are shown yet! Just one is the perfect man for your lucky spectators "Blind Date".
A Prediction is placed to one side.
A random number is created to select the spectators "Blind Date" for the evening.
All the potential suitors that where rejected are then shown, one by one, before the chosen "Blind Date" is revealed to match the Prediction for a moment of comedy gold!
•Easy To learn
•Easy To Perform
•Instant Reset
•Multiple Handlings
•Guaranteed a Laugh and Possibly a Date....
•Comedy Meets a Prediction Effect...
"Stephen's Blind Date trick is commercial, Very funny and I ACTUALLY found my perfect match! Stephen and I are now married!" - Liam Montier
"So good I showed your mum and I scored!" - Wayne Goodman
"Blind Date" is a fun modern approach to magic if you want to make the ladies laugh like crazy or even steal a kiss this is for you!" - Keiron Johnson
"Modern presentation and built in humor. Think Casanova meets conjuring... Do yourself a favor and pick up a copy!" -Daniel Chard
"Stephen Leathwaite's Blind Date is a great Prediction effect. It's funny, has a romantic approach, and will most likely get you a date. If not, they witnessed an amazing piece of magic."- Fritz Alkemade, BlindDater
"Stephen has come up with a fun piece of magic that will bring screams of laughter to the close up Audience!" -Wayne Fox
"I love Stephen's way of thinking, Killer Reactions, this is a worker." - Titanas
"Very commercial, funny, and strong too. I will use this!" - Chris Congreave
"Blind Date" its cheeky practical And Funny, It will be going in to my Repertoire immediately." - Paul Gordon
Price: £20
---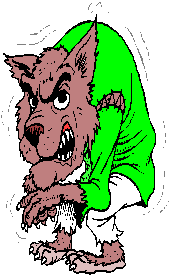 NEW! 100% ORIGINAL ! Hot off the press !!!

A fabulous new packet trick. One by one four Men turn into Were-Wolves ! Then with the aid of a Silver Bullet, three of them are killed and revert to their original forms. Finally by the light of day the very last Were-Wolf changes back into a Man so that come next Full Moon he can perpetuate the Legend of the Were-Wolf. Great logical storyline.
Laminated cards to last a life time.
Easy to do with VERY comprehensive instructions and photographs… And as if that wasn't enough when you finish it is already reset, perfect for table hopping.
Price: £10
---
Arachnophobia - The spider bites back - Malcolm Norton "M" & Matt hall "M" Junior
Be Afraid be very afraid….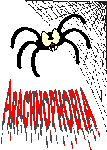 Asking a young lady to help, you show her five cards. Four cards depicting mirrors and one a spider, you weave a story around a spider that leaves cobwebs on all of the mirrors, then just disappears. Sure enough the mirrors suddenly become covered in cobwebs and the spider has vanished from his card… You ask the young lady to help make the spider reappear by waving her hand over the cards. Wait for the scream… Trust me there will be one. For there on the back of her hand is the spider. This is the ultimate reaction trick ! Laminated to last a lifetime. Included is a bonus routine for those that feel giving their audience a heart attack maybe going too far for the sake of entertainment… Based on "The Web" by Jim Pace.
Price: £10
---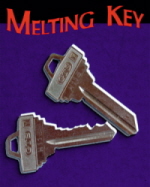 A standard blank (uncut) key is shown front and back. With a rubbing stroke of the forefinger, the key notches are magically cut.

The key can be passed out BOTH before and after the performance.

Includes routine, keys, keyring and special gimmick.

Visual masterpiece!!

Price: £10
---
Pull Top (DVD and Gimmick) by Mr. Maric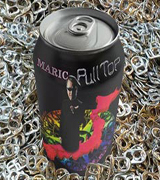 Imagine, taking two borrowed soda pull tops and visibly linking them together or having them link in a spectators hand! Just as easily, you visibly unlink the pull tops and hand them back out for full examination! This is just one of the many effects that are possible with Mr. Maric's Pull Top.
Effects:
•Linking 2 Pull Tops
•Linking 3 Pull Tops
•Pull Top thru Straw
•Pull Top thru Fork
•Pull Top thru Hand Vanishing
•Pull Top from Shoelace
•Stretching Pull Top (bonus effect)
Features:
•Repeat Instantly.
•No Difficult Sleight.
•Perform Surrounded.
•Items are examinable.
•Any pull top in the world can be used.
•Even a pull top from a spectators drink can be used.
Includes:
Gimmicks, DVD (English and Japanese).
Effects and handling are clearly explained by Mr. Maric.
Price: £45
---

A commercial stunner! As seen on NBC's "World Greatest Magic III"! This has also been used on TV by Harry Anderson.
A sheet of white paper instantly changes into a $100 dollar bill! Very magical and very easy! No thumb tips - this is entirely self-contained! Perfect for television, close-up or walkaround! This is a lovely approach to a very popular effect, and the moment of magic is so strong! Supplied in Camirand stage money with instruction booklet including Gary Ouellet's handling, and everything you need to make this up yourself with your own money from any country.
Price: £8

---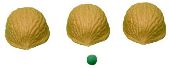 Now you too can perform the "Three Shell Game" with ease.
The Vernet Shells are perfectly balanced, made of unbreakable plastic and the inner surface is curved to allow easier manipulation of the special pea. Very realistic in appearance, these are far superiour to any other shells in this price range!
Price: £9
---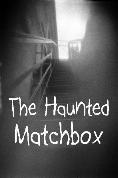 The Effect:
Somebody need a match? What a great excuse to intorduce this visual fest of magic from one small matchbox!
This match box will crawl and move about on your hand this way and that, even turn over... And as if that wasn't enough... The drawer of the box opens mysteriously of its own volition!!!
You then take a match out for them, close the box and put it back into your pocket. They will be absolutely frozen still with amazement!
A superb close up magic trick that will leave all wondering!!!
Comes with very comprehesive instructions and routine.
"I've used many Acrobatic matchboxes but your sare the best I've ever used" A happy customer...
Price: £7
---
I am very proud to have been given permission to reproduce this fabulous classic effect.
" I love the new subtleties you have added.....The best version on the market!"- ALBERT SPACKMAN! High praise from the inventor himself
The spectator shuffles the cards and is asked to choose one in the fairest manner possible. The chosen card reveals the fate that is to befall the victim. the card is revealed... There is an "X" on the foot... when the victim card is turned over ITS FOOT IS NOW MISSING!
Now made in laminated cards. Perfect for halloween! One of my personal favorites.