---
Signed pictures & Autographs
---
Welcome to the signed pictures and autographs page. Here you will find signed photographs of some of your favorite magicians. They are NOT reproductions or copies. These are all GENUINE, HAND SIGNED photographs.
So why not add that special touch to the office or den!
Some of the pictures have not scanned tremendously well, particually the B&W pics.
But rest assured the pictures are all crystal clear and in perfect condition unless stated otherwise!

Currently I have more to be put up.... Soon!
---
Not an autograph but something that would look fab framed for the "Office"
Hey Presto - Confectionary Cards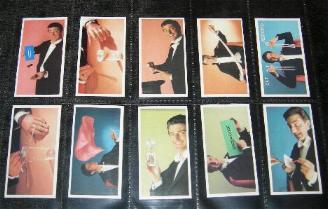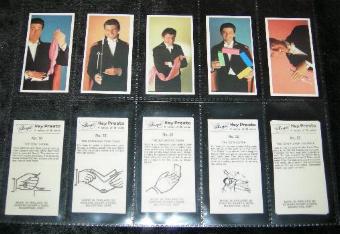 This beautiful set of 25 cards was issued by the British confectionary company, Edward Sharp & Sons Ltd. of Maidstone, Kent, in 1970. In mint condition Tthe size of the cards are approx: 6.5cm x 3.5cm

Price: £12
---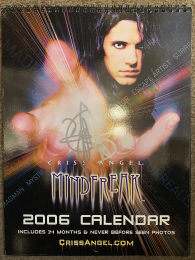 12" x 9" 2006 Calender
Signed in silver ink
Again Would look great framed, possibly the "calender" bit cut off which would make it 10x9-ish.
This was part of a one off limited run, put out by Murphys Magic back in 2005/6
Price: £29
---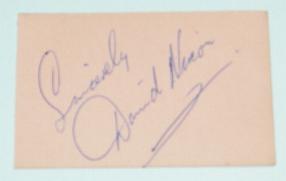 3" x 2" piece or peach coloured card. Signed in blue ink pen.
Price: £12
---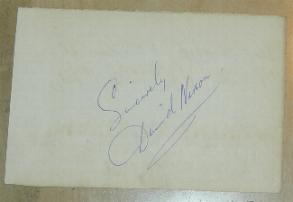 Signed on the reverse of an old theater poster/advert and cut out approx 6" x 4"
Signed in blue pen
Price: £14
---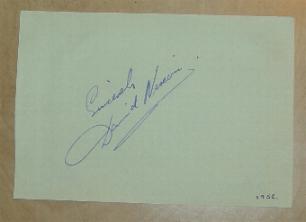 Signed on light green autograph book page (apparently in 1956) Approx 6" x 4"
Signed in blue ink
Price: £12
---
David Copperfield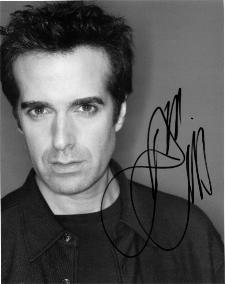 A beautiful David Copperfield 10 x 8 Black and White. Signed in black marker.
I have more than one of these so your may vary fractionally from the one pictured.
Price: £20
---
The Magic of David Copperfield - Signed Brochure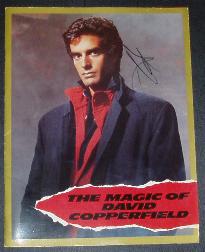 This large glossy brochure is signed on the front in black marker, approx 14 x 11 inches. Inside this large 16 page brochure are photos and pictures from various specials including the Statue of Liberty, Great Wall of China and Airplane Vanishes.
Price: £65
---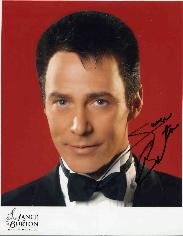 10x8 publicity handout signed in black marker. I have more than one of these so your may vary fractionally from the one pictured.
Price: £20
---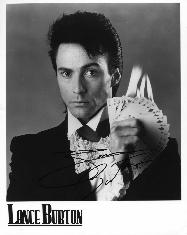 10x8 publicity handout signed in black marker. I have more than one of these so your may vary fractionally from the one pictured.
Price: £15
---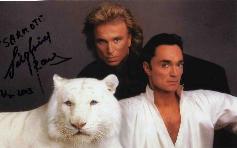 The Classic 5 x 8 Postcard signed in black marker
Price: £30
---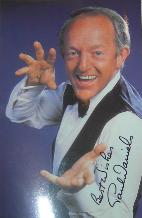 A rare signed 6" x 4" postcard size picture of Paul signed in black pen.
Price: £16
---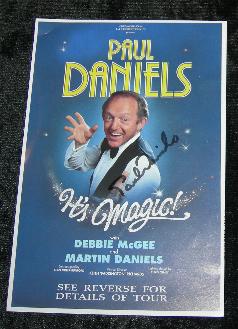 An 8.5" x 6" "Flyer", for the "Its Magic" tour
Price: £16
---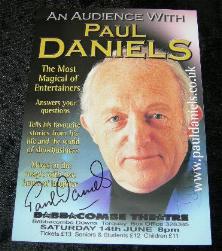 An 8.5" x 6" "Flyer", From an evening with Paul Daniels.
Signed in black marker by Paul
also signed along the side by Debbie in pen (you can just see it in the lower right corner more visible than in the picture)
Price: £18
---
As above but only signed by Paul
Price £16
---
Other Paul Daniels autograps in stock email me
---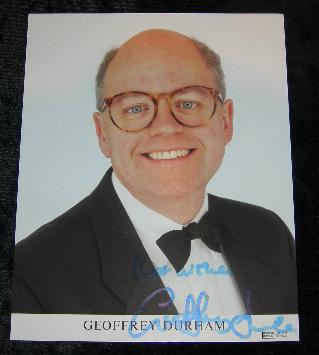 Geoffrey Durham Alias "The Great Sopredo"
Very nice 10" x 8" publicity photo. Signed in blue marker
Price: £12
---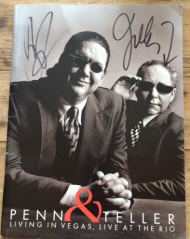 A Program from the their show at the "Rio" in Las Vegas.
Size approx 10 x 15 ish

Signed in black marker
Price: £25
---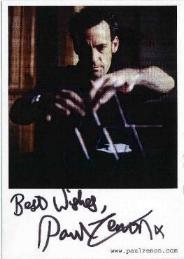 A 6" x 4" postcard of the UKs very own Paul Zenon!
Signed with black marker
Price: £8
---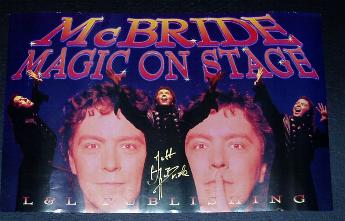 Born John McBride, in Goshen, New York. In 1973, he made his national television debut as a guest on the quiz show What's My Line? In 1975, he was booked on a tour of Japan as the opening act for a salsa band. It was in Japan that he was exposed to kabuki, a Japanese theater form, which had such a great influence on his own magic style.
Jeff McBride is currently based in Las Vegas, Nevada. He established the "McBride Magic and Mystery School" to teach the art of stage magic. Working under his stage name, Magnus, Jeff was a performer for several years in Caesar's Palace's Magical Empire. His stage performances currently blend elements of kabuki, with traditional conjuring.
Jeff has won several awards, including recognition by the Academy of Magical Arts, the Society of American Magicians, and the International Grand Prix of Magic as "Magician of the Year."
This 40x25cm poster has been signed in gold pen.
Price: £20
---
These beautiful full colour postes were produced by the Magic Hands Studio in Germany.
A great addition to any magic studio, with some very beautiful and magical images. From a private collection.
Each Magic Hands Poster is approx 11 by 17 inches
---
Le Grand David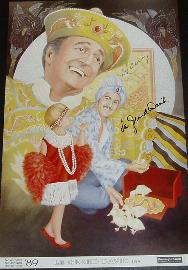 Le Grand David and His Spectacular Magic Company is the longest consecutively running stage magic show in the world, according to Guinness World Records.
The family-oriented stage magic show runs at the Cabot Street Cinema Theatre.
Marco the Magi (Cesareo Pelaez) started the show in the 1970s and is billed as the troupe's founder, producer, director, designer, and choreographer.
Le Grand David (David Bull) began as an apprentice to Marco in the early 1970s.
A wonderful illustration that captures the character of this record breaking show.
Magic Hands Poster approx 11 by 17 inches. Signed in black ink by both Marco the Magi and Le Grande David. November '89
Price: £25
---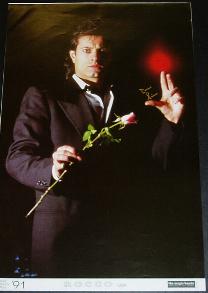 Rocco studied with and was managed by sleight-of-hand expert and Tony Slydini protege Bill Wisch. Later, Rocco was introduced to Slydini by Bill and Rocco took lessons with Slydini as well.
Most known for his sleeving techniques and skill, Rocco is the recipient of the Merlin and Golden Lion Awards, a two-time winner of the coveted Manhattan Association of Cabarets Award, and has been nominated nine times as Magician of the Year by the Academy of Magical Arts in four different categories.
Rocco is the only American to win awards at two FISM World Tournaments: in 1994 in Yokohama, Japan, and "Most Original Act" in 2006 in Stockholm, Sweden.
Rocco is also the inventor of D'Lite.
A wonderful photo capturing Rocco, and 'that glowing red light' that he made so famous!
Magic Hands Poster approx 11 by 17 inches. Signed in gold pen. March '91
Price: £25
---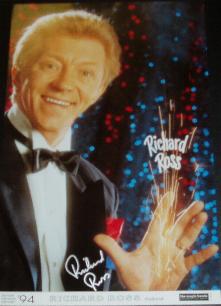 Richard Ross won top honors at the European FISM (Fédération International des Sociétés Magiques) congress three times.
The name is synonomous with "Linking Rings". Ross was the undisputed master of the ancient classic, even bringing it back from disfavor into many a magician's working repertroire.
The Linking Rings routine, in Ross' expert hands, was a thing of beauty in which the rings seemed to plainly and visibly melt through each other with no more effort than just holding them.
It was this classic -- given new life by Ross -- that served as his singular reputation-maker and was a cornerstone of his manipulation act, which also featured a beautifully rendered Miser's Dream and a gorgeous Multiplying Clocks.
A beautiful photo of Richard, very magical, a hero of mine who is sadly no longer with us, and if I didn't already have it this one would be on my wall!
Magic Hands Poster approx 11 by 17 inches. Signed in silver pen. January '94.
Price: £45
---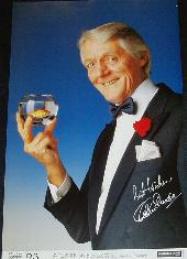 Alan Shaxon is a professional magician and a former president of The Magic Circle. He specialises in cabaret performances and is billed as one of England's foremost magicians.
The Magic Circle gave Shaxon its highest award, "The Maskelyne", for services to British Magic.
His television appearances have been seen by millions and he has cruised the world in cabaret on the finest luxury liners, and entertained on four occasions at Buckingham Palace
Shaxon taught Tom Cruise the sleight of hand for "Mission Impossible", and appeared in Rowan Atkinson's "Mr. Bean".
A great photo of Alan Shaxon and his goldfish bowl.
Magic Hands Poster approx 11 by 17 inches. Signed in silver pen. October '93.
Price: £25
---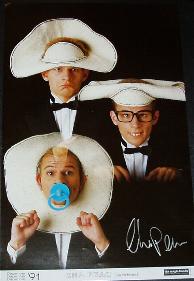 In 1984, the author, award-winning German performer Roland Schopp, aka ChaPeau, awoke the art of Chapeaugraphy. Ever since, it has been an integral part of his repertoire as both magician and quick-change artist. Now for the first time he shares with the reader his knowledge and the experience of 25 years performing the art professionally.
The art of Chapeaugraphy means visual comedy. From a simple felt ring the performer folds various hats in order to impersonate different people and characters. Within seconds, a stoic Napoleon Bonaparte becomes a crying baby; after that a Chinese Mandarin; and then a Spanish Torero, to name a few. The audience is truly amazed and amused by the fast and visible transformations.
This is a very interesting poster, the 3 pictures have been put together to not only catch the magic but also the humour of Cha Peau.
Magic Hands Poster approx 11 by 17 inches. Signed in silver pen. December '91.
Price: £25
---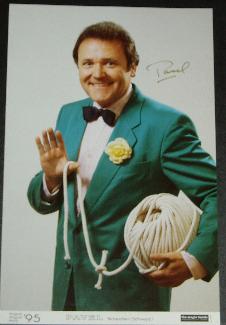 Born Pavel Pomezný in Prague, Czechoslovakia.
He began magic at an early age, and by 1960 had became the youngest member of the Nova Scena Kouzel, Czechoslovakia's magic society.
He began tours to other European countries, and eventually made his way to the United States (1967), where he appeared on the Ed Sullivan TV show (1968).
He invented many effects, especially rope tricks including
Fantastic Knot, Krazy Knot, Rapid Rope, Chameleon Knots, Super Walking Knot, Cord-Fusion + Equalization, The Black Knot, The Phenomenal Rope, Hop-Along Bangle, Staggering Spiral, Miracle Silk Pass (Rope thru neck).
Also Invented: Selected Silk in Balloon, Knot-The-Silk Routine, Pavel Change Tube, Balloon Box Blendo, Quadsilx, Sucker Blendo, Knots Off Silk and many more.
A great image of Pavel holding rather a lot of the thing he is most famous for...rope!
Magic Hands Poster approx 11 by 17 inches. Signed in gold pen. August '95.
Sadly no longer with us...
Price: £20
---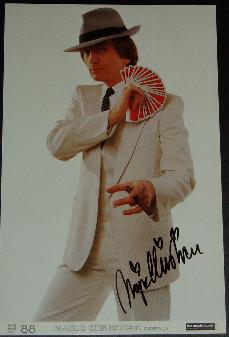 Generally billed as "Magic Christian of Vienna", this Austrian magician's real name is Christian Stelzel.
Multiple awards, including FISM First Place (Manipulation) in 1973, 1976 and 1979 plus First Place for Closeup Invention in 1979.
Austria has honored him for his research work on the history of magic as well as his talents as a magical entertainer and Goodwill Ambassador.
In 1989, Christian became president of the Magic Club of Vienna, and in 2005 the Academy of Magical Art at The Magic Castle, Hollywood, awarded him the "Performing Fellowship" for his performances.
Many appearances on television. Associated with Piatnik, manufacturer of trick decks.
Invented Ketten-Zauber and Color Changing Lighter.
This photo of Christian would look great on the wall
Magic Hands Poster approx 11 by 17 inches. Signed in black pen. April '88.
Price: £20
---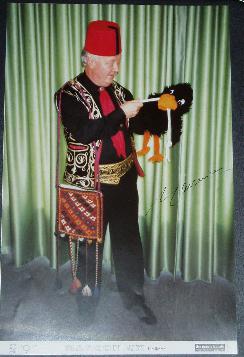 Born Heinz Nikolas "Nick" Stolk in The Hague, Holland,
He derrived his magic stage name from his service in the Dutch Air Force as a "Marconist" (radio operator).
He was a prolific inventor of over 100 marketed tricks.
His inventions include: Silken Bombshell (by 1959), Continuous Production of Silks, Fountain of Silks, Streamer Blendo, Two Way Blendo, Silk in Knot, Instant Rope Through Neck, Tire Illusion (for Michelin Tyre Company, Amsterdam), Prisoner Silk, Flying Silks, Rising Aces, Marconick's Card Change, and many, many more.
He wrote A Man and a 1000 Scarfs, Marconick's Silk Magic (1964), Marconick's Unique Silk Magic (1970), Marconick's Original Magic (7 vols, 1967-1982).
Sadly no longer with us, this photo captures a very unique act.
Magic Hands Poster approx 11 by 17 inches. Signed in black pen. April '95.
Price: £35
---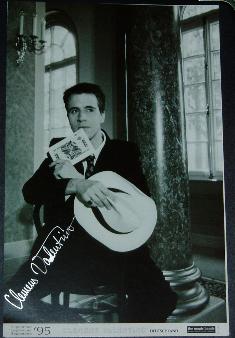 Clemens Valentino was born 1966 in Ludwigsburg
Major awards include
1st place in Klingsor magic competition Congrès de Bruxelles 1993
1st place in General Magic, music at the German Championships 1993
3rd place in the Magic General Magic FISM World Championships 1994
2nd place prize at the show: "the magic hands "1995
1st Place in Three Countries Denzel Magic Cup in Salzburg 1995
Silver Medal at the Shanghai International Magic Competition 1997th
This is a beautiful black and white image that would look great on the studio wall!
Magic Hands Poster approx 11 by 17 inches. Signed in silver pen. September '95
Price: £20
---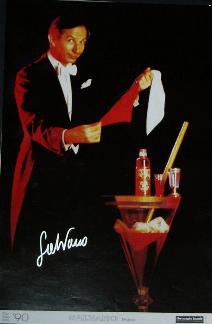 Salvano the magician was born in Poland.
With his exceptional intellectuality and creativity in magic, he was known as one of the smoothest classical acts.
Salvano lived and breathed magic.
Salvano's act was always very popular at UK magic conventions and was loved by many magicians.
Silent and very traditional, it was jam-packed with great magic moves, productions and vanishes.
His lecture was always excellent, featuring clever original magic that often caught magicians out; a fact which I'm sure secretly delighted him.
He will be really missed.
A beautiful and magical picture of this late master of magic.
Magic Hands Poster approx 11 by 17 inches. Signed in silver pen. May '90
Price: £35
---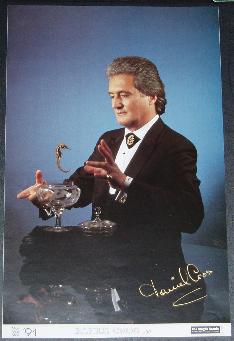 Audiences have been thrilled by the Close-Up Magic of Daniel Cros for 25 years.
His extraordinary talent and masterful showmanship have won him command performances.
Daniel moved to Las Vegas where he began to work at the Desert Inn. He was there while one of magic's most gifted performers, Jimmy Grippo, was the hotel's resident magician.
When moved Grippo to Caesar's Palace Daniel took his place at the Desert Inn as magical bartender for the next 27 years.
Daniel was the performer who turned the Fred Kapp's floating cork into a breathtaking illusion in miniature by utilizing a tiny sea horse.
Daniel is still the top close-up magician in Las Vegas performing at private shows, and anyone who has seen him work realizes that he should be rated higher!
A mysterious image of Daniel and his floating seahorse.
Magic Hands Poster approx 11 by 17 inches. Signed in gold pen. May '91
Price: £25
---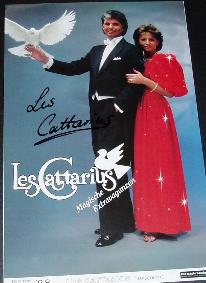 Les Cattarius with his charming assistant, celebrated for a lightness and elegance of his "magic extravaganzas."
With the animal show, they are not without reason German champions.
Cattarius enjoys the reputation of a star of the international stage.
The magic show was as an attraction to the famous Paris Olympia Theater.
Cattarius, from nothing, conjures his beautiful white doves. Whether from a burning copper pan, or an a empty newspaper, or an inflated balloon, again and again he amazed the audience.
Les Cattarius and its varied and delightful program, fascinates with astounding ease audiences.
The aristocrats of the magic!

Magic Hands Poster approx 11 by 17 inches. Signed in black pen. December '88
Price: £20
---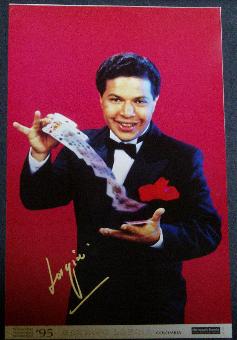 Gustavo Lorgia is a Columbian magician, born in 1951. Descended from a family of magicians.
He made several appearances throughout Europe and the Middle East, for members of the Jet-Set such as Jacqueline Kennedy and Aristotle Onassis.
In 1980 he returned to his home country to develop their career in TV-Magic. Since 1988, he has been the president of the Colombian Club of Magical Arts,
He also heads the Latin American Federation of Magic Societies (FLASOMA).
Internationally, he has served as one of the best magicians, thanks to his originality and elegance, and has performed at many venues throughout the magic world.
Magic Hands Poster approx 11 by 17 inches. Signed in gold pen. November '95
Price: £20
---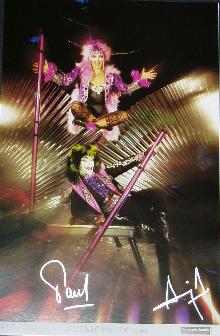 Philippart and Anja have thrilled audience around the world with their illusions within performances that are truly unique.
Their stage characters won praise from newspaper critics, audiences, television critics and fellow magicians.
Philippart and Anja performed in full sacle production shows in Monte Carlo, Korea and Brazil and have made numerous television appearances in many countries.
From 1996 through 1998 they co-devised and starred in 'Beyond Belief' the most succesful Internation show ever at Sun City, South Africa and the longest running show in South African history.
Philippart & Anja were nominated for the 7th Grands Prix Magiques de Monte Carlo and they were awarded with the Baguette Magique d'Argent by Princess Stephanie de Monaco.
The image from their stage show and is signed by both Phulippart and Anja.

Magic Hands Poster approx 11 by 17 inches. Signed in silver pen. Feb '91
Price: £20
---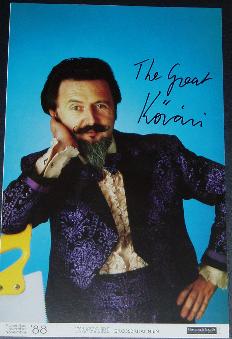 One of Hungary's leading magicians, George was born in Budapest but is now resident in London with his English wife, Susan and their two children George Kovari Jr, and Eve.
Kovari has many television appearances to his credit including; "The Sooty Show", "Five Magic Minutes", "Rainbow", "Illusions", "Jim'll Fix It", "Won't Change Places" and "The Freddie Starr Show"
Kovari has also acted as Magical Advisor for Films, Television and Theatrical productions where his expertise was an invaluable addition to many productions.
Not only is George known for his performances in Europe and the USA, but amongst magicians he is known for supplying a number of original creations, manufactured in his own workshop, to professional magicians around the world.
Signed 'The Great Kovari'
Magic Hands Poster approx 11 by 17 inches. Signed in black pen. Nov '88
Price: £25
---
Ali Bongo (1929 – 2009) - Jacket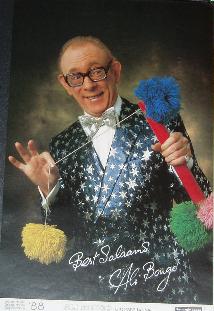 Ali Bongo was a British comedy magician, and president of The Magic Circle who performed an act in which he was known as the "Shriek of Araby".
He worked for Harry Stanley's Unique Magic Studio and was manager of the magic department on Hamleys toy shop in London's Regent Street.
Bongo wrote many books on magic, many containing tricks of his own. He also illustrated them in his instantly recognisable style. He acted as magic consultant for many plays, opera, ballets and TV shows including David Nixon's Magic Box, The David Nixon Magic Show for Thames Television and The Paul Daniels Magic Show for the BBC.
Ali Bongo was the presenter of the Ali Bongo's Cartoon Carnival, which featured himself and his assistant Oscar. It aired on UK TV BBC1 on Saturdays between 23 October and 18 December 1971, a total of nine episodes.
His legendary ability for devising tricks and illusions and solving magical problems inspired the TV writer, David Renwick, to create a character who was a magician's assistant and amateur sleuth in the series Jonathan Creek. Bongo was magical adviser to the series.
Bongo joined The Magic Circle in 1960 and, two years later was made a Member of The Inner Magic Circle. He won The Magic Circle Magician of the Year in 1972, the Carlton Comedy Award in 1983 and the David Berglas Award in 1991. He served twice as vice-president of The Magic Circle before being elected president on 8 September 2008.
This image is of Ali in one of hi very recognisable jackets!
Magic Hands Poster approx 11 by 17 inches. Signed in silver pen. Sept '88
Price: £45
---
Bob Little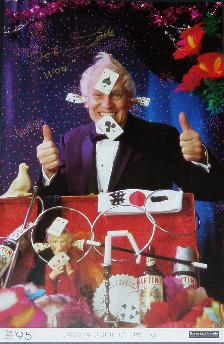 Bob's specialty is cards.
His repertoire is culled from the legacies of such as Walter Cummings, Paul Rosini, Ken Allen, and Max Londono, but he exemplifies how to customize the creations of others to suit your own styles.
Whether cutting a card in midair with a pair of shears or slahing through a newspaper page from a distance of 15 feet or more, Wild Man Bob evokes audible gasps of admiration.
There is no other magician-no other human being-in the world like Bob Little. And, because underneath his quirky, sexy 'Wild Man' persona there is an experienced pro who really knows what he is doing at all times and who knows the real work of captivating an audience.
He is the incomparable Bob Little of Hatboro, Pennsylvania.
Magic Hands Poster approx 11 by 17 inches. Signed in black pen. May '95

Price: £20
---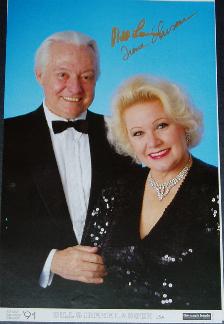 William W. (Bill) Larsen and his brother, Milt Larsen, were both in television but had grown up in a family of magicians. Their father was a performing magician and respected Los Angeles defense attorney, William W. Larsen, Sr., and their mother, Geraldine, the early TV pioneer children's entertainer known as The Magic Lady, published Genii, the Conjurors Magazine, which is still in publication.
In 1962, Bill and his brother Milt completed their father's dream of The Academy of Magical Arts and The Magic Castle.
Not long after the Magic Castle opened, Bill married Irene Larsen on November 10, 1963.
Irene Larsen (born September 25, 1936) was born in Steuhlingen, Germany near Siegfried Fischbacher (although never met him until years later).
Irene's career in magic started by chance when, in 1965, she attended a magic show in Germany and was asked on stage by magician John Daniel. One year later she arrived in America, married Daniel and became involved with Owen Magic, a manufacturer of magic products.
She is the Honorary President for Life for the Academy of Magical Arts and is affectionately known as "Princess Irene," a stage name she was given by her first husband, magician John Daniel. She toured the school circuit with Daniel and after that, with Daniel and Bob Towner.
She performed with him on "The Dean Martin Show" with Orson Welles.
In later years Irene and Bill become co-editors of Genii magazine.
Magic Hands Poster approx 11 by 17 inches. Signed in black pen. June '89
Price: £30
---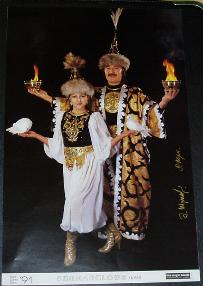 Magic Hands Poster approx 11 by 17 inches. Signed in gold pen. June '91
Price: £20
---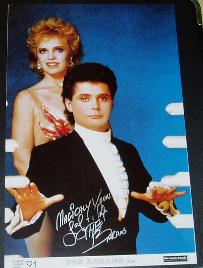 Magic Hands Poster approx 11 by 17 inches. Signed in silver pen. August '91
Price: £20
---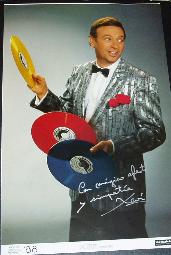 Magic Hands Poster approx 11 by 17 inches. Signed in silver pen. Feb '88
Price: £20
---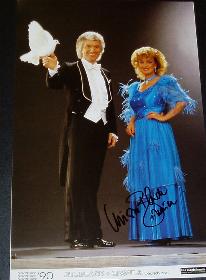 Magic Hands Poster approx 11 by 17 inches. Signed in black pen. Nov '90
Price: £20
---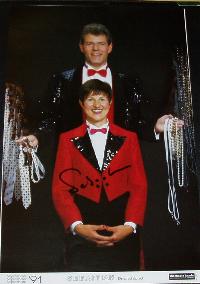 Magic Hands Poster approx 11 by 17 inches. Signed in black pen. Sept '91
Price: £20
---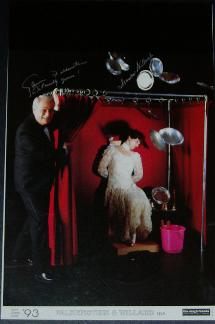 Magic Hands Poster approx 11 by 17 inches. Signed in silver pen. June '93
Price: £30
---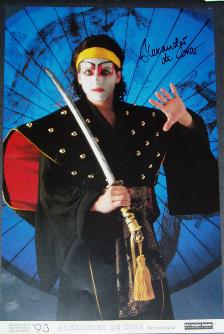 Magic Hands Poster approx 11 by 17 inches. Signed in black pen. Sept '93
Price: £20
---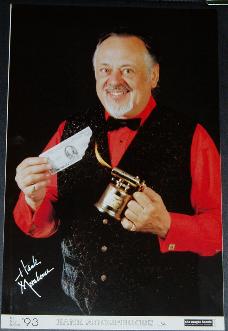 Magic Hands Poster approx 11 by 17 inches. Signed in silver pen. July '93
Price: £20
---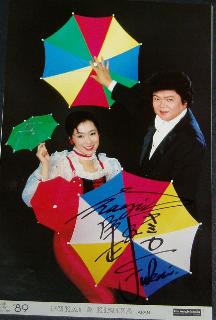 Magic Hands Poster approx 11 by 17 inches. Signed in black pen. July '89
Price: £20
---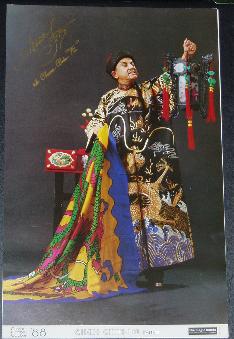 Magic Hands Poster approx 11 by 17 inches. Signed in gold pen. Oct '94
Price: £20
---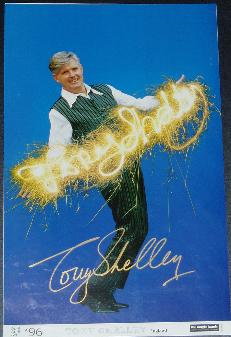 Magic Hands Poster approx 11 by 17 inches. Signed in gold pen. Apr '96
Price: £20
---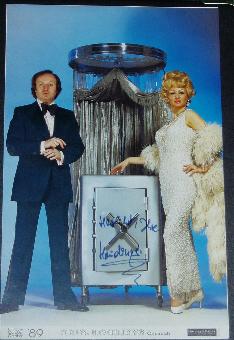 Magic Hands Poster approx 11 by 17 inches. Signed in blue pen. Oct '89
Price: £20
---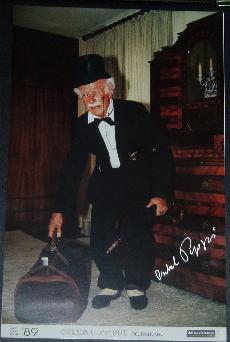 Magic Hands Poster approx 11 by 17 inches. Signed in silver pen. Apr '89
Price: £20
---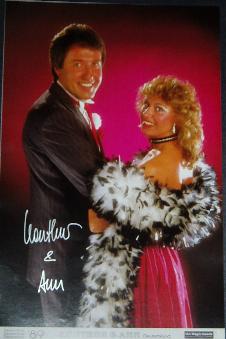 Magic Hands Poster approx 11 by 17 inches. Signed in silver pen. Dec '89
Price: £20
---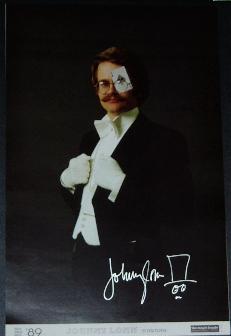 Magic Hands Poster approx 11 by 17 inches. Signed in silver pen. May '89
Price: £20
---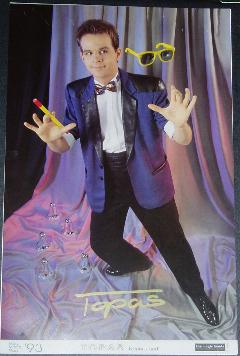 Magic Hands Poster approx 11 by 17 inches. Signed in gold pen. March '93
Price: £20
---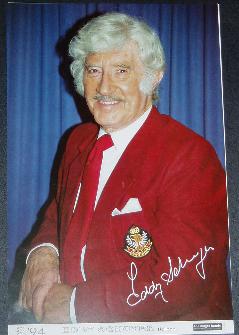 Magic Hands Poster approx 11 by 17 inches. Signed in silver pen. Apr '94
Price: £20
---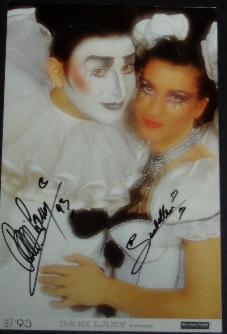 Magic Hands Poster approx 11 by 17 inches. Signed in black pen. Apr '93
Price: £20
---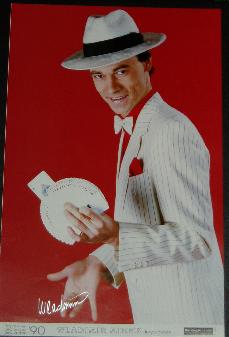 Magic Hands Poster approx 11 by 17 inches. Signed in silver pen. Sept '90
Price: £20
---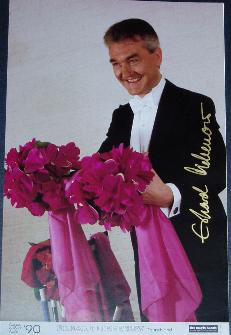 Magic Hands Poster approx 11 by 17 inches. Signed in gold pen. August '90
Price: £20
---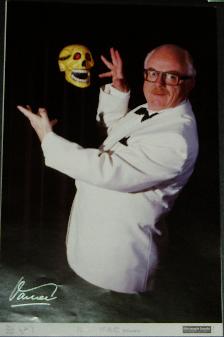 Magic Hands Poster approx 11 by 17 inches. Signed in silver pen. Apr '90
Price: £20
---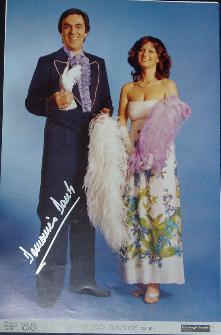 Magic Hands Poster approx 11 by 17 inches. Signed in silver pen. August '88
Price: £20
---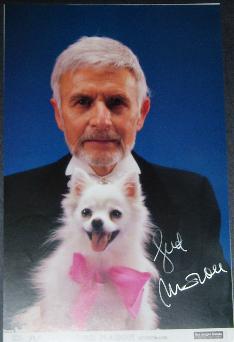 Magic Hands Poster approx 11 by 17 inches. Signed in silver pen. March '88
Price: £20
---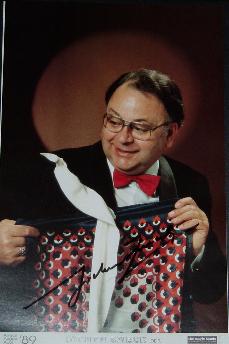 Magic Hands Poster approx 11 by 17 inches. Signed in black pen. August '89
Price: £20
---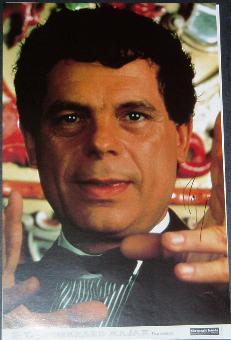 Magic Hands Poster approx 11 by 17 inches. Signed in black pen. June '95
Price: £20
---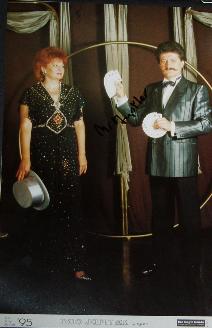 Magic Hands Poster approx 11 by 17 inches. Signed in black pen. July '95
Price: £20
---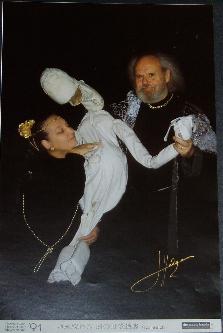 Magic Hands Poster approx 11 by 17 inches. Signed in gold pen. Nov '91
Price: £20
---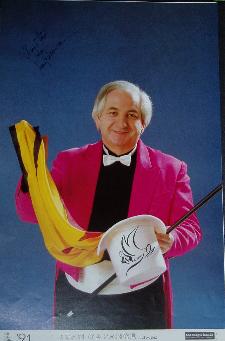 Magic Hands Poster approx 11 by 17 inches. Signed in blue pen. July '91
Price: £20
---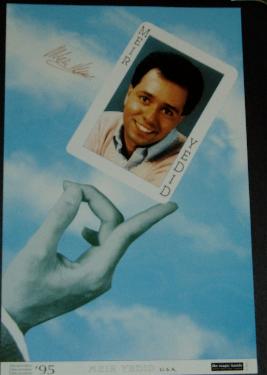 Magic Hands Poster approx 11 by 17 inches. Signed in gold pen. Dec '95
Price: £25
---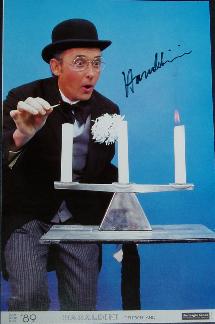 Magic Hands Poster approx 11 by 17 inches. Signed in black pen. June '89
Price: £20
---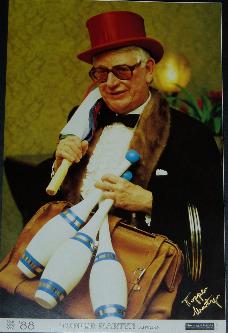 Magic Hands Poster approx 11 by 17 inches. Signed in gold pen. May '88
Price: £20
---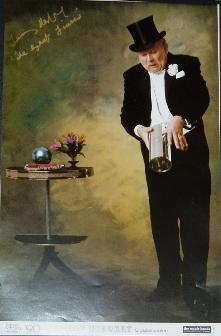 Magic Hands Poster approx 11 by 17 inches. Signed in gold pen. Feb '90
Price: £25
---
Peter Heinz Kersten (1929-2004)
Magic Hands Poster approx 11 by 17 inches. Signed in black pen. Dec '90
Price: £30
---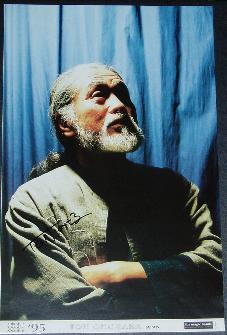 Magic Hands Poster approx 11 by 17 inches. Signed in black pen. Oct '95
Price: £30
---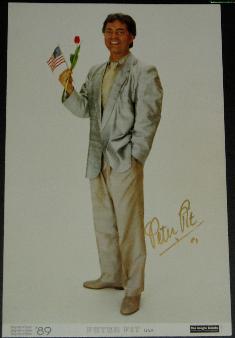 Magic Hands Poster approx 11 by 17 inches. Signed in gold pen. Sept '89
Price: £20
---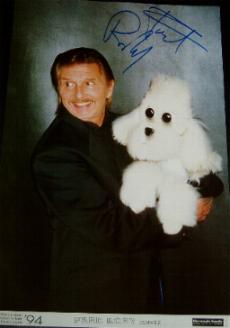 Magic Hands Poster approx 11 by 17 inches. Signed in blue pen. Nov '94
Price: £20
---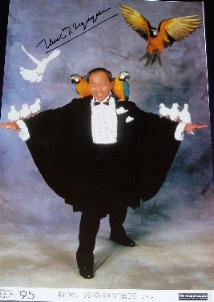 Magic Hands Poster approx 11 by 17 inches. Signed in black pen. Feb '95
Price: £20
---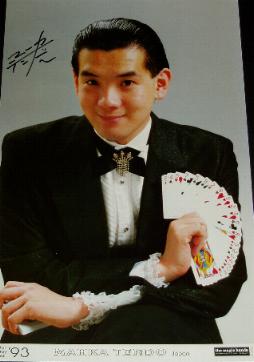 Magic Hands Poster approx 11 by 17 inches. Signed in black pen. May '93
Price: £20
---