---
General Magic
Close-Up/Stage
---

On this page you will find magic that doesn't quite fall in the category of specifically Stage or Close up but could be used for both!
---
The Magician borrows a ring, coin, or a bank note from someone in the audience. He then asks a volunteer to sign the item with a pen to verify at a later time. The magician then takes the ring, coin, bank note, etc. And vanishes it right in from of the audience! Picking up a locked wooden box hands it to the volunteer. As the box is locked, the magician hands the keys to the volunteer. The volunteer opens the box and finds yet another box. The second box is removed by the volunteer and opened. Inside the second locked box is the signed object!
No Stooges!
Volunteer unlocks and opens both boxes
Volunteer takes signed item from the box themselves
Boxes are wooden with brass hinges and locking mechanism
Easy to perform
You'll have fun performing this!
These are a well made pair of nesting Chests. They enable you to secretly introduce an item into the inner locked chest, making possible some very strong magic. The construction of the boxes is similar to the Locked Box, or Lippincott Box, using a pair of nesting Boxes. It can be adapted for most of the routines normally performed with a Lippincott Box, Locked Box, Bill Tube, Sing Sing Ring Box etc.
Price: £38
---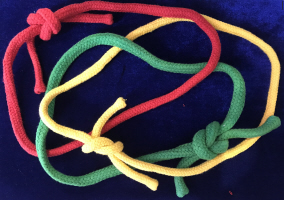 The Effect:
Probably self explanitory but just in case...
Three lenghts of coloured rope are used.

Spectators help to tie them into three loops. Ane yes you guessed it! You the master Magician that you are manage to pass solid through solid ala Linking Rings but with rop e!
This however unlike the liking rings that take a while to truly master. You will have this practically perfect in minutes. Leaving you to entertain your audience with its presentation.
Whats more take up very little room. Plays BIG. And no resetting always ready to go!
This is a beautiful set of linking ropes. Good strong "Gimmick" and well made the ends as you might be able to see in the pictures are folded back in on themselves so they cannot come unravelled.
Colours many vary from set to set.
Price: £10
---
Rigid Rope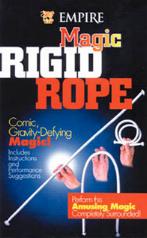 Stiff Rope is a classic of comedy magic.
Effect:
At the magicians command this piece of rope will go rigid as if the ends are being held by two invisible people.

This little gem plays well for both kids and adults and is totally self working.
This rope can be used in a comical routine as well as a serious one. You can also perform this trick completely surrounded.
Instructions and a suggested performance is included. Very easy to do.
Price: £6
---

Personally I believe there is only one Egg Bag worth using... This is of course it! The "Malini" Egg Bag. Just incase you have been hidden in a black hole for the last 100 years and have no idea what an Egg Bag is... You show a small black bag about 8" square. Having shown it completely empty both inside and out the spectator double checks, looks and feels inside the bag... Definitely empty no question! The spectator reaches into the bag themselves and pulls out an EGG! (So that's why its called an Egg Bag! This version invented by Max Malini to answer the other question!). You take the egg place it back into the bag and make it vanish again. Once again to show the bag inside and out you can even screw up the bag completely, the spectator looks and feels inside the bag... Empty, Gone, Vamoosed!!! You give the bag to the spectator, they hold the bag and reach into it themselves, behold! An EGG! Finally of course the Egg completely disappears! There are many routine written for the Egg Bag possibly one of the best being the Ken Brooke routine described above. Ken used to sell the Malini Egg Bag himself so you know this has to be good!
This one of the best eggs bags money can buy!
Use your own egg. (A blown egg... and if you need some tips on a good blown egg drop me a line)
Great for both Close up or Stage takes up no room but plays big... What more could you ask... My personal recommendation! (Guess what's in may act then!) - M
Price: £35
---
Original Kaps Smoking Thumb Gimmick & routine

Here is a complete routine by Pat Page together with the top secret professional gimmick which is hand-made using brass and teflon.
The Smoking Thumb effect is one of the most magical feats possible. Made famous by Laurel and Hardy, Ade Duval and the incomparable Fred Kaps it has become one of the most sought after secrets of the stage performer. At last we are able to offer a professional gimmick (identical to the one used by Fred Kaps) which makes this unusual routine possible. Imagine reaching into the air, forming your hand into a pipe, your thumb protuding upward like a stem, and being able to create clouds of smoke at will, just as if you were smoking your thumb. This well-made gimmick, together with Pat Page's excellent routined instructions will help you to do just that. The effect is always under your control and may be used at any point in the act. No chemicals are involved and it is not technically difficult to do but it does require proper presentation. With some hard work on your part this could be the feature item in your act. If you have ever seen Fred Kaps live or on video performing this amazing effect you will know how powerful and baffling it can be.
Price £28
---
Appearing Golf Balls - Matthew Reesman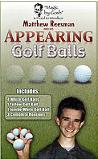 The performer produces four golf balls, one by one. Each one is placed between the fingertips of the right hand. This seems like the end of the effect, but a surprise awaits the audience with the production of a giant golf ball!
With golf being one of the world's most popular sports, you cannot find a more commercial routine than this. The addition of one of these routines to your repertoire will create an instant connection with your audience.
This set includes 4 white sponge golf balls, one yellow sponge golf ball, one giant white sponge golf ball, and photo-illustrated instructions for 3 routines! These are not made from the regular goshman sponge, these are slighty harder and look like a golf ball rather than a white sponge ball!
A very nice idea and something a bit different - M
Price: £12
---
Enchanted Flowers - Kenton Knepper

A stunningly simple and devious manner of producing spring flowers at the fingertips. Only one flower is seen in the hand at any time yet many are produced without "steals" or other work. Finally, a flower V-I-S-I-B-L-Y changes colour right before the audience's eyes! This effect is pulled directly from Kenton's Act!
Kenton also gives ideas on an advanced routine using two gimmicks (you are supplied with two but only require one for the basic routine)
Available in paper. Colours may vary.
Price: £12
---
Silver Magic Thimbles - Vernet


Set of 8 Thimbles
You can perform multiplications, vanishes and penetrations. The Silver Magic Thimbles are specially designed and consist of pairs of thimbles nested inside each other. Great for the classic Thimble effects or your own routines.
Price: £12
---
Email "M"

Home

Cart-Checkout

E&OE