---
Silks
Handkerchief Magic
---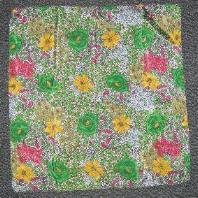 The New Devils Hanky is fantastic. A great vanishing device vanishing for anyone to carry. Looking like a posh gents floral patterned hanky or a small ladies headscarf.
With this beautiful new "Devils hanky" you can vanish pretty much any small object you heart desires. However with this one you vanish/switch 2 separate items as it has 2 separate compartments.
It measures approximately 17" square.
With easy to find top buttons locators you will be sure to never go wrong with this trick.

NOTE! Colours and patterns will vary from the one shown but will be of a similar floral design
Price: £6
---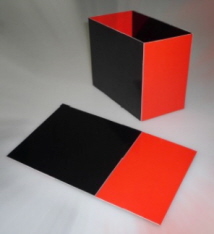 Fun is abundant with the silk fountain box. From flat to more than full!!

Silk Fountain Box 2. Back by popular demand! Now with improved design for even greater ease of handling
Effect: The Magician displays a flat panel.
He then makes it into an empty box and puts his hand through to show it has no top or bottom.
It's empty, but suddenly, a bright colored silk emerges from the box, and then another and another, until the box is endlessly overflowing with gorgeous silks

of all colors. Spring flowers can also be mixed in with the silks for extra brilliance.
Comes with: one specially-created Silk fountain Box & DVD instructions
NOTE
Comes with: one specially-designed Silk Fountain Box and instructional video only. Silks and spring flowers are sold separately.
The big innovation with Silk Fountain Box 2 is that, unlike with the original version, the box is set up so that all the silks flow out in a continuous stream, without any need to reload the box during the performance.

Price: £25
---

Professional Silk Magic...That's Easy to Do! The magician displays four small, different colored silk handkerchiefs and pushes them inside his closed fist. When he opens his hand, the separate silks have joined into one 8" x 4 colored silk! Comes with 100% Italian Silk handkerchiefs and instructions.
Please note NO THUMB TIP included. However if you do not already own one... (Shame on you!) we have some here...
Price: £7
---

This is one of the most beautiful and classic effects of magic! The magician shows the audience five silks. One is red, one is yellow, one is green, one is blue and one is white. The white silk is tied around the others. This white silk is untied, and set aside. The other four silks are then held between the magician's hands. He twirls his hands for a moment. Suddenly, instead of four individual silks, he only has one big 36" square silk scarf in his hands! It is composed of four colors: red, yellow, green, and blue. The four scarves have "blended" into one
Price: £24
---
Crystal Tube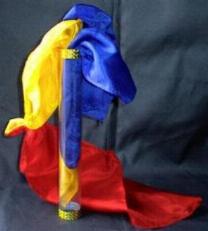 The performer displays a clear acrylic tube about 10" long. He inserts three different coloured silks into the tube, one by one.
Then he blows through the tube, shooting the silks high into the air and as they fall back to the performer it is seen that the silks are now tied end to end.
Three unprepared silks, tube and complete instructions.
A great visual interlude in any silk routine. (Colour of silks may vary)
Price: £14
---

The Dye Tube is an indispensable utility prop for the silk worker. With this specially produced metal tube you are able to perform visual color changes all the while showing your hands empty. With this professional prop you will be a able to do a double and even a triple color change. Uses ordinary silk hanks, not supplied.
Price: £12
---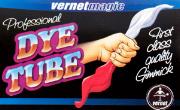 You start by showing both hands empty. Then you take a red silk and push it into the top of your fist.
When it emerges from the bottom, it will change to white.
If you want, the white silk can be immediately changed back to the original color.
Dye Tube only supply your own silks
Very nice and useable dye tube... I have found this to one of the best I have used! - "M"
Price: £10
---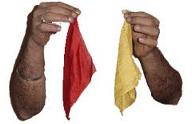 Performer shows two small silks, one red and one yellow. He ties a knot in the silks and attempts to fuse the silks to a single silk, but nothing happens.
Then with a wave of the hands and a few magic words the knot vanishes and the two silks have fused into one another. Performer is now holding a single large silk half red and half yellow.
Comes complete with all the required silks and detailed instructions for different types of handling, ranging from those requiring absolutely no practice, to more effective and direct presentations involving a modest amount of practice.
Price: £9
---

These beautiful, 100% Italian Silk streamers easily fit into any thumb tip for a magical production.
About 36" by 1" multicoloured streamers. Please note the colouring may vary and the picture is a guide.
Price: £3.50
---