---
Childrens Magic
---
Borettis original ladybird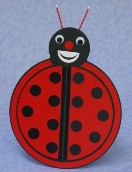 Colourful flat figure, about 34 cm (appr. 14 Inches) high and 24 cm (appr. 10 Inches)wide, which can be seen even on a large stage.
"What do you think, how old is Lilly?"
Immediately the children shout "four", because they can see that Lilly has four spots.
This starts off a jolly game in which the spots change all the time.

First of all there are four spots on one side and two on the other. Then there are six and three. Suddenly one of them has disappeared and there are only five.
All the children are looking for the lost sixth spot. Finally the children pretend to throw this spot to Lilly.
What a surprise! Since so many children have thrown a spot, Lilly now has at least 20 spots. You might think that the trick is now finished, but no - the new spots that have just appeared, turn silver. The audience is totally taken aback, and there are many "aaahs" and "oohs".
Boretti has thoroughly revised the old points card and created a completely new game. The previous "you've been fooled" effect has been done away with so there is no disappointment on the part of the children.

This trick is suitable for all ages, big and small. Lilly is romantic, surprising, funny, but also magical. The figure is made of plastic, flat and easy to transport and practically indestructable.

We supply the original Boretti routine with its special touch. No strings, no magnets, very easy presentation. Solid plastic, lasts a magic lifetime.
Price: £45
---
This trick has not been seen on the magic market in over 20 years. It was originally made and soldby the late Jack Hughes. Now remade in a new and modern design. Nicely silk screened in bold colors, this can be seen easily anywhere. This is good clean easy to do magic for your children's shows, and a classic turn around effect. Mounted on a wooden base is a photo of two birds sitting on a wall. The magician explains that he will make the birds disappear. However in order to do that he must cover the plaque with a silk and saying 'fly away Peter fly away Paul', in the same movement he turns the plaque around to show that the birds have gone. At this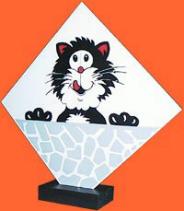 point the young audience will protest, telling you that you turned it around. 'Ok' the magician says, 'I will bring them back,' once again the plaque is covered with the silk and turned around to show that the birds are back, the young audience will protest harder and harder yelling 'YOU TURNED THEM AROUND'. After some by-play the magician promises to do the trick one last time, so once again he covers the plaque turns it around and removes the silk. And there on the wall is a photo of a big cat. The cat has eaten the birds. Delivered complete with instructions and patter, ready to work right away. (Supply you own silk). This trick is a sure-fire crowd pleaser for any type show.
Price: £32
---