---
DVD's
---
Cards -/- Close-up -/- Coins --/- General (Close-up / Parlour /Stage) -/- Mentalism -/- Stage

---
---
A Little R&B by Dan Harlan - DVD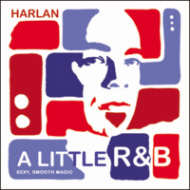 Cool cats and sexy kittens, pick up a double and hold a break. Time for the 1 & only, devious doctor Dan, to engage the color-space-time-warp-sandwich-express!
Using ONLY a red/blue double backed card (plus, incredible skill, talent and humility),
Harlan performs a myriad of miracles you'll proudly add to your pasteboard performances. Fully explained in every sexy, smooth detail.
Effects Explained:
Turning Blue
Special Glasses
Getting Warmer
Fingerprints
Prediction 1
Prediction 2
Trading Places
Make a Bet
Star Trek
R & B Special
Plus a special bonus effect! "The Cut Deeper Reading" impromptu fortune telling trick.
3 Gimmicks Included!
Running Time Approximately: 1hr 48min
Price: £18
"Dupes" - Gary Jones & Chris Congreaves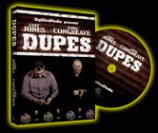 Gary Jones and Chris Congreave have a sterling reputation as WORKING magicians. The material they create and perform is the sort of stuff you WILL WANT TO DO AND AUDIENCES LOVE TO SEE!
DUPES is an entire DVD devoted to one of their favourite ideas – using duplicate cards to create perfect miracles. With a heap of insights and sneaky ideas to elevate this underused ruse, you will have your jaw pinned to the floor as you watch the genius ideas these two have laid down for you. Easy, performable, entertaining magic!
Grab ONE deck and a few extra duplicate cards and you have a veritable arsenal of magic at your fingertips. No more pockets bulging with decks only capable of unleashing ONE trick.
Nearly CAAN
Kicked Right Back
Joker Surprise
C2B (with zilcho palm)
Packet Wallet
Pocket Aces
The Big Transpo
Sucker Deal
Box Sitter
Pocket Interchange (3 versions)
Lee Smith's Predicto-Pocket
Hypno-tastic
Price: £20
---
The Zenneth Code (DVD) - Zenneth Kok

All the way from Hong Kong, Zenneth "The Bruce Lee of Card Magic" Kok brings you some of his signature pieces. In this DVD, Zenneth will perform and explain some of his most treasured items in full detail:
Explosion - A blend of three visual effects; Ambitious Card, Inversion and Colour Changing Deck, this routine features Shigeo Futagawa's Elevator Move

Zenneth Alignment Move Workshop - this is a highly versatile move. You will learn details of the mechanism and many applications of this move: The Edge Change, Ambidextorous Sandwich and more...
Jet Twist (Stand up Version) - An impromptu handling of Zenneth's previously marketed item - Impossible Twist. Four Kings turn face down one at a time in a progressively impossible manner, while the Twisting sequence is already a killer, the transformation of the four Aces at the end will render your spectator speechless!
The Cheek of the Monster (Performance Only) - Zenneth's variation and addition to Ray Kosby's The Other Cheek: Twisting, Collectors and Colour Changing Deck.
3 Times 3 (Third Time) - The 3rd Act, a three phases extreme visual manipulation of Ace, 2 and 3 that you can do entirely stand up, this is one of Zenneth's most performed routines.
The 7th Act - This is Zenneth's take on the ReCollectors plot, one of his most treasured mini card acts, a 6 minutes card act packed full of visual effects and the best of all, no preparation is needed.
Price: £20
---
Pocket This - Christopher Congreave and Gary Jones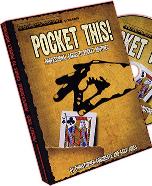 GJ 6 Cards to Pocket (Gary Jones' signature routine) - Many magicians have been trying to get Gary to release this routine for years. Now he's finally sharing it with the magic community. The cards, a signed ace to six, all vanish individually and appear in order in the magician's pocket. Gary Jones has been using this routine for many years, but this is arguably the best version of this classic. It can be performed close up, cabaret and parlor.

CC Cards to Pocket - The signed ace to four vanish one at a time. The first three appear in the magician's pockets, the final card vanishes from inside the spectator's hand and appears inside the magician's wallet (which has been on the table all along!) Highly Commercial.

CC Cards to Pocket - Alternative Ending

GJ Pocket to Pocket (incorporating Gary's Ambitious Card) - A fantastic sequence that is stunning on its own or you can add to any ambitious card routine, your spectators won't believe their eyes!!!

GJ Repeat Signed Cards to Pocket - 3 cards are selected and signed. One at a time they appear in different pockets, then as quick as a flash they instantly jump straight back to the pockets. Excellent!

Top Con Control - A new, easy and deceptive way to control a card to the top of the pack.

John Carey's inspired by Lance (performed by Christopher Congreave) - 4 kings are placed onto the table and a signed card placed in between them. The signed card vanishes from between the kings and appears in your pocket. Again, you show the cards but this time the cards are isolated in the spectator's hand. BOOM!! Under these impossible conditions the signed card again vanishes, and makes it appearance back to your pocket. Commercial magic at its best.

Bonus: GJ's No Sleep Plus - A brilliant transposition routine. I don't want to spoil the surprise!

Running Time Approximately 2hr 07min


Price: £16
---
Pseudo Pickpocket - Christopher Congreave and Gary Jones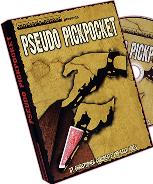 Pseudo Pickpocket - This is a brilliant and commercial plot that Chris Congreave and Gary Jones have been performing at their gigs to fantastic spectator reactions. Imagine being able to get a signed, or a merely thought of card, into a spectators wallet. For the professional there is also a method of getting your contact details into a spectator's wallet! Pure gold to the working pro.
CC Pickpocket - A card is signed and lost in the pack. Two aces are placed in to the spectators wallet, and you tell them you will pick their pocket. The wallet is placed where you can't possibly reach it….or can you? The aces are visibly produced. Then the spectator removes their wallet thinking the aces will be there…wrong, it's the signed card!
GJ Signed Card to Card box - Dr. Daley's last trick meets signed card to card box! The best bit is NO PALMING!
Also includes:
CC Thought of Card, GJ KickBack Pick Pack Pocket, Cash Credit Card Pickpocket, Wallet Transpo, John Carey's Signature Transpo.
Bonus Ideas:
GJ Delusion, Touch Card to Wallet, Top Con Control (A new, easy and deceptive way to control a card to the top of the pack.)
Running Time Approximately 2hr 21min

Price: £16
---
Card To Wallet (World's Greatest Magic)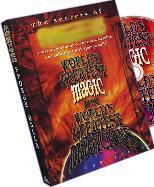 The card-to-impossible-place plot is almost as old as card conjuring itself with the earliest ancestor of the trick we now call the Card To Wallet appearing as "The Card in the Pocketbook" in early magic literature. Over the next two centuries, magicians devised a myriad of ways to create the effect of a selected playing card appearing mysteriously in the performer's wallet and in this collection, you'll find an amazing variety of methods for all skill levels. John Mendoza begins with two selections appearing in the zippered compartment of a wallet that was in plain sight throughout the routine – and there's no palming involved. Likewise, Alexander deCova has devised a way of recreating the famous LePaul effect of a signed playing card appearing inside an envelope and, once again, there is no palming involved. Michael Ammar is next with an extremely logical approach to the effect as a torn playing card visibly changes into a credit card while, naturally, the playing card is found restored in the performer's wallet in the space previously occupied by the credit card. Then, Eddie Tullock, the king of trade show performers, demonstrates how to turn a basic card-to-wallet effect into a powerful promotional tool. Dan Fleshman offers his take on the classic Red Hot Momma effect with a socko wallet finish while Alex Elmsley demonstrates a card-to-wallet effect that uses no gimmicked wallets and is virtually always ready to perform. Finally, Eric DeCamps presents his card in wallet routine with three selections that can play in a stand-up as well as close-up situation.
The discovery of a chosen – and oftentimes signed – playing card in the magician's wallet is a centuries-old crowd pleaser and if you're looking to add this all-time audience favorite to your repertoire, you won't find a better starting point than this collection.
Bendix Bombshell (John Mendoza) - Professional Card to Wallet (Alexander deCova) - Card In Wallet (Michael Ammar) - Card In Wallet (Eddie Tullock) - Momma In My Wallet (Dan Fleshman) - Card To Wallet (Alex Elmsley) -Card In Wallet Routine (Eric DeCamps)
Price: £15
---
Card Stab (World's Greatest Magic)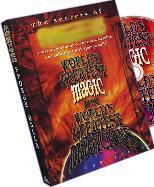 View Clip
One of card magic's most direct and dramatic tricks!
Since the early 1700's, magicians have been dazzling their audiences by finding selected playing cards with knives. In the intervening years, legendary magicians such as Charles Bertram, Nate Leipzig, Karl Germain, Max Malini, and countless others have used this effect to astound onlookers and forge reputations.
On this DVD, you'll be treated to seven different interpretations of the Card Stab. Johnny Thompson begins with Max Malini's legendary version as he stabs three selections from cards scattered across a table while blindfolded. Michael Ammar contributes another legend's take on the Card Stab – this time Nate Leipzig – as two cards are located by a knife thrust into the center of a pack of cards that's been wrapped in a napkin. In a similar vein, Frank Garcia enables a spectator to stab their own signed selection in a wrapped-up pack while also providing a lovely bonus card production from a card case. Daryl finds a selected card by stabbing through a newspaper that covers cards that are spread across a tabletop while Jeff Sheridan expands on a Milbourne Christopher concept and stabs a card from a shuffled deck while it's suspended in a bag fashioned from a paper napkin. Steve Dacri demonstrates how to make the Card Stab play big as he stabs two selections right out of the air and Paul Potassy shows off the trick he used as an encore when he performed on some of the world's most prestigious stages.
Malini Card Stab – Johnny Thompson
Card Stab – Michael Ammar
Card Stab – Frank Garcia
Card Stab Through Newspaper – Daryl
Card Stab – Jeff Sheridan
Card Stab – Steve Dacri
The Encore Card Stab – Paul Potassy
Running Time Approximately 1hr 7min
Price: £15
---
---
Trick Soup - Gary Jones and Chris Congreave
Double disk DVD!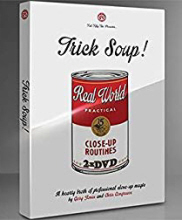 Gary Jones and Chris Congreave (Automata) return to Full 52 with Trick Soup! A double DVD set featuring FIFTEEN practical, professional-grade close-up routines for workers in the REAL WORLD!
If you've ever wondered what type of material fills the repertoires of busy, full-time working professionals -- look no further! This project was specifically designed to cut through the pipe-dreams and 'magic for magicians' and get right down to the nitty-gritty effects. These are the ones that have allowed these two pro's to make their living in the game for more years than either of them might care to mention! Marvel at the misdirection, be tricked by the technique and stunned by the sleight of hand!
This double DVD box set may well be all you'll ever need to make a living in the real world of professional close-up magic!
DVD ONE CONTENTS
Back Palm Thank You Mam! - Jones at his finest. It's going straight into your repertoire!
Over-drawn - Chris's super-commercial bill switch routine that instantly re-sets!
Pro C.U.B - Gary Jones's professional 'Card Under Box' will leave your jaw on the floor!
Win a Watch - Gary's card under watch routine - funny and practical!
Coins Across - Chris offers his own take on this table-hopping classic!
Interlace - Gary's version of this card classic WILL FOOL YOU!
Jazz Routine - Chris's non-stop, fast and furious 'jazz' routine!
DVD TWO CONTENTS
Not Chosen - You'll be making up this 'one-trick-deck' of Gary's for sure!
Joke Box - Chris's 'under the box' transpo - in THEIR hands!
No Sleep - Gary's lightning fast 'four-for-one' transpo is a SHOW STOPPER!
Most Likely - Chris presents a KILLER card-to-pocket transpo!
Twenty One Again - Gary's 'thought-of-card-to-pocket'... with a surprise ending!
Sign Post - Chris's impromptu 'Anniversary Waltz' is as smart as they come!
Blackjack Surprise - Chris's commercial Blackjack routine with a 'card-to-wallet' finale!
Solidified - Gary's 'solid deck' routine will leave you IN AWE! It's almost TOO MUCH MAGIC!
As you can see from the above, there are marvelous ingredients in this package. Trick Soup -- you'll love it!
Price: £32
---
Automata 2 - DVD by Dave Forrest and Gary Jones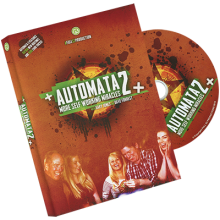 'Automata 2' marks the second instalment of the smash hit self-working series from Full 52 Productions.
On this DVD you'll find ELEVEN more completely self working magic effects using a variety of everyday objects and this time around - there are ZERO CARD TRICKS!
Gary Jones and Dave Forrest will first demonstrate the potential power of self working magic with live studio performances then walk you step-by-step through the methods behind the miracles, offering professional tips and advice along the way. But, don't be mistaken. This is no ordinary, self working magic...
In 'Aqua Ring' Gary borrows a finger ring and ties it securely to a loop of dental floss yet the ring somehow makes good it's escape... underwater! In 'P.O.A' a coin cleanly vanishes from Dave's hand only to re-appear taped to a business card that was previously examined and signed by a spectator! Watch Gary correctly identify which drawing was made by which spectator before accurately duplicating a third drawing in 'Peeky Blinder!' Dave reaches into his spectator's mind and begins to hum the tune that his spectator is mentally singing to themselves in 'Earworm!' And, in 'LEAD FREE', a coin cleanly and effortlessly bends in the hand of your spectator!
All this plus SIX MORE spectacular effects including a self working 'coin through table' (CHIP SHOT), a self working book test (FIXED QUOTE) - the list goes on! 'Automata 2' - A killer collection of original magic and mentalism with rings, strings, coins, books, business cards, poker chips, dice, mobile phones, wallets, envelopes... but definitely no playing cards!
FULL CONTENTS
AMAZING BUSINESS - Triple prediction with business cards!
EARWORM - Reveal a song they're thinking of!
WEIRD WALLET - Three chances to win... they never do!
MY HERO - Which comic book superhero are you?
PEEKY BLINDER - A three part mentalism spectacular!
FIXED QUOTE - Did somebody say self working book test?
CHIP SHOT - Poker chip through table!
P.O.A - Self working coin vanish...and reappearance!
NO LUCK - Predict the outcome of three dice... almost!
AQUA RING - Houdini's water torture escape, close-up!
LEAD FREE - Self working coin bend, anyone???

Price: £20
---
Automata 3 - DVD by Dave Forrest and Gary Jones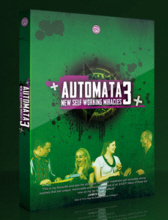 The smash hit, self working series from Full 52 continues with this, the latest installment - 'Automata 3'!
On this DVD you'll find ELEVEN more completely self working magic effects using a variety of everyday objects and, just like last time - there's NOT A SINGLE CARD TRICK IN SIGHT!
Gary Jones and Dave Forrest will first demonstrate the potential power of self working magic with live studio performances then walk you step-by-step through the methods behind the miracles, offering professional tips and advice along the way. But, don't be mistaken. This is no ordinary, self working magic...
In 'ESP-ionage' Gary discerns which ESP symbol is hidden in an envelope TWICE under test conditions!
In 'A CAN' Dave produces a real tin of beans - an item freely chosen by the spectator - from a flat envelope!
In 'RPS EXTREME' Gary correctly predicts the outcome of a game of Rock, Paper, Scissors - not only who beats who but also PRECISELY which of the three options are in play!
Dave reaches into his spectator's mind and correctly divines random words chosen by the spectator from a borrowed book in 'ANY TOME, ANYWHERE'!
And, in 'FRUIT LOOP', Gary predicts which two fruits have been freely chosen in a hilarious fashion before nailing them with one final prediction that defies explanation!
All this plus SIX MORE spectacular effects including a self working 'Visa Cabaret' style routine (POCKETS PREDICTED), a self working 'Positive Negative' style routine (POSITIVE CHANGE), an amazing variation of a brilliant Wayne Dobson effect (DOBSON'S DIDDLE) - the list goes on!
'Automata 3' - More killer close-up magic and mentalism with ordinary, everyday objects that ANYONE can do! "Automata 3 is full of amazing, magical and workable routines that you can fit into your working set easily. A Can is the one I want to do myself." Wayne Goodman
"ESP-ONAGE fooled the absolute s**t out of me, I know its a cliche but that is worth the price of the dvd. - Chris Congreave
"Gary Jones & Dave Forrest have come up with the goods once again! The Automata DVDs get better with each release and Volume 3 is the best yet! Full of easy, killer tricks. Very highly recommended." - Mark Elsdon
"Forrest and Jones strike again! As we've come to expect from this series Automata 3 is packed with solid, workable, entertaining material. I can't believe this stuff is self working!" - Roddy McGhie
"Not only are the effects engaging but I have to admit, some of them fooled the s**t out of me." - Cameron Francis

Price: £20
---
At The Table Live Lecture Gary Jones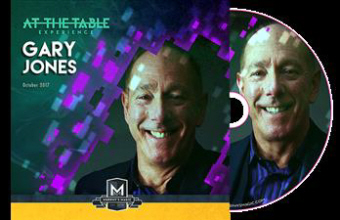 A professional magician for over 25 years, Gary Jones has held the "Close-Up Performer of the Year" award at the Devon Magic Circle for seven consecutive years. He has performed for an elite clientele, such as Sir Richard Branson and Sarah Ferguson, the Duchess of York. He is a world-renowned lecturer and creator of several best-selling effects and DVDs, including - iCandy, Dupes, and the Automata series.
With an endless sense of humor, Gary Jones is here to entertain and share some of his trade secrets. With expert sleight of hand and psychological misdirection, you have to see this to believe it! Here's what you'll learn:
Gary's Opener: A lesson in misdirection using a deck of cards and Gary's own methods. The perfect opener for strolling and table hopping.
Yours and Mine: A customizable version of the 8 Card Brainwave. A trick so easy to do, you will be stunned at the beautiful simplicity of it!
Pop Up Coin Routine: An anytime, anyplace routine with three borrowed coins. An easy-to-do effect, great for impromptu performances and walk around magic.
Card Under Box: A classic Signed Card to Box routine, Gary's version is not only very easy to do, it also has built-in misdirection so even a novice can do this. A great working routine with multiple phases that results in a fabulous reaction from your audience.
Coin Transpo: A clever triple Spellbound routine, perfect for strolling magic. Includes an optional surprise ending that will delight your audience. A strong effect that is almost completely impromptu and easy to carry in your pocket for everyday use.
Signed Card to Pocket: Gary's fantastic 'No Palm' (yes, no palming required!) signed card to pocket, very easy to do using classical moves.
Cheating Aces: A fantastic gambling routine involving the spectator making "free choices" with a kicker finish! Your audience will LOVE this one.
Ambitious Jazz: Never before performed on camera, Gary's fantastic packet effect is easy to do and packs one heck of a punch. An absolutely brilliant effect!
8 Card PG: Your spectator freely chooses a card out of eight possibilities and then shuffles the cards. They won't see the ending coming, and then it's too late!
"Incredible, simply amazing!"
- Nigel Mansell
"Absolutely amazing!"
- Sarah Ferguson
"Wow, do that again!"
- Sir Richard Branson
Price: £8
---
The Unknown
- Mark Bendell and RSVP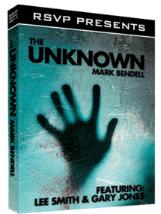 For the first time Mark Bendell releases some of his best creations, including Bag 4 Life, Ouija Card and Back to the Future. Sit back as Lee Smith and Gary Jones bring the Bendell effects to life before a live audience and get stunning reactions from material that is all relatively easy to do. There are 13 stunning routines on this DVD project that runs for nearly two hours. Welcome to the Unknown!
Contents Include:
PCAAAN - A completely impromptu prediction/coincidence effect based around the CAAN plot with a freely chosen card and a number.
Special K - This is a weird one, how can the magician's lucky card which has a paperclip (or a clothes peg) attached to it occupy two different places at the same time, and then change into the signed selection!
Joker Kickback - Two selections switch places with 2 jokers, or do they?! Two different handling's of this stunning 'Kickback' effect are explained.
Superstition - A totally impromptu card miracle of the mind themed around the number 13 and 'Free Will'
Colour Oil and Queens - A colour climax to Roy Walton's killer classic..
Hypno-PSE - The spectator's conscious mind witnesses the complete opposite to their subconscious mind!
Stand-Up BTwist - A stand-up handling of Paul Harris' Bizarre Twist, the perfect effect for large banquet tables.
Back to the Future - A double prediction where a time on a thought of card and the time on your watch match a photograph which has been on view all of the time.
Bag 4 life - Bag 4 Life is a visually stunning effect where a coin penetrates a sealed plastic bag, the bag is then instantly given out for complete examination! This effect is definitely worth the price of the DVD and is being used by some of the worlds leading professionals! Included is Lee Smith's super clean handling and some fantastic subtleties by Gary Jones and Mark Bendell.
Kick Back Tick Tac - A prediction is written on a Tic Tac box changes to match a chosen card, then the selection changes to the original prediction, everything can be examined!
Out to Peek - A very clever utility device for the magician/mentalist which can be made in minutes.
Ouija Card - A pocket Ouija card is shown to contain all the letters of the alphabet on one side and is completely blank on the other side, a card is selected and signed, the letters on the Ouija card now rearrange themselves to reveal the selected card, when the Ouija card is turned over it is now seen to be the singed selection which is given to the spectator as a souvenir! Ouija card templates are included as a download.
Predicta-Time - A spectator sets the time on a pocket watch and pops it into a purse, you now divine the time on the watch, the watch is immediately given out for examination, very easy to do!
Price: £20
---
Close-Up Magic #1 (World's Greatest Magic)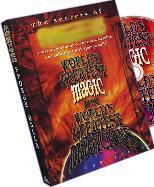 View Clip
Magicians who specialize in close-up magic are constantly in search of material that doesn't use playing cards. Easily seventy-five percent of the magic that's been published over the last 50 or 60 years has been card magic of one kind or another so quality non-card material is a relatively scarce commodity in the literature.
On this DVD, you'll meet seven different performers presenting and teaching powerful close-up routines that will wow any audience – and there's not a playing card in sight! The legendary Bruce Cervon starts off with a beautifully routined piece of magic where a borrowed handkerchief is clearly seen to be burned, magically repaired and then used for a stunning production. Glen Falkenstein, of the famed mentalism team of Falkenstein & Willard, combines two simple and well-known dealer items to create a beautiful hybrid of magic while Michael Ammar gives you all of the work on Stefan Schutzer's wonderful animated bill effect. Bob Read is next with a hilarious routine that will make you sorry you laughed so hard because you will be badly fooled by the trick's end. Mark Leveridge offers an elegant and very magical coin box routine while Flip brings the mystery of the classic linking rings to a few safety pins. Finally, Bill Malone performs and teaches a wonderful (and wonderfully portable!) Cups and Balls routine that will charm young and old alike.
It's been said that even the world's largest and most spectacular stage illusion cannot create the impact – that feeling of pure astonishment – of a good, well-performed piece of close-up magic and on this DVD, you'll find seven compelling pieces of evidence to that effect.
Hanky Panky – Bruce Cervon
A Ball and a Tube – Falkenstein & Willard
Self-Folding Bill – Michael Ammar
Transpo Tumbler – Bob Read
Stay at Home Coins – Mark Leveridge
Flip-Pins – Flip
Rub-a-Dub-Dub/Cups and Balls – Bill Malone
Running Time Approximately 1hr 31mins
Price: £15
---

It's the perfect carry around pocket effect. But how many things can you do with it? This DVD includes 73 minutes of the best Pen Thru Anything routines from some of the top minds in magic.
Each routine comes complete with, presentation angles, comedy bits, handlings, techniques, and more! This DVD is hosted by Jim Krenz, and you will learn from John Cornelius, Michael Close, Mike Maxwell, James Lewis, and Giovanni.
The "Pen Through Anything" is a prop you can carry with you always. With this DVD, you can greatly increase the "power of the pen!"
Price: £9
---

Detailed, step-by-step instruction for using the Raven with a coat or shirt. You'll learn over 20 effects, such as Shrinking Die, Vanishing Bill, Dime & Penny Transpo, Vanishing Cigarette, Vanishing or Changing a Coin in a Spectator's Hand, Coin to Card, as well as the Empty Hand Move. Simply show your hands front and back, wave one hand over a coin and it vanishes. Show each hand again- front and back!
The Raven DVD is a must if you want to get the maximum potential out of your Raven!
Price: £15
---
Thumb Tips (World's Greatest Magic)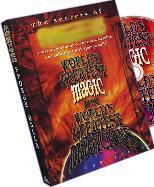 The thumb tip is one of the most utilized and valuable gimmicks in magic but it also wins the title of perhaps its most badly used. However, the thumb tip, despite repeated exposures, can still create miracles when used properly and judiciously.
On this DVD, you'll see ways to use a thumb tip that you've never dreamed of. Michael Ammar presents a poignant story with just a few coins that your audience will always remember. Richard Osterlind tears open a signed packet of sugar substitute and miraculously restores it while Roger Klause conjures silver coins from thin air with just a borrowed dollar bill. If you think you know the traditional vanishing handkerchief, you're about to be badly fooled by Alexander de Cova and Paul Wilson. Jeff Sheridan offers his versions of two classic thumb tip pieces while Ted Lesley and Dan Harlan demonstrate effects suitable for a stand-up performance. Larger stage tricks like 20th Century Silks and Blendo are turned into powerful close-up effects by Fernando Keops and Steve Dacri and Al Schneider performs a quaint mystery with nothing more than a borrowed dime. Rounding out this set is Paul Diamond with a post-graduate course in thumb tip work with finesses that will vastly improve your own handling of this marvelous tool.
Don't be misled by those who dismiss the thumb tip as "old school." There are a dozen performers and 14 performances and explanations here that provide conclusive evidence that there's still a lot of magical life left in this wonderful utility gimmick.
Running Time Approximately 1 hr 40 min
Find a thumb tip here
Price: £15
---
---
Coin Ovations DVD - Reed McClintock

In his eagerly awaited first coin release, Reed McClintock shares his most famous effects! Discover Reed's rare brand of coin magic-smooth, graceful and in-your-face! Each routine on this DVD is jam-packed with one surprise after another. So much so, that audiences forget about catching you; they just sit back and enjoy the roller coaster ride. Since all the magic on this DVD is performed standing, it's suitable for performance in strolling venues, trade shows, restaurants, banquets, and hospitality suites.
Contains: 13 Coin Matrix. Matrix takes a devastating turn as 13 coins magically appear and assemble with military precision on your close-up mat. The proverbial jumbo coin is produced in a very clever way. "My Thirteen Coin Routine just got better, I love Reed's handling!"-Jim Pace
Reed's Elbow, Neck and Knee Daryl's proficient and well-organized routine has spawned a bastard child. Coins travel around your body and limbs so much they could earn a frequent flyer pass.
Scream Fly "3-Fly" as you've never seen it! It's slow and smooth with no funny business (you'll never be accused of fast hands). You end so clean, they'll think you just took a shower.
International 3-Fly Yet another version of 3-Fly, but this one's different, no really, come back! Three different coins pass from hand to hand with lots of play along the way.
Price: £25
---
Money Magic (World's Greatest Magic)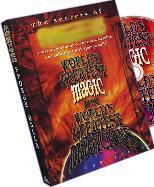 Coins have always held a prominent place in magicians' repertoires but many have missed the wealth of magic potential in paper currency. As it turns out, the sheer variety of plots possible with paper money far exceeds what can be done with its metal counterparts.
On this volume, you'll discover a wide assortment of tricks, routines and stunts with paper money that is certain to amaze and amuse any audience. What's more, many of them can be done totally impromptu with nothing more than a borrowed bill or two.
You'll learn a stunning bill transposition that occurs right in the spectator's hand from Michael Ammar, torn and restored (and even burned and restored) bill routines from Jeff McBride, Dan Harlan and Tom Mullica, and topological miracles from Jay Sankey, Michael Close and Rober Neale. There's guaranteed spectator interest when you increase the denomination of bills, such as in Scotty York's routine, or even change plain paper into real money, as in Mark Leveridge's brilliant trick.
Running Time Approximately 1hr 51min
Price: £15
---
---
Psychokinetic Silverware DVD - Gerry & Banachek

If you really could bend metal with your mind, Psychokinetic Silverware is exactly how it would look. You'll see cold, hard steel melt like butter–bending, twisting, breaking and moving seemingly on its own, even in a spectator's hand! Banachek's metal bending is so amazing and so realistic that he has often been accused of being and doing "the real thing." In fact, after studying Banachek's metal bending the McDonnell Laboratory for Psychic Research proudly announced to the scientific community that they had discovered someone with genuine psychic abilities! The National Inquirer and other media have also heralded Banachek's psychokinetic talents. On this videotape, Gerry and Banachek finally reveal the real secrets to these amazing routines. Not only will you get to see how everything looks in performance, you'll also learn the real inside work, the fine points and psychology of metal bending. These are secrets which have have been very tightly guarded...until now.
"This is the best metal-bending tape I've seen. It deals with the psychological touches and misdirection needed to make this effect really work. Too many performers approach it as a magic trick and look for novelties and clever gaffs–but this is the real stuff, discussed and considered in rewarding detail. Certainly of immense interest to the professional as well as the novice. Excellent work, and congratulations." - Derren Brown
Approximate Running Time: 75 Minutes
Price: £20
---
---
Magic on Stage DVD - Jeff Mcbride

Jeff McBride is recognized as a foremost innovator in the art of magic. His unique fusion of martial arts, dance, Kabuki Theater and stagecraft has inspired thousands of magicians around the world. Now, Jeff shares the secrets of his success and creative process with you! Explore the fascinating world of stage magic and learn the professional secrets of magic that packs small and plays big. Jeff not only teaches you how to do each effect, but why, and looks at the philosophy and psychology of a world-class performer.

Volume One - The Commando Act - Real Magic for Real World Conditions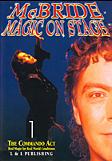 Jeff McBride has performed around the world in every conceivable venue. He is one of the most versatile performers of our age, from dazzlng Las Vegas showrooms and arena/concert halls to cabarets, discos and surrounded on the street. The Commando Act is a practical, powerful, commercial magic show that can be performed in just about any performing situation. Jeff has honed his Commando Act over the past 20 years. Now, he teaches you step-by-step, move for move, his entire "real world" traveling show and gives you all the techniques and presentation tips so you can adapt this show to your own performing style.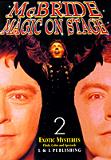 Volume Two - Exotic Mysteries - Flash, Color and Spectacle
Step onstage with Jeff McBride! On Volume Two you will have the chance to learn from a Las Vegas headliner how to add artistic effects and unusual routines into your show. Explore this exotic world of mystery as Jeff inspires you with his insight and commentary and learn not only the "how's" but, more importantly, the "why's."

Volume Three - Classics of Magic, Timeless Treasures of Magic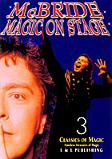 Jeff McBride, voted "Magician of the Year" by Hollywood's famed Magic Castle and The Academy of Magical Arts is a master of the art of stage magic. Jeff's extensive knowledge of magical techniques and theatrical stagecraft is unsurpassed. Enter the world of classic stage magic where you will learn the essential elements of professional performance from one of the world's foremost educators in the art of magic. Each of the magical effects on these volumes were selected because of their timeless appeal and strong audience impact. You will also learn valuable lessons in stagecraft and showmanship by studying these classics.
Includes Bonus Section: Live on Stage, Exciting Excerpts from Jeff's Full Evening Stage Show Spectacular!
Price: £25 each £70 for all three
---
Lecturing Live At The Magic Castle - Fantasio (3 dvd set)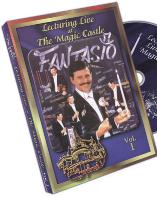 The following tricks are on Volume 1:
21st Century Cane - Magic Cassette Player - Extra Long Thumb Tip - Vanishing a Large Silk - Impromptu Side Table - Practical Folding Box - Vanishing Want to Silks - Making a Vanishing Flute - The Vanishing Candle - Flat Folding of a Silk - Lighter to Matches - One Handed Color Changing Lighter - Silk from Flame - Covered Vanishing Candle - Easy Candle to Silk - Candle to Ball - Candle to Silk to Cane - Preventing Fluid Evaporation - Ribbon and Candle - Running Time Approximately 42min
The following tricks are on Volume 2:
Color Changing Canes - No Tapes For Color Change - Cane to Double Bouquets - Loading the Bouquets - Fixing a Damaged Coil - Patriotic Changing Canes - Cane to Flag - Lighter to Cards Fan - Vanishing Candle with Card Fan - Appearing Lit Candle - Appearing a Vanishing Candle - Repairing Spring Tension - Pull-Reel Vanishing Candle - Self-Holding Extended Candle - Holding and Palming the Candle - Using Double Sided Tape - Card Sword Cane - Cha-Cha Rope Penetration - Running Time Approximately 50min
The following tricks are on Volume 3:
The Challenger Gimmick - One Handed Vanishing Cane - Cane to Silk to Lit Candle - The Challenger Candle - Vanishing the Appearing Candle - Appearing Candle from Sleeve - Silk from Cigarette Lighter - Thumb Tip to Prevent Evaporation - Improved Zig-Zag Card - Flaming Thumb Tip - Thimbles with Vick Cap - Sure Lit-Match Production - Bic Hole Penetration - Bill inside Bic Lighter -Silk through Tumbler - A Generous Magician (Ropes) - Running Time Approximately 65min
"Fantasio: You are one of my true inspirators." - David Copperfield
"Fantastic!... Is the word for Fantasio." - Walt Disney
Learn great magic from one of the world's greatest magicians!!!
Price: £45 for the set
---
General (Close-up / Parlour /Stage)
---
The Art of Levitation - Arthur Tracz


With the techniques and methods explained on the Art of Levitation, you can learn how to levitate. Not just small objects, even yourself! This broadcast quality DVD teaches you how to cause objects to float in space, defying the law of gravity.
You' ll learn the basics of the Art of Levitation, and beyond. Magician Arthur Tracz will teach you, step-by-step, the inner-workings of these incredible tricks, many of them modern-day classics of magic. What's more, Tracz has given each of these effects an original twist, or original presentation, breathing new life into them!
Animate a borrowed finger ring! Suspend a drinking straw on the edge of a table! Spin a card around your body! Cause a card to rise from the pack even while it is isolated in a wine glass! Float inches off the ground with no special props or preparation! Levitate a borrowed dollar bill and produce a ball bearing from it! And Much More!
Additionally, Tracz has developed original material specifically for this DVD, including eye-popping visual tricks, as well as unique professional presentations. Several of these mini-miracles are worth the price of the DVD alone, and make the Art of Levitation a delight for both beginners and professionals.
Price: £13

---