---
Second Hand
---
Do you have something you want to sell ? Then drop me a line !
See here for my wanted list!
Please note all the items listed below we only have ONE of... So if you are interested place your order quickly to avoid disappointment. In the event that 2 people order the same item the earlier order will take preference.
If you are interested in any more information on the items below then drop me an email or ring me Tel: 01752 262756
---
Pegasus Ring Flight by Black Rabbit Magic (2nd hand)
Pegasus - The Ultimate Elegant Ring Flight
Finest quality leather
Long-life reel
Ring protection system
No pre-set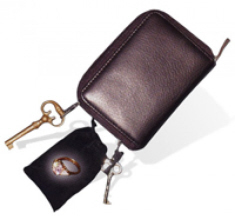 Weve finally solved all the problems of the wonderful Ring Flight effect and created the ultimate version for professionals.
Although you can perform Pegasus with the ring ending up hooked directly onto the key clasp as usual, heres our preferred version, which has no set-up.
Borrow a spectators ring and assure your volunteer that you will take good care of her precious jewelry. She drops her ring into a tiny black velour drawstring bag. In an instant, the bag and her ring vanish. Your hands are completely empty.
You cleanly remove your stylish leather ziparound key case from your back pocket and unzip it. There, dangling from its drawstring loop among the keys, is the velour pouch, solidly locked onto a key clasp. You release the bag and hand it to your lovely spectator, who is amazed and relieved to find her ring inside.

You can see the advantages of Pegasus dependable, practical system. Weve taken all the worry out of Ring Flight!
No more fretting about scratched or lost rings or missing stones! The borrowed ring is safe at all times...and looks much classier than jangling among a handful of car keys.

No preset! Just reach back and take out the velour bag. No more fumbling with hooks or locking reels.
No more undependable reels! Our rugged industrial-built reel uses strong black kevlar cord with high dependability...and built-in camouflage for your line!
And remember, you can use the bag to vanish and reproduce a thin bracelet, pendant, earring, good luck charm, marked coin or bill, or other small items.
Best of all, youll look like a pro with our beautiful black key case made from full-grain drum-dyed cowhide, with long-lasting nylon stitching and lining. You can use it as an elegant everyday key case and always be ready for a miracle!
Pegasus comes to you complete with our gorgeous keycase (keys not included), velour bag, extra clasps, full-color photo-illustrated instructions, and our Black Rabbit Girls Collectors' Card #2.
Retail $150.00 + shipping
This is in excellent condition. though the box is a little squashed. Advert says no keys included. Instructions mention they've put some keys in...
There are no keys... But I'm sure in a drawer somewhere you have a couple should you wish to add them in.
Also mentions spare clips none of those either but not needed.

Original retail on this was about £89 here in the uk
Yours for the ridiculously low price of £50
---
T&R cigarette paper by Armandi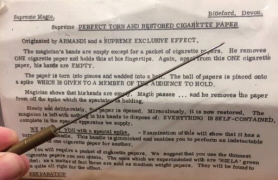 Joe Porper has recently remade this and it sells for for £45
This is the origianl supreme version. Exactly the same and yours for £25 inc postage.
The effect in case you do not know...
A cigarette paper is torn into pieces impaled onto the provided "Hat Pin" type needle which the spectator can can hold. Hands shown cleanly empty at all stages. When the pieces are removed (which the spectator could do) they are of course restored.

Now for some strange reason over the last few years I seem to have collected 3 of these. I dont need 3 so I have 2 for sale&

Price: £25
---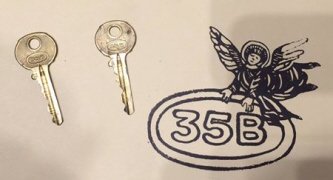 The Original "Folding" key (Not linking)
In perfect condition with new bands.
With origianl instructions

Keys are Brass (look silver in photo)
Perfect for ring off key or key in bottle
Price: £25
---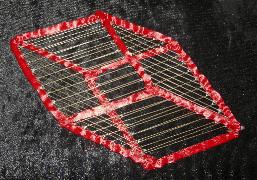 Made by Abbots. This is the famous style of cage that Harry Blackstone Jnr. used in his shows.
This is probably the very easiest of cages to make vanish as it instantly collapses and due to the red edging whioch covers all the joints there is nothing that can "catch" on your sleeve.
This is the Larger model Dimensions 5.5" x 5" x 4.5"

In very good condition.
No pull supplied
Price: £85
---
This is and incredbly rare SET of Joes paddles these were made and sold as a "set" in 2003 and sold via ebay, just before Joe relaunched himself back into the the magic business.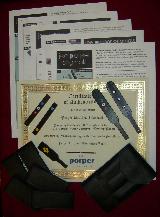 The set consists of
1.2.3.4 Spot paddle
Toothpick Paddle
Red, White & Blue Paddle
Color Changer
Mystery Paddle

It comes with a wallet made to carry all 5 at once, and also separate pouches for each paddle.
A certificate of authenticity from Joe and of course instructions for all
Also the letter Joe sent to me with them. This set was what introduced me to Joe all those years ago.
Basically unused just sat in collection... Time for someone else to enjoy looking at them... Better still USE THEM!
Price: £200
---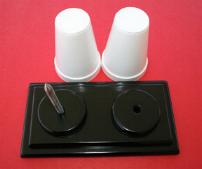 Now completely unavailable as Dick Barry handmade only a few of these special props. (I think there were about 12 made).
While your back in turned a spectator places a sharp steel spike into one of two holes on a simple looking wooden stand and covers it with a disposable cup. The spectator then places a second cup over the remaining empty hole. When this is done you turn around and SMASH your hand down on one of the cups. IT IS THE CUP COVERING THE EMPTY HOLE, NOT THE ONE WITH THE STEEL SPIKE. NO ELECTRONIC, MAGNETS OR FAKE ITEMS ARE USED. EVERYTHING CAN BE EXAMINED BEFORE AND AFTER THE EFFECT. The wooden board is only 9-1/2 inches by 5 inches, so it is easy to transport.
THIS PROP IS ABOUT AS FOOL PROOF AS WE CAN MAKE IT, HOWEVER, IF YOU DRINK TOO MUCH, HAVE POOR EYESIGHT, CANNOT READ OR UNDERSTAND WRITTEN INSTRUCTIONS OR ARE UNDER 18 YEARS OF AGE THIS PROP IS NOT FOR YOU.
This is a very nice prop and unless you are a complete idiot it is foolproof! Also with care it can be repeated immediately.
In as new condition!

Price: £79
---
The Meditation Book Test - Ted Karmilovich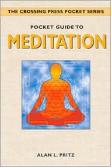 From the inventor of the "Mother of all Book Tests" comes the "The Meditation Book Test"
Effect: A spectator peeks at a word (ala flashback) and the performer reveals it!
The uses an ordinary book! (one is supplied).
The Book is examinable!
You can give the book away!
The words will be different every time!
Portable...
Price: £38
---
I do have alsorts of books lying around so do drop me an email if theres something you're after!
---
Then drop me a line I have customers waiting
Is there something you are looking for drop me a line and we'll see what we can do!
---
The Impossible Dream - Rich Bloch
Driebeck Die. Original All Plastic version
OLD MAGIC SETS...& Tricks - Anything considered! I am interested in almost anything odds and sods even just the boxes if they are in good condition as it may help put one complete set together.
Tenyo Magic
Jean Merlin Table Collapsible Tripod table sold by Jean Merlin (pieces stack inside each other) Similar to the Sicilian table sold by Pat Page

Casino Royale LITE

Forbes Portfolio by Michael Forbes
"The" Robert Harbin Book!

Flying Ring. (Jim Hoopers / Nemo) Made for Ace Place / Ken Brooke. Reel mechanism comes free of key case.
Martin Risng Cards. Made by Martin (The man who used work for MI5)
---
Interested in any of the above email me magicmal@aol.com or ring the shop
Have something you want to sell drop me a line we may be able to sell it for you!

---