---
---
Maskelynes magic set - (Gamagic)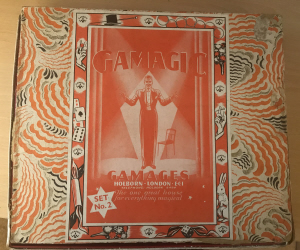 Produced by Gamages (Gamagic set no 2)
This set as far as I can make out is actually complete.
(Often you find there is one odd bit missing)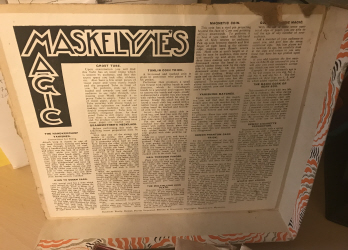 The box itself unfortunatley has two sides missing from the lid.
It also has a small tear in the side of the base.
(You can see this hopefully in the pictures)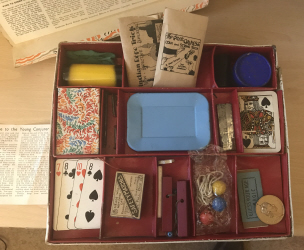 The contents however are complete and in outstanding condition
However still an outstanding addition to your collection.
Price: £50
Top of page
---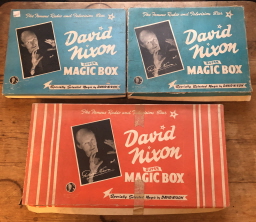 Over the last few years I had a spate of collecting all and every magic set that cam my way. Many of them incomplete. However, after having to downsize the shop I don't have the room to keep them all. Sooooo, I have sorted through the all and in this case particularly have managed to make several complete (in fact I think more than complete in some cases.
There never quite seemed to be a set pattern as to everything that would be in these boxes. I did come across a small list of everything they actually did for these. You could actually buy each and every trick separately.
---
David Nixon Large Set (Red Box)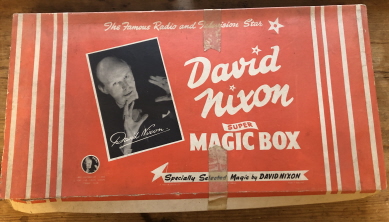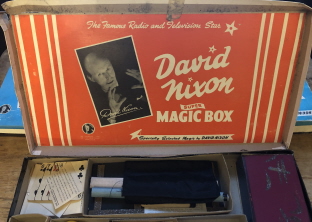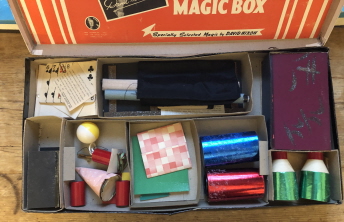 This was I believe the largest of the David Nixon sets.
Please see the pictures to get an idea of its condition. Unfortunately as with most sets the lids were never in great condition the corners usually gone. And often something marring the face of the lid.
With this box one of the corners has gone and some tape has held it shut at some time.
The contents... As usual the tape has come away with the passage of time. And the metallic colored items have some "mottling" not sure if that's the right word but the best I can come up with.
Price: £40
Top of page
---
David Nixon Standard box (Blue)
Box 1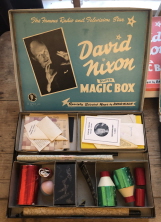 Of the two "blue" boxes, which seem to the "standard" set. This is the slightly better of the two. The lid is in very good condition with only a small white label in the corner. (See top picture of the three together - left)
Overall this set is in pretty good condition for its age with only the expected wear and tear.
Price: £40
Top of page
---
David Nixon Standard box (Blue)
Box 2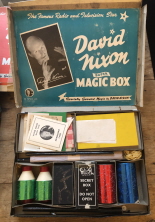 Another blue set.
Unfortunately the lid of this set has suffered corner damage. And is a little faded in comparison to the above set.
The contents however are in nice condition and as far as I can ascertain complete if not slightly over so.
Price: £35
Top of page
---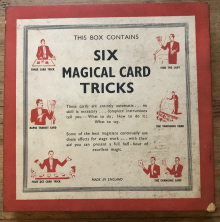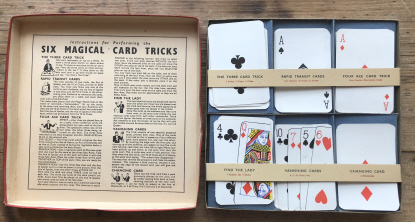 This set of card tricks is a little bit of a mystery and I am uncertain of the manufacturer. Usually somewhere on the box it would give you some indication. Here... No! With the exception of "Made in England".

At first glance I would say it looks like Ellisdons, but it might be Davenports as they did put some out very similar to these. So this may have been made either of these for someone else.

Do have any idea. If so please do tell me!
This set is in very good condition. It has to be at least 50 years old possibly older.

Price: £25
Top of page
---