---
Escapes
Looking for Books on Escapology? See here
I also occasionally have other handcuffs (2nd hand) in stock Email me!
---
Strait Jacket - Viking - (UK Exlusive)
I am very proud to be able to offer this jacket from Viking Mfg. Which I believe to be the very best comercially available escape strait jacket on the market today! - M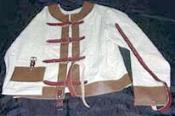 Ever since Houdini made the Strait Jacket escape famous, it has been a success where ever performed. This Strait Jacket is made of soft cotton canvas with leather-like trim and 100% leather belting which gives it an air of authenticity and makes it appear the formidable challenge that it is. It has been engineered to allow the magician-escape artist flexibility and ease, yet, it appears to present an impossible task. They are rugged and will give years of service. This is one escape everybody likes to see. Packs small and plays big. And as usual, you receive Viking's guarantee of quality at a reasonable price. A Sensational crown-pulling effect which can be carried in a brief case! Ideal for upside-down Escapes, Galas and Stage use. The Strait Jacket Escape has been the feature of many famous Escapologist -Houdini *Murray *Alan Alan *Shahid Malik *Howard Peters *David Deval and many others.
Available in several sizes... Please state you chest size when ordering... (If an appropriate size is not in stock it can be ordered specially for you. You will of course be notifiued if this is the case)
IMPORTANT NOTE: Color now comes in a very nice, dark, olive green similar to the original Houdini straight jacket. Same style as above picture

Price: POA
---
Electronic Release (superior model) - (UK Exlusive)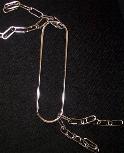 A ferocious looking volunteer is chosen and handed a steel shackle with four chains welded onto it. After close examination the performer is secured into the device by the afore mentioned volunteer. (By the way it's the shackles that are closely examined, Not the performer ! But then again it depends upon your audience I suppose…..) He does this utilizing any two padlocks (which are not supplied as you may use any padlocks, even borrow them if you wish.) After several members of the audience have checked that the performer is thoroughly secured, he can and does of course make his miraculous escape. OR…You can present it in comedy style where you appear to escape by removing one hand and when you turn around you are still securely chained. You can at anytime remove either hand and replace it immediately. Great prop takes up no room in the case but plays BIG. Great accessory for Sub Trunk and other such Illusions.
Do not confuse this with the cheaper model found elswhere, this is the superiour model made from thick sturdy steel (Chrome plated) and a much more compact design! Nicest I have come across.
Price: £22
---
Handcuffs - (New & Decommissioned)
---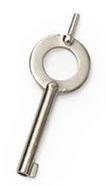 Lost your key? Need a spare..?
I have managed to get a small quantity of These standard Hiatt keys
As any escapologist will tell you, they will also fit most other makes. including Smith and Wesson etc.
Price £3.75
---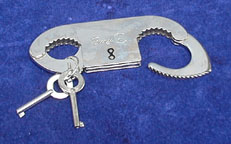 Table hopping escapology! A great carry around in the pocket escape item. The spectator can't escape but you can, if you know how! T
heses are totally UN-faked so there is nothing to find. Now comes with comprehensive booklet of ideas and routines.
Price: £14
---