---
Escapes
Looking for Books on Escapology? See here
I also occasionally have other handcuffs (2nd hand) in stock Email me!
---
Handcuffs - (New & Decommissioned)
---

Limited number available...

Siberian Transport Chain Escape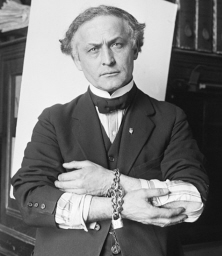 This is the very same escape that Houdini had to stand in a german court of law to prove that he could actually escape from what was said by the german police to be inescapable.
He of course did escape and this very escape brought him more publicity than he could have ever brought for money!
The performer offers for examination a steel chain and a padlock. He is then securely chained and locked by a member of the audience. There is no doubt that he is tightly chained as the chain is seen to press deeply into his flesh. Instantaniously the performer frees himself in full view, leaving no clue to his method.
The chain and padlock are still intact and impossible to put back on without unlocking the lock.
Everything may be examined before and after the escape. There are no trick links, trick lock, etc, but there is a clever secret. The escape is easy, foolproof and instantaneous.
You can also put the spectator into the same chains and they will be unable to escape.
NOTE: Unlike most other versions available on the market some costing twice / three times more, this version is made using the same style of chain as used by Houdini. A duplicate of the original "Transport Chain"
Want to add something a little different and special to your act. Highly recomended. You can do this!
Supplied complete with Chain and Padlock and of course comprehesive instructions.
Price: £18
---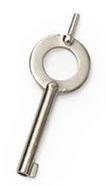 Lost your key? Need a spare..?
I have managed to get a small quantity of These standard Hiatt keys
As any escapologist will tell you, they will also fit most other makes. including Smith and Wesson etc.
Price £3.75
---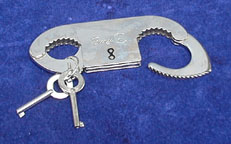 Table hopping escapology! A great carry around in the pocket escape item. The spectator can't escape but you can, if you know how! T
heses are totally UN-faked so there is nothing to find. Now comes with comprehensive booklet of ideas and routines.
Price: £14
---