---
---
Unlike the 2nd hand page which is dedicated to the more standard magical tricks and apparatus, this page is dedicated to "vintage" magic.
Old magc sets and props.
Please note as with all the items listed below we only have ONE of... So if you are interested place your order quickly to avoid disappointment. In the event that 2 people order the same item the earlier order will take preference.
Do you have something you want to sell ? Then drop me a line !
If you are interested in any more information on the items below then drop me an email
---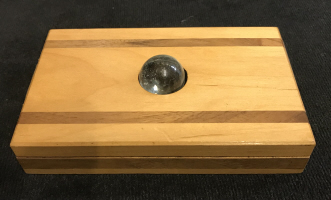 A beautiful collectors item. Although still perfectly usable. There are modern versions of this available and all of them probably twice the price of this beauty.
This I believe came from Davenports wether made by them or brought in I don't know. It is incredibaly well made unlike many I have seen where you can see where the gimmick part is. This has been made so that it doesn't stand out. The craftsmanship is outstanding!

The effect... A box is shown to have a hole through its center. Upon opening it it is seen to have a piece of glass filling the inside thus blocking anything from going thru the hole.
The glass examined and replaced, the box examined too and closed a small ball is placed in the hole atop of the glass plate. As the spectator watches the ball slowly decends through the hole penetrating through the glass and landing in their waiting hand underneath.
The box in its entirety is handed to the spectator to examine.
There are sadly no instructions but very easy to describe and perform.
A beautiful item to add to your collection either as a collectors piece or a working trick.
One small note... The pins holding the hinge in place are a little loose and could do with "knocking" back in. (I'd do this myself but a sledge hammer might be a little too big!
Otherwise this is in outstandingly good condition!
Price: £55
---
Spotty Dots - Ken Brooke (2nd hand)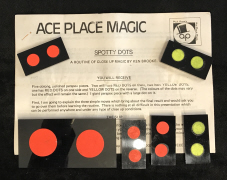 Spotty Dots - strong version of the classic domino transpo, using pieces of black perspex with colored dots. Two pieces have red spots, two pieces have yellow spots. During the routine, the two red/yellow pieces magically change place a number of times. This set includes the ending in which one of the orange pieces grows into a jumbo sized piece. The jumbo ending was originally offered by Ken Brooke as an optional add-on.
With a copy of the original instructions from the "Ace Place"

In good condition but the yellow spots are a little "faded" and could do with changing
Price: £25
---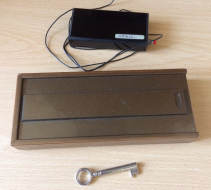 Here I have two Anverdi bits.

A remote for a "Talking Skull" thats the black box at the top of the picture.

The bottom picture shows a box (containing the remote) that holds the keys for the "Anverdi Key Box".

On their own not a great deal of use... But somewhere out there are the other halves of these miracles sadly missing the remotes. Do you know who has them? Is it you!
These originated from the collection of Ken Savage.

Most of his estate was sold off in London 25 or more years ago. By now who know where any of it could be, probably half way around the world!

So, if you, or anyone you know are interested in these bits, drop me a line.

Make me an offer? - email me
---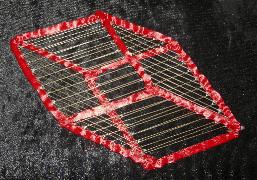 Made by Abbots. This is the famous style of cage that Harry Blackstone Jnr. used in his shows.
This is probably the very easiest of cages to make vanish as it instantly collapses and due to the red edging whioch covers all the joints there is nothing that can "catch" on your sleeve.
This is the Larger model Dimensions 5.5" x 5" x 4.5"

In very good condition.
No pull supplied
Price: £85
---
This is and incredbly rare SET of Joes paddles these were made and sold as a "set" in 2003 and sold via ebay, just before Joe relaunched himself back into the the magic business.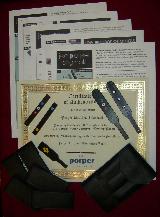 The set consists of
1.2.3.4 Spot paddle
Toothpick Paddle
Red, White & Blue Paddle
Color Changer
Mystery Paddle

It comes with a wallet made to carry all 5 at once, and also separate pouches for each paddle.
A certificate of authenticity from Joe and of course instructions for all
Also the letter Joe sent to me with them. This set was what introduced me to Joe all those years ago.
Basically unused just sat in collection... Time for someone else to enjoy looking at them... Better still USE THEM!
Price: £200
---
The Meditation Book Test - Ted Karmilovich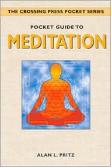 From the inventor of the "Mother of all Book Tests" comes the "The Meditation Book Test"
Effect: A spectator peeks at a word (ala flashback) and the performer reveals it!
The uses an ordinary book! (one is supplied).
The Book is examinable!
You can give the book away!
The words will be different every time!
Portable...
Price: £38
---
Is there something you are looking for drop me a line and we'll see what we can do!
Interested in any of the above email me magicmal@aol.com or ring the shop
Have something you want to sell drop me a line we may be able to sell it for you!
---